Big 12 News
Texas QB Casey Thompson Comments on Bo Davis Video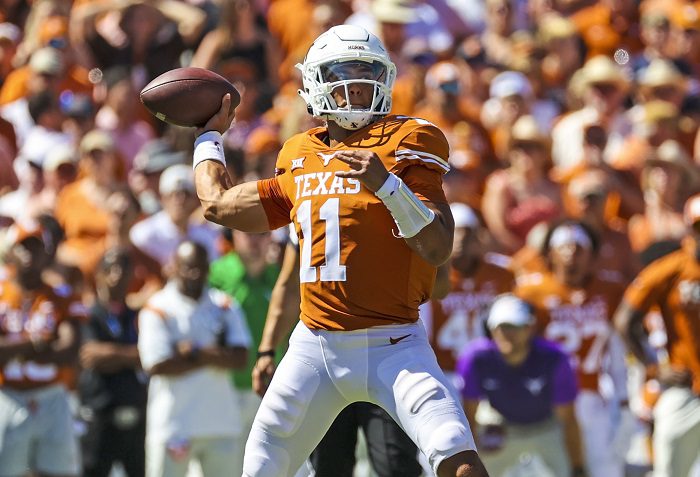 The Texas Longhorns are fresh off of a devastating overtime loss to Kansas and are currently in seventh place in the Big 12 with a 2-5 conference record. Texas' football program is in the midst of its first five-game losing streak since 1956, and its off-the-field issues have turned a struggling program into a never-ending trainwreck. There was the stretch of games where Texas blew 4th quarter leads to Oklahoma, Oklahoma State, and Baylor in consecutive weeks. On Halloween night, there was the "Monkey Business" surrounding Texas Special Teams Coordinator, Jeff Banks, and his wife's ferocious pet monkey. Then, last week, a video surfaced of Bo Davis, Texas Defensive Line Coach, ripping into his team after they were manhandled by Iowa State 30-7.
An unnamed member of the Longhorns team leaked the video onto social media and it became national news. Questions arose as to why a player would be recording while this heated exchange was happening, and has brought some light into the cultural issues going on in Austin. Steve Sarkisian addressed the video in a news conference last week, noting Bo Davis' "Passion" for the sport and program. Davis spent time with Nick Saban at LSU, the Dolphins and Alabama, and had a previous stint at Texas with Mack Brown from 2011 to 2013. Bo knows what "winning football" looks like. What he is seeing at Texas right now, is not "winning football."
When speaking with Brian Davis from the Austin American-Statesman, Texas starting QB Casey Thompson commented on the video Monday, stating, "I just think that it was an unfortunate situation."
As the leader of this team, it's got to be frustrating for Thompson that they can't seem to get past these distractions. Unfortunately, this looks to be a story that keeps on developing. The last thing Texas needs right now is for things like this to keep resurfacing, especially since they are 4-6 and must win out just to become bowl eligible.
They will get their chance to get back on track this Saturday when they head to Morgantown to take on West Virginia.