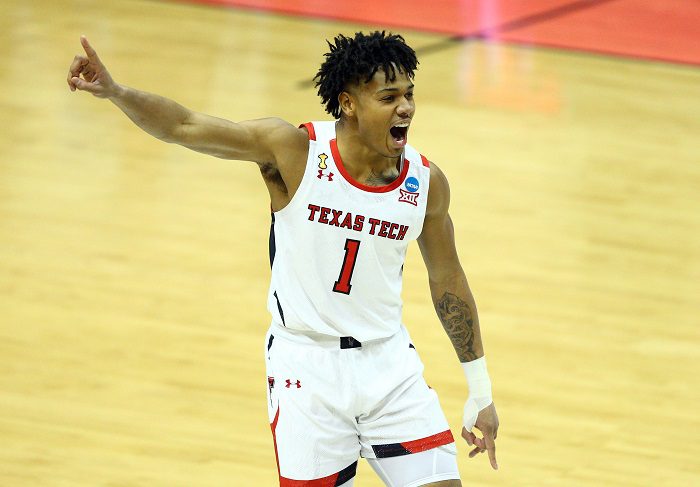 The Big 12 Conference opened its men's basketball season last week. And, overall, it was a mighty success. Just some of the things that happened last week:
Kansas beat Michigan State in the Champion's Classic and looked good doing it. In the process, Ochai Agbaji may be solidifying himself as a first-round pick.
West Virginia head coach Bob Huggins continued to make his Hall-of-Fame case (as if he needs to at this point), and in the process tied Bobby Knight for fifth all-time in coaching wins (and Roy Williams is next). By, the way, the Mountaineers forced 32 — THIRTY-TWO — turnovers in the 'Backyard Brawl' with Pitt.
The Big 12's three brand-new head coach — Iowa State's T.J. Otzelberger, Oklahoma's Porter Moser and Texas Tech's Mark Adams — all had perfect 2-0 seeks.
The Big 12's old coach in a new place — Texas' Chris Beard — won his opener and took his Longhorns to No. 1 Gonzaga and … things did not go well.
The Baylor Bears raised their championship banner and unveiled some serious bling.
That, and so much more, happened in Week 1. Here are our three takeaways.
Big 12 Splits Marquee Games
Most of the Big 12's games this week were your typical early-season affairs — lopsided 'buy games' (think the basketball equivalent of football's 'money games') in which the Big 12 team looked really good. But, two Big 12 teams took on significant matchups in the season's first week — Kansas and Texas.
The Jayhawks pounded away at Michigan State in the Champions' Classic in New York City. Now, Michigan State isn't quite what it usually is, if we're being honest. And Kansas needed about 10 minutes to get on track. But, overall, their 87-74 win showed that Kansas is light years ahead of the rest of the Big 12 in terms of overall chemistry. That's to be expected from a team with four returning starters (Jalen Wilson missed that game due to suspension) and a fifth starter in Remy Martin that has plenty of college experience. Dajuan Harris gave Kansas quality minutes in Wilson's place. This is a deep Kansas team, and the news that Cam Martin, Kyle Cuffe Jr. and Dillon Wilhite will use redshirts isn't going to hurt that depth one bit.
The other game was Texas' road trip to Gonzaga on Saturday night. While the Texas football team was helping Kansas end its 56-game road conference losing streak, Chris Beard and his crew were getting dominated by Bulldogs forward Drew Timme, who had a career-high 37 points. Texas has obvious talent. But the Longhorns were down 20 at the break and never cut the lead to single digits. This was a reminder that Beard will need all of the non-conference slate to see how all of these pieces fit together. I'm more confident about the guard play right now, which is to be expected with two holdover guards (Andrew Jones and Courtney Ramey) plus Marcus Carr. But I'd like to see Beard throw Tre Mitchell into the starting lineup as opposed to Christian Bishop. They need Mitchell's rebounding right now.
The 'Under The Radar' Big Win
I think it's ultimately going to be a rough season for Iowa State. So, let's celebrate the milestones when they come. And, if we're looking at the whole week, Iowa State probably had the 'biggest' win of the week in the Big 12 — within the context of each program.
Iowa State's 60-50 win came against an Oregon State team that went to the Elite Eight in the NCAA Tournament last March. Sure, the Beavers were a surprise Elite Eight team. But, they got there. The Beavers were tied for fourth in the Pac-12's preseason media poll.
This was a game I pegged as a loss for Iowa State. Instead, the Cyclones won behind a trio of newcomers — transfers Gabe Kalscheur and Izaiah Brockington (who had a double-double in that contest) and freshman guard Tyrese Hunter.
Iowa State needed a win like that to build momentum for what's to come. The Cyclones' next two games are against Alabama State and Grambling State. The Cyclones could be 4-0. Then, they head to the NIT Season Tip-off in New York City. They'll open with Xavier, and then could play either Memphis or Virginia Tech. That will be a much more significant barometer of Iowa State's potential this season.
Texas Tech 'Might' Be Loaded
I'm not sure what exactly Terrence Shannon Jr. may have done to earn a thorough review of his eligibility, but let's hope Texas Tech can run through it quick. As a reference, Illinois big man Kofi Cockburn was suspended for the first three games of the regular season for selling "institutionally issued apparel and memorabilia" before he withdrew from the draft and returned to college basketball. I'm not saying that's what happened with Shannon. It just gives you a reference point.
Without Shannon, the Red Raiders are 2-0 and the transfers have run free. New head coach Mark Adams started three of them in the season's first two games — Bryson Williams, Davion Warren and Kevin Obanor. All were high-performing players at their previous institutions, and they hit the ground running last week. Williams averaged 19 points and eight rebounds, Warren averaged 16.5 points, three assists and 2.5 steals, and Obanor averaged 13 points. Kevin McCullar, one of the holdovers, averaged 16 points and 7.5 rebounds.
One concern when you're trying to blend so many new pieces together is whether they all fit. Adams has unique experience with his as a junior college head coach for a decade. Think of these Red Raiders as a junior college team that basically turned over its roster, which is what Juco rosters usually do from year to year.
Shannon's return probably sends Warren to the bench, and that's OK. He's a proven scorer and passer and would be a perfect sixth man on this team. Ultimately, these Red Raiders are better with Shannon. But, after a week, they already look pretty darned good without him.
You can find Matthew Postins on Twitter @PostinsPostcard.
**Want to win a $20 gift card? Go sign up here and join our conversation! The best poster each week wins a gift card to your favorite establishment!**