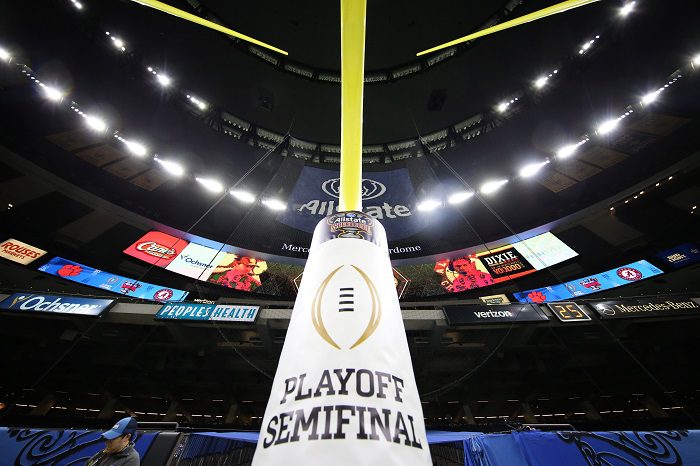 The month of November brings many things in the world of college sports. College Football is in full swing, the start of college basketball begins and then of course we get the College Football Playoff rankings every Tuesday night.
There have been plenty of head scratching moments from the playoff committee on a weekly basis so I thought it would be fun to share my five thoughts on this week's playoff rankings.
1. Long Live the Lack of Respect for the Big 12
It's not news anymore at this point because each and every year it feels like everyone on the playoff committee could care less about the Big 12 Conference. Last Week, Oklahoma was undefeated with an 9-0 record yet there were five teams with a loss ranked ahead of them. The committee doesn't have to worry about the Sooners anymore because they are now ranked thirteenth after falling to a top fifteen Baylor squad.
Then we have the highest ranked Big 12 team in Oklahoma State checking in at number nine. The Cowboys are 9-1 and have been playing great football over the last few weeks yet it seems like the committee still views them as a pretender instead of a contender. They are behind THREE Big Ten east teams who all have one loss.
2. What's the Deal with the Big Ten?
Speaking of the Big Ten east, why are there three Big Ten teams from the same division ranked in the top seven? That makes zero sense and of course it is going to be used to prop up Michigan, Michigan State and Ohio State. Out of all these three teams, who have they beaten? Ohio State doesn't have a win over any team currently ranked in the top 25. Michigan State beat Michigan (yet are still somehow ranked behind them) and Michigan's best win was against a three loss Wisconsin team. Give me break.
3. Oregon Still Gets a Free Pass
Something that nobody is talking about is the fact that Oregon lost to a team with a current record of 3-7. If not for their week two win against Ohio State, this team wouldn't even sniff the top four but because the committee feels the need to prop up the Big Ten, they have to be ranked ahead of the Buckeyes moving forward. The Ducks got a get out of jail free card with their early season win and with a weak Pac-12 schedule, they have the easiest path to make the playoff out of anyone else in the entire country.
4. Could Cincinnati Crack the Top 4?
Despite being ranked number five last week, the Bearcats didn't have a lot of juice left in their schedule to get the attention of the playoff committee. Now with Houston finally cracking the top 25, could that be enough to boost Cincinnati into the top four if Alabama falls to Georgia in the SEC title game? I think it should. Of course, Houston needs to beat Memphis and UConn to finish out the year but if they do that and meet Cincinnati in the AAC title game, that could be the final piece to get the Bearcats in. But who knows considering how little the committee thinks of group of five teams.
5. Joey Galloway is a Clown
It's no secret that Joey Galloway is the worst college football analyst that ESPN has. The stuff that comes out of his mouth on a weekly basis is jaw dropping at times because most of what he spews is complete garbage. Take a listen to him making a case for Alabama to stay at number two even if they lose to Georgia in the SEC title game. Keep in mind, Alabama already has one loss so another one would make them a two-loss team who didn't even win their conference.