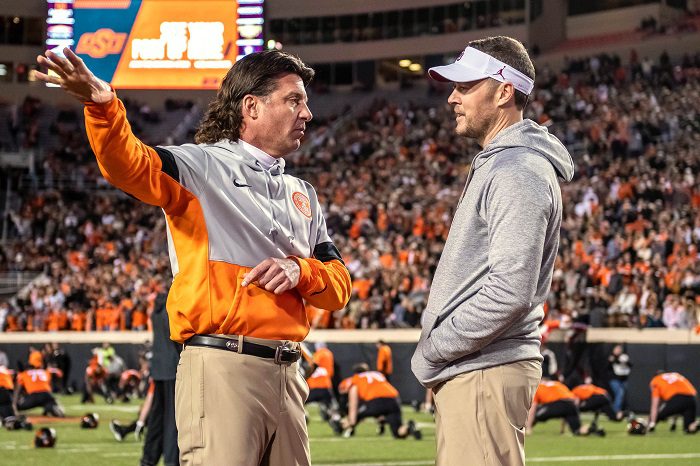 Welcome to the HCS Big 12 mailbag! This mailbag is for all you football junkies out there who root for a Big 12 school that not only have questions about your team, but other teams in the conference as well. So, join me, grab your favorite drink, and relax as I answer all your Big 12 questions. For those interested, I will send out a tweet (@Derekduke25) every Monday until 8 PM CT for you to send in your questions to be answered every Tuesday right here at Heartland College Sports.  
I want to thank each one of you who submitted a question this week and for those reading, I am glad you could join me. I am doing this on a Monday night and of course, it would not be a proper mailbag without a drink next to me. Tonight's drink is Wild Turkey 101. Cheers!
@Schmitty27 asks: Steve Sarkisian already feels like a sunk cost at Texas with the loss against Kansas and how the season has progressed. I doubt he gets fired or they mutually agree to part ways, but should they? Not sure how this turns around for sark with a move to SEC imminent.
Duke: It's been a rough first year for Steve Sarkisian at Texas. The Longhorns have lost five straight games for the first time since 1956 and just lost to Kansas at home. You can certainly say that Texas has officially hit rock bottom. With that said, Texas invested a ton of money not only to get Steve Sarkisian but to get rid of the man he replaced in Tom Herman. Even if they miss a bowl game, Sark will be back for the 2022 season. If Charlie Strong got three years at Texas, then I believe Steve Sarkisian will get at least two. It's only year one and I understand how impatient Texas fans are, but I am more interested to see what this program looks like in 2023 before I label Steve Sarkisian a complete failure at Texas. Until then, grab your popcorn and enjoy the Texas roller coaster.
@DwainR11 asks: With the downfall of my Sooners and given the remaining schedule of the contenders, who ends up in the B12 championship and who wins?
Duke: Man, you are really putting me on the spot here huh? It's all good because this past weekend helped clear the Big 12 title picture. At this very moment, Oklahoma State looks like a top-two team in the conference so I would say they are in for sure. As for my second team in, I would still go with the Sooners. They were my pick to win the Big 12 before the season and I am still sticking with my preseason pick. Yes, they had a bad loss to Baylor, but this team always finds a new gear after a crushing defeat. It's tough but I still believe in Oklahoma to win out and win their seventh Big 12 title in a row.
@statefootbalfan asks: I think it's most likely (if nothing else Wild happens) we have OSU vs OU in Arlington. How weird will it be to have Bedlam and then have them play again in the following week? I love it, but just odd to play back-to-back if it plays out like that.
Duke: It is definitely odd. I didn't like the fact that the schedule-makers had the Oklahoma/Iowa State game this late in the season and Bedlam for the final week of the year. Those are games you want to see in September or October because you don't want to see teams play each other two weeks in a row. I get that Bedlam was always one of the last games of the year for rivalry weekend but at the same time I think it may turn some fans off due to the fact they could play twice in a span of seven days. But hey, football is football so I guess I shouldn't complain.
@Vectoze_ asks: Is Neal Brown on the hot seat? Should we give Neal one more season?
Duke: I think it depends on how he finishes out this season. Many people thought that this team could be competitive and in the mix for a Big 12 title, but I was never in that camp. If Neal Brown can win out and get to a bowl game, that would be a good step in the right direction heading in 2022. If he doesn't, then his seat may be a little warm going into next year. Either way, he should be safe for now but if he comes out next year and struggles then his seat would start getting hot.
@Shroudedllama asks: Pete's buying you a ticket to Bedlam, right?
Duke: Ha! That's a good one Dave. Oddly enough, I actually have plans on the final weekend of the regular season due to a wedding. Yes, that's right folks, my friend is having a wedding during football season. I feel like that should be a crime but since I am in it, I have no choice but to go. But don't worry, thanks to the power of technology, I will be watching on my phone.