Big 12 News
Jerry Kill Says Lance Leipold Will Get Kansas 'Back to Where Mangino Had It'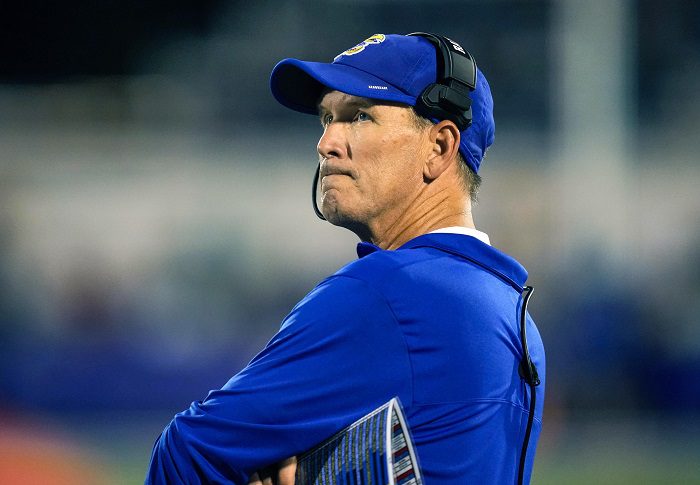 Coming off a big overtime win over Texas last week, the Kansas Jayhawks and head coach Lance Leipold now get to set their sights on a TCU team whose interim head coach has been impressed by the Jayhawks' progress.
Jerry Kill, TCU's interim head coach, is showing some love toward Leipold, who is in his first season as the Jayhawks' head coach, saying about the hire on Tuesday, "Great hire by KU. Off-the-charts smart guy. You watch, he'll get it back to where [Mark] Mangino had it, and competing and doing all those things. It won't be long."
Kill's comments liken Leipold to Mark Mangino, who was the last Kansas head coach to have any sort of success.
Mangino coached the Jayhawks from 2002-2009. During that time, he led the team to four bowl appearances, winning three of them, including an Orange Bowl.
Kill also praised Leipold when comparing him to some of his predecessors, without calling out Les Miles directly, saying, "No disrespect to anybody, but you know, they're coached better. I mean, they're coached better. Their technique is better. They're just a lot better football team than what they were a year ago. There's no comparison."
Leipold was named the 41st head coach in Kansas football history back in April. This came after a successful six year run at Buffalo. He led Buffalo to 24 wins over his final three seasons, which marked the most successful three year run in Buffalo history.
He took over a Kansas squad that has struggled over the last decade, having not finished higher than 9th in the conference over the last ten years.
Leipold and the Jayhawks are looking at another losing season this year, currently sitting at 2-8 overall with a 1-6 conference record, but in the opinion of Jerry Kill, they are definitely headed in the right direction.