Kansas Jayhawks
KU's Jared Casey Gets Applebee's Deal After Game-Winning Catch vs. Texas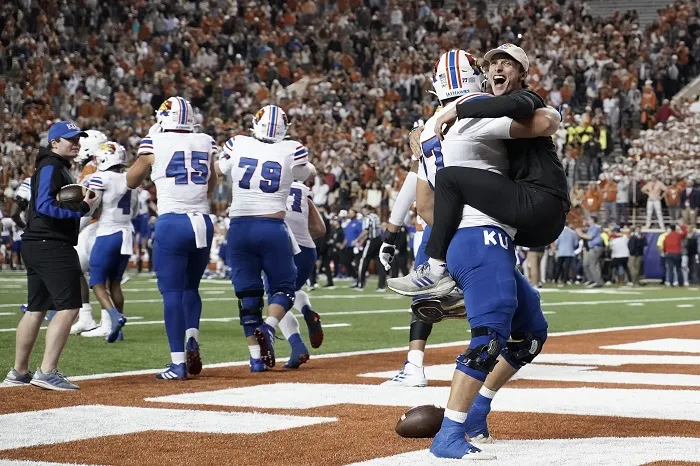 The story of Jared Casey just keeps getting better and better. Casey, a walk-on fullback, caught the 2-point conversion that ended the historic upset of Texas on Saturday Night. Casey's first-ever offensive snap for the Jayhawks came against Texas, making his catch to end the game all the more unlikely.
Now, after his weekend of fame and free bar tabs in Lawrence, Casey can add television actor to his repertoire. According to Jesse Newell of The Kansas City Star, Jared Casey has received an NIL deal with Applebee's:
This, coupled with camera crews following him around during practice must feel like a dream to Casey, especially being thrust into stardom so quickly!
Just like the Babe says in The Sandlot, "Heroes get remembered, but legends never die." Well, Jared Casey, you will forever be a legend in Lawrence, Kansas, and the rest of college football! Just, maybe, keep your head down if you're in Austin. I have a feeling they'll be sore about that catch for a while.
UPDATE: Casey shared that he says he got $800 in cash and $1,000 in gift cards from Applebee's for this NIL deal.