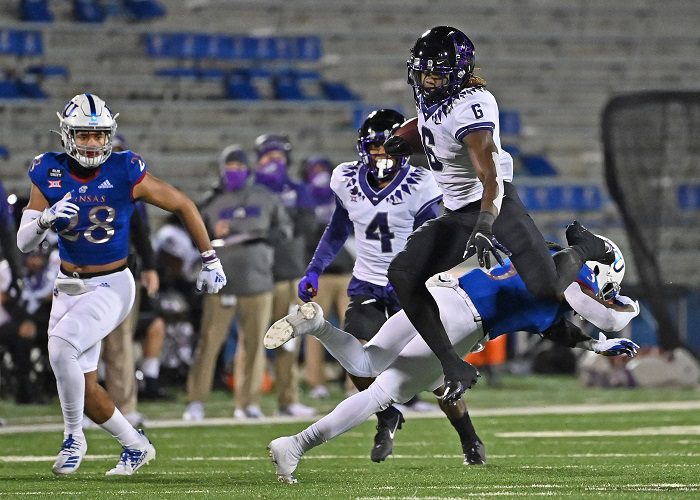 Interim coach Jerry Kill announced Tuesday afternoon that TCU RB Zach Evans would not be available for Saturday's game against Kansas. Fort Worth Star-Telegram's Drew Davison says that Evans hopes to be available for Week 13:
Evans injured his toe during the Texas Tech game back on October 9th and has missed all but one game since then. Turf toe, a common injury among running backs, is a sprain of the largest joint in the big toe and can linger on for weeks. Before the injury, Evans was averaging 8.1 yards per carry and had five total touchdowns through four games.
Kill also said that Jake Neufeld, a wide receiver, could see reps at quarterback this week, due to injuries to Chandler Morris, Max Duggan and Sam Jackson, per Davison. Kill sounded confident that some combination of Morris and Duggan will be ready for Saturday's game, but Neufeld may take reps to make sure the offense can practice.
TCU's running game has suffered in his absence, but Kendre Miller and Emari Demercado have been serviceable at times throughout the season. Miller's best game was against Texas Tech when Evans was injured when Miller had 12 carries for 185 yards and three touchdowns.
Rumors swirled about the possibility of Evans transferring in the wake of Gary Patterson's resignation, but Evans denied the rumors and has remained with the team throughout the season.
TCU has a chance to get to bowl eligibility, but they must win out to do so. The Horned Frogs host Kansas this week and are currently 22-point favorites. They close out the regular season next week by traveling to Ames to take on the Cyclones.