Big 12 News
Texas AD Chris Del Conte Blames 'Depth Issues' For Longhorns Struggles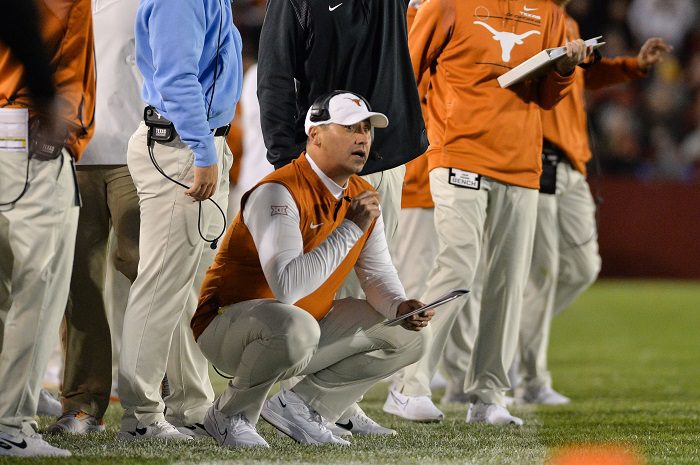 The Texas Longhorns suffered a heartbreaking loss to the Kansas Jayhawks last Saturday as they saw their losing streak reach five games.
In his weekly message out to Longhorn nation, athletic director Chris Del Conte tried his best to explain the program's worst losing streak in 65 years.
"This isn't to cast any blame or make excuses; it's just factual that we have some real depth issues. As injuries mount, it's even more glaring. When you look at it, 52% of our 2018 signing class and 46% of the 2019 class are no longer here. That's nearly half of the student-athletes from two classes that were ranked as the third-best in the nation and should be making up the juniors and seniors on our roster today."
Texas must win their final two games against West Virginia and Kansas State to become eligible for a bowl. This is an unexpected situation for a Texas team that began the season ranked No. 21.
Despite the team's recent struggles, Del Conte still stands behind head coach Steve Sarkisian, who is in the first year of a six-year contract.
"Coach Sark is building a culture, he has a tremendous group of coaches with him, and we are providing every ounce of support we can muster to help them redirect our program."
Del Conte looked to end the letter on a positive note, writing, "Right now, we need to focus on moving forward, staying behind our team and cheering like heck to get a win at West Virginia. We then can welcome our Horns home for Senior Day on the Friday after Thanksgiving at 11 a.m. CT versus K-State. I know we're all really disappointed, and there's a lot being said, but this is not a time to splinter or pull apart in any way."
Steve Sarkisian took over as Longhorns head coach after Tom Herman was fired. Herman led the Longhorns to four consecutive winning seasons and four bowl appearances but could not bring home a Big 12 championship.