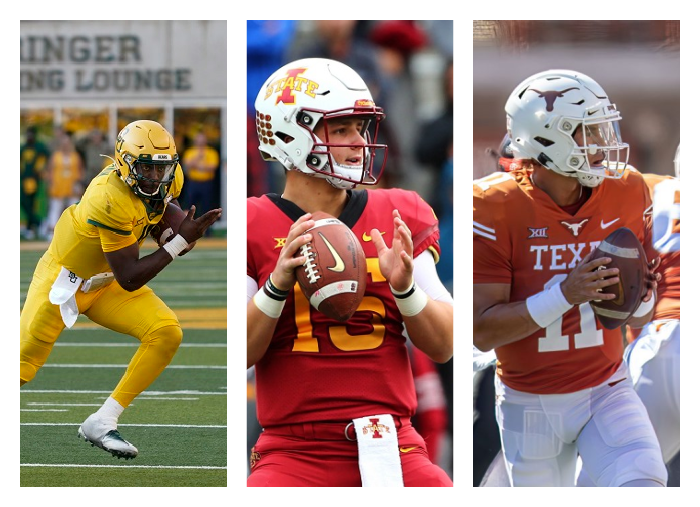 There is no position in all of sports that is more important than the quarterback. A good quarterback can help hide other areas of weakness on a team while bad ones can bring down even the best of teams. Either way, having good quarterback play is crucial for any team that hopes to make it all the way. Just like with team power rankings, I wanted to do a weekly quarterback power ranking after every weekend. Here you will find out who is trending up or down depending on their play on the field. 
1. Kansas State QB Skylar Thompson (Last Week: #3)
Nobody is talking about Kansas State or the play of Skylar Thompson. Over the last few weeks, he has been playing some fantastic football. He doesn't do anything flashy, but he has been efficient running the offense since his return. On Saturday, he went 14/19 for 138 yards and a score. Skylar makes his first appearance at the number one spot but if you have been following along, he has been one of the most consistent quarterbacks in the Big 12.
2. Texas Tech QB Donovan Smith (Last Week: #8)
Donovan Smith had his coming out party against a good Iowa State defense. He managed to escape pressure to buy time and make some key throws down the field. Smith did a fantastic job giving his receivers a chance to make plays and they did. In the first half, he torched the Cyclones defense for three touchdown passes and scored 31 points. At times, he looked unstoppable, and I am looking forward to seeing him play.
3. Kansas QB Jalon Daniels (Last Week: #10)
A Kansas quarterback in the top five? Yes, you read that correctly. Jalon Daniels had the game of a lifetime against Texas tossing three touchdown passes and not turning the football over. He played a crucial role in the big upset win down in Austin. In fact, I am still in shock to this day and how crazy is it that he was the one to help lead Kansas to their first conference road victory since 2008.
4. Oklahoma State QB Spence Sanders (Last Week: #4)
I know we always talk about the defense and the rushing attack for Oklahoma State but don't forget about Spencer Sanders who has quietly been playing well. He has done an excellent job of managing the offense and has limited his turnovers. Against TCU, Sanders went 17/25 for over 200 yards and a passing touchdown. Much like Skylar Thompson at Kansas State, Spencer is flying under the radar.
5. Texas QB Casey Thompson (Last Week: #7)
Texas lost the game and there are no excuses for that, but Casey Thompson had gritty performance I didn't see coming after being pulled. As crazy as it sounds, Casey threw six touchdown passes and led Texas to a comeback that fell short. I know it was against Kansas, but I was still a little impressed with the way he handled himself.
6. Iowa State QB Brock Purdy (Last Week: #5)
If Brock would have played the first half like he did the second half, he may have taken the top spot on the list. Unfortunately, it was just too little too late for the Cyclones in Lubbock. Still, Brock managed to throw for over 350 yards, but he did have two turnovers. It was not his best game by any means.
7. Baylor QB Gerry Bohanon (Last Week: #6)
Baylor won the game, but it wasn't because of Gerry's arm. Through the air, he just was 12/21 for a score and also had an interception. However, he was able to make some key plays running the football including two big time fourth quarter rushing touchdowns.
8. Oklahoma QB Caleb Williams (Last Week: #1)
Caleb had a rough game against a good Baylor defense. For the last two weeks, Caleb Williams had the number one spot but after his performance on Saturday, he was brought back down to earth a little bit. Williams had two interceptions and was unable to get the offense moving. Injuries appeared to have played a factor for him but still, there was no excuse for his play.
9. TCU QB Chandler Morris (Last Week: #2)
Much like Caleb Williams, Chandler was riding high a week ago but then Oklahoma State happened. The Cowboys defense dominated TCU and Chandler Morris had nowhere to go. There was no magic like he had against Baylor because Oklahoma State just flat out beat them like a drum. Chandler got banged up but on Saturday, he wasn't able to do much at all.
10. West Virginia QB Jarret Doege (Last Week: #9)
Due to the circumstances of the game, West Virginia was forced to throw the football and as usual, it didn't work out all that well. Doege threw two interceptions against Kansas State and struggled throughout the ballgame. He finished last week in the ninth spot and once again finds himself on the bottom.