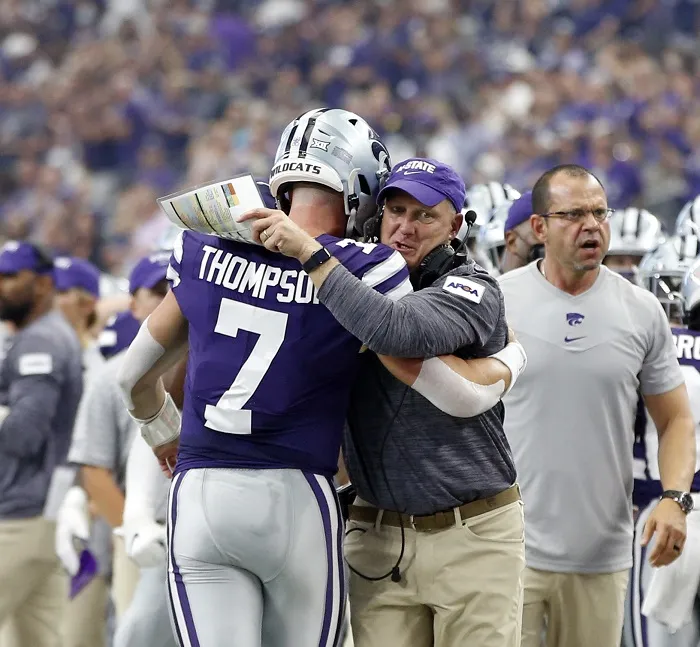 What a difference a month makes. After losing to Iowa State on October 16, K-State sat at 3-3 on the year and 0-3 in the Big 12 after three straight losses. The loss to Iowa State was K-State's eighth conference loss in a row dating to last year. At the time, many K-State fans were feeling uneasy with the trajectory of the program and were questioning head coach Chris Klieman.
Fast forward a month and K-State coaches, players, and fans are feeling great after four straight Big 12 wins. It's been a month since the safety by Felix Aniduke-Uzomah in the Texas Tech game. Not only did the play turn that game around, but it turned the season around. If Aniduke-Uzomah doesn't make that extraordinary play, who knows if K-State wins that game and goes on a four-game winning streak.
Chris Klieman's record at K-State is now 19-14 overall and 13-12 in Big 12 play. He made a bowl game his first season and has the Wildcats bowl eligible again this season. In general, I like what Klieman is doing at K-State. He knows football and runs a style on offense and defense that is mostly successful in the Big 12. K-State's offense averages 6.32 yards per play this season, which currently ranks second in K-State history, tied with the 2013 Wildcats and second only behind the great 1998 team. The 2013 team was led by Jake Waters, John Hubert, and Tyler Lockett. The 1998 team was led by K-State legend Michael Bishop.
For K-State to compete in the upper echelon of the league going forward, I believe Klieman is going to have to recruit better or at the very least make good use of the transfer portal like he did this past off-season. The quarterback position may be an issue next season, but there is a decent core of young players to build around. It's too soon to judge whether K-State is poised to take a step forward next season or a step backward. I'll let the rest of the season play out and see how recruiting pans out before making any judgment on that.
I sometimes play the "what if" game when thinking back about the Chris Klieman hire. There were a lot of candidates, and rumored candidates, for the K-State job when Bill Snyder "retired." I looked at a few of them this week to see where they're at and what they're doing in the college football world. I also looked at the three other Big 12 coaches hired in the same off-season as Klieman to see how he compares to them.
Did K-State athletic director Gene Taylor make the best decision possible when hiring Chris Klieman? Here is the rundown.
First-year Big 12 coaches in 2019
Les Miles, Kansas – The Miles hire didn't work out for Kansas at all. He was 3-18 overall and 1-16 in the Big 12 during his time as the head coach at Kansas. He lost to Klieman's K-State team twice, 38-10 in 2019 and 55-14 in 2020. He was fired in March 2021 after past sexual harassment accusations came to light.
Neal Brown, West Virginia – Neal Brown was a hot commodity after the 2018 season. He was coming off his third straight double-digit win season at Troy and made three straight bowl games. It was rumored that he interviewed, or at least spoke with, K-State before accepting the job at West Virginia. He has been somewhat disappointing as coach of the Mountaineers, with a 15-17 overall record, and a 9-15 record in the Big 12.
Matt Wells, Texas Tech – Matt Wells was fired after losing to K-State this season. He compiled a 13-17 record at Texas Tech and a 7-16 record in the Big 12 since being hired before the 2019 season.
Coaches who were candidates for the K-State job in 2018
Seth Littrell, North Texas – Littrell was a hot coaching candidate when K-State was looking for Snyder's replacement. Rumors were that he interviewed with K-State but declined to take the job. Since that time, he is 12-20 overall at North Texas.
Brent Venables – Venables is still the defensive coordinator at Clemson. It looks like he will probably retire there at this point.
Mike Norvell – It was rumored that Norvell spoke with K-State about the head coaching vacancy. He coached one more year at Memphis before getting hired at Florida State, where he has struggled. He is 7-12 overall and 5-10 in the ACC in two years coaching the Seminoles.
Brett Bielema – Bielema was hired as head coach at Illinois in 2021. He is 4-6 overall and 3-4 in the Big 10 so far.
Looking through that list of coaches, I'd surmise that Gene Taylor made the best decision he could when he hired Chris Klieman. Klieman has outperformed everyone on the list up to this point. I'm interested to hear whether you agree or disagree.