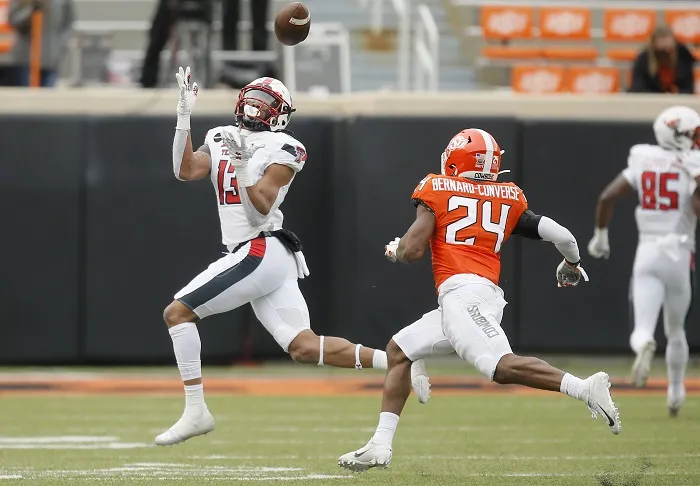 Here is everything you need to know about the upcoming Big 12 battle in Lubbock in our Oklahoma State vs. Texas Tech preview and prediction.
GAME INFO
7:00 PM CST, Saturday, November 20, 2021, AT&T Jones Stadium, Lubbock, TX
TV: FOX
Radio: TTU broadcast: Texas Tech Sports Network; ISU broadcast: Cowboys Radio Network
Records: Texas Tech: 6-4 (3-4 Big 12); Oklahoma State 8-1 (6-1 Big 12)
Rankings: Texas Tech – none; Oklahoma State – CFB Playoff #9; AP #9
Last week: Texas Tech defeated Iowa State, 41-38; Oklahoma State defeated TCU, 63-17
Spread: Oklahoma State -10.5
Fun Facts: Oklahoma State has won 10 of the last 12 in this series, but only one of the last three. Texas Tech leads the series 23-22-3. Tech is 13-7-2 against Oklahoma State in Lubbock.
KEY PLAYERS
TEXAS TECH
QB DONOVAN SMITH
Smith, a freshman, got his first career start last week against Iowa State and exceeded all expectations. Smith completed 25 of 32 passes for 322 yards, three TDs, and an interception. He also added 50 rushing yards on a team-high 14 attempts. Most importantly, he led Texas Tech to the upset win to secure bowl eligibility.
Smith's ability to run changes Tech's offense for the better, but he has good vision as a passer as well. In the win over ISU, he found nine different receivers and did a good job of going through his progression to find the soft spot in coverage. He also raised the play of his teammates, and sophomore WR Myles Price was a huge beneficiary as he came up with a career-high nine receptions for 175 yards and a touchdown against a typically stingy Iowa State defense.
Smith passed the test against one of the league's better defenses with flying colors. Oklahoma State's defense is simply on another level than Iowa State's, however, and Smith will need to handle the adversity that comes and continue to make plays if Tech is to pull off back-to-back upsets.
THE OFFENSIVE LINE
The Red Raiders O-line was fantastic for much of the game against Iowa State, clearing the way for 207 rushing yards and giving Smith time to find the open man downfield. Their collective play was the key that unlocked the door to bowl eligibility, and it remains a key to any chance Texas Tech has of defeating Oklahoma State.
The Cowboys are simply killers in the pass rush. They lead the Big 12 and the nation with 37 sacks this season, and they're the best in the Big 12 in pass efficiency defense. The Cowboys' rushing defense is also the best in the Big 12, allowing just 90.9 yards per game, and their 77 tackles for loss are – you guessed it – first in the Big 12 as well.
Tech has the explosiveness and speed at the skill positions to have success against any defense, but that won't happen unless the offensive line is up to the task. Against a defense like Oklahoma State's, Tech's O-line must be transcendent or the Red Raiders will find themselves unable to generate enough offense to keep the chains moving and score.
WR ERIK EZUKANMA
While Tech has a variety of weapons in the backfield and out wide, Ezukanma is something of a lynchpin for the Red Raider offense. Excluding the Oklahoma game, Texas Tech has won every game in which Ezukanma has averaged more than 8 yards per reception and lost every game in which Ezukanma has averaged 8 or fewer yards per reception.
Ezukanma is one of the most sure-handed receivers in the Big 12, and he justifiably draws a lot of attention from opposing defenses. He doesn't have to make huge plays in the passing game to be effective either; he simply needs to remain a threat. Over the past two games, Ezukanma has caught 12 passes for 177 yards and three touchdowns, so he will have the full attention of Oklahoma State's defense. If he can continue to make plays in spite of the attention, Tech's offense will have life. However, a Tech offense in which Ezukanma is a non-factor is likely to stall.
Against K-State, Ezukanma was held to one catch for three yards. He had a 45-yard rushing touchdown on the game's first drive but was completely shut down afterward. As a result, Tech was shut out in the second half of the game and Matt Wells got fired. Against Oklahoma State, Ezukanma's contribution to the passing game will be critical. He's the possession receiver Smith will need to move the chains.
OKLAHOMA STATE
S KOLBY HARVELL-PEEL
Despite being a second-team All-Big 12 player in 2019 and 2020, Peel, a senior, is one of the most under-the-radar players in the nation. With 52 tackles, three interceptions, and a sack this season, he's a fast, rangy player who can put a lid on the top of the defense and apply pressure in the pass rush or against the run. More importantly, he's the leader of the secondary – the veteran coach on the field.
While Tech has weapons in the backfield, like running backs SaRodorick Thompson and Tahj Brooks, the Red Raiders are likely to be extremely aggressive in the quick passing game to short-circuit Oklahoma State's downhill pass rush. Peel will be critical in his role of quarterbacking the secondary and keeping the defensive backs on the same page against a diverse passing attack and a quarterback that can exploit running lanes.
RB JALEN WARREN
Warren is a workhorse and the MVP of the Cowboys' offense this season. He's already rushed for 1,041 yards and 10 touchdowns this season despite only gaining 46 yards in Oklahoma State's first two games of the season. His 5.0 yards per carry is the glue that holds OSU's attack together, and it is difficult to imagine that the Cowboys would be toying with a playoff berth if not for Warren's toughness week in and week out.
Texas Tech had some major breakdowns in run defense early in the season, particularly against Texas and TCU, but it has righted the ship since to be anywhere from average to good against the run depending on the opponent. Last week, however, Tech's run defense appeared to take a huge step forward as it held Iowa State to just 89 yards on the ground and kept Breece Hall, who entered the game as the Big 12's leading rusher, under wraps with just 51 yards on 18 carries (2.83 yards per attempt).
To be successful in Lubbock, Oklahoma State needs Warren to buck that trend and find the extra yards that Hall could not, especially if Tech is able to move the ball against OSU's defense.
In Oklahoma State's one loss this season, at Iowa State, Warren was held to just 76 rushing yards – the first time he had been held below the century mark since breaking out in the game at Boise State. He has since gone under 100 yards in games against WVU and KU in which the Cowboys' defense completely shut the opposing offense down; however, in games where the opposing offense has found any sort of traction at all, Warren's ability to grind out yards has been absolutely critical to the team's success.
If Warren is able to rush for over 100 yards, Oklahoma State is almost assured of victory.
KEY STORYLINES
TEXAS TECH
Donovan Smith, where have you been?
Things looked pretty dismal in Lubbock following back-to-back losses to K-State and Oklahoma. Matt Wells got fired, and while the Red Raiders were just a game away from bowl eligibility, the home stretch of the season didn't look promising.
That all changed last week when the Red Raiders stunned Iowa State with a dominant first half and a 62-yard Jonathan Garibay field goal as the clock expired. Garibay's kick was the biggest play of the game, but the real story was Smith as he orchestrated an offensive explosion against one of the Big 12's best defenses.
Now, at 6-4, 3-4, Tech has the opportunity to finish the season with a late surge that could land them in the top half of the Big 12 standings as well as the Top 25. Perhaps more importantly, Tech has the opportunity to build toward next season with Smith as heir-apparent to the offense.
OKLAHOMA STATE
Win this game, and Oklahoma State clinches a spot in the Big 12 Championship and a playoff berth remains possible.
While the whims of the playoff committee are somewhat out of Oklahoma State's control, it's all about taking one game at a time for Oklahoma State. There's no need to look ahead to Bedlam when a win in Lubbock puts the Cowboys in the championship game.
Oklahoma State has had a fantastic season. The defense is one of the best in the nation – I would say it is second only to Georgia's – and the Cowboys appear to be getting better week by week. This is a team on the verge of magic.
PREDICTION: OKLAHOMA STATE 27, TEXAS TECH 17
We saw last week what Oklahoma State's defense can do to a talented but inexperienced quarterback. The Cowboys are playing defense faster and more assignment-sound than any other team in the league, and it's not particularly close. The pass rush and rushing defenses are nightmares for opposing offenses, and they get scarier and scarier with every game. While I really love what I've seen from Tech's offense with Smith at the helm, I don't see the Red Raiders skiing in the avalanche that is the Cowboys' defense. Tech will do enough to keep from getting run out of the building, however, and I think the game will be relatively low scoring.