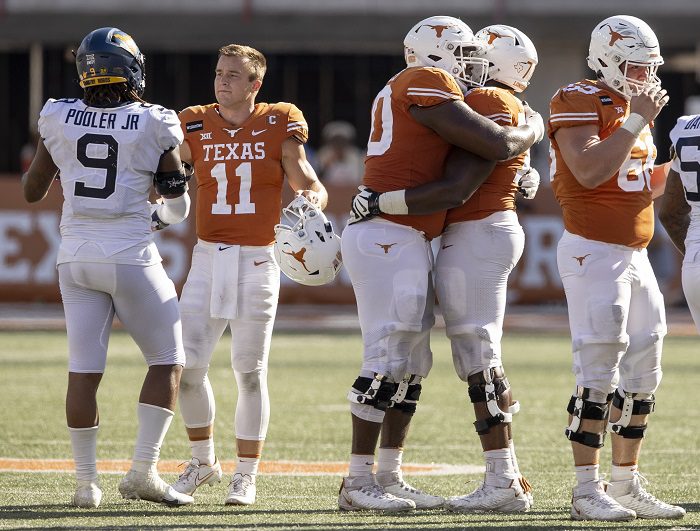 Here's everything you need to know about the upcoming Big 12 match-up in our Texas vs. West Virginia preview and prediction.
Game Info
Saturday, November 20, 2021; 11:00 am (Noon ET) Milan Puskar Stadium; Morgantown West Virginia
TV: ESPN2 (Anish Shroff and Mike Golic Jr.)
Radio: Texas: Longhorn IMG Radio Network (Craig Way, Roger Wallace) West Virginia: Mountaineer Sports Network (Tony Caridi, Dwight Wallace)
Records: West Virginia 4-6 (2-5 Big 12); Texas 4-6 (2-5 Big 12)
Rankings: N/A
Last Week: Kansas State def. West Virginia, 34-17; Kansas def. Texas 57-56 OT
Spread: -3.0 West Virginia
Fun Fact: West Virginia and Texas have met 10 times and the road team has won seven of them; West Virginia is 4-2 in Austin, Texas is 3-1 in Morgantown.
Key Players
West Virginia
Leddie Brown; No. 4, RB
The Mountaineers are 3-0 this year when Brown tops 100 yards on the ground, and he will have a chance to do so this week against a Texas defense that ranks 117th nationally against the run. However, his offensive line has struggled this year in creating space and that is a large reason why West Virginia ranks 112th in rushing offense. Both of these units have been disappointing this season, but something's gotta give. If Leddie Brown can get going on Saturday, the Mountaineers have to feel good about their chances.
Josh Chandler-Semedo; No. 7, LB
Chandler-Semedo leads the Mountaineers with 84 tackles and ranks 17th nationally with 52 solo tackles. Even though Texas will be without Bijan Robinson, I still expect them to try and get the ball to Roschon Jonhson often and that will keep Chandler-Semedo busy in this one. If he and this West Virginia defense, which ranks 33rd nationally against the run, can keep Johnson and Casey Thompson in check on the ground, it should give a guy like Dante Stills opportunities to create havoc.
Texas
Xavier Worthy; No. 8, WR
With the loss of Bijan Robinson, Texas is without its biggest offensive weapon. However, needing to depend on Xavier Worthy night not be a bad thing. Worthy now owns the record at Texas for receiving touchdowns by a freshman with 11 on the year, three of which came last week against Kansas. Worthy was the one bright spot for the Longhorns in that game, totaling 14 receptions, 152 yards, and three scores. I expect Texas to lean on him this week against West Virginia, and if the Mountaineers can't contain him it could be a long day for that secondary.
Demarvion Overshown; No. 0, LB
Overshown is one of the leaders of this defense and he will need to reach into himself and find a way to get the most out of his team. The senior leads the team with 72 tackles and has the propensity to show up for big games. He will need to show up for this one if the Longhorns want to go bowling because they need to win out to make it there.
Key Storylines
West Virginia Mountaineers
Can West Virginia run the football against a bad Texas rushing defense? When they have been able to establish a running game, the Mountaineers have fared well. The problem is, they haven't been able to do so for half the season. This is a good chance for Neal Brown to cool off his seat a little bit and all he needs to do is run the football, control the clock, and keep this Texas team feeling like it just can't get out of a losing streak that currently sits at five games. However, if they allow Casey Thompson to get rolling this could spell the final act for Brown as the West Virginia Head Coach.
Texas Longhorns
How will the Longhorns replace the production of Bijan Robinson? As I mentioned earlier, I think Xavier Worthy will be part of the answer, but they will need Casey Thompson to make plays with his legs as well. Roschon Johnson will be serviceable in Robinson's absence and if Keilan Robinson can play that will certainly help. Sark, just like Neal Brown on the other sideline, needs to win this game to keep his seat from catching fire. A six-game losing streak is not where Sarkisian wants to be going into the final game of the season. This is a must-win game for the Longhorns.
Prediction: West Virginia 31 Texas 27
This game will pit two coaches on hot seats, two teams that are 4-6, and two teams that must win to keep their hopes of bowl eligibility alive. What more do you want in a game between two teams fighting over 7th place in the league? I think West Virginia's crowd pulls itself together for the 11:00 am kick and gets behind the home team. The Longhorns probably only need one or two things to go wrong before they go into panic mode and I think West Virginia is capable of causing those problems. West Virginia's defensive line is the best unit on the field for either team and they should cause headaches for the Texas offensive line. Texas has the offensive weapons to keep up in a shootout, but I don't think it's enough. Give me the Mountaineers to break the mold of the home team losing in this one. Mountaineers cover, but not by much.