Baylor Bears
Washington Expected to Target Matt Campbell, Dave Aranda: Report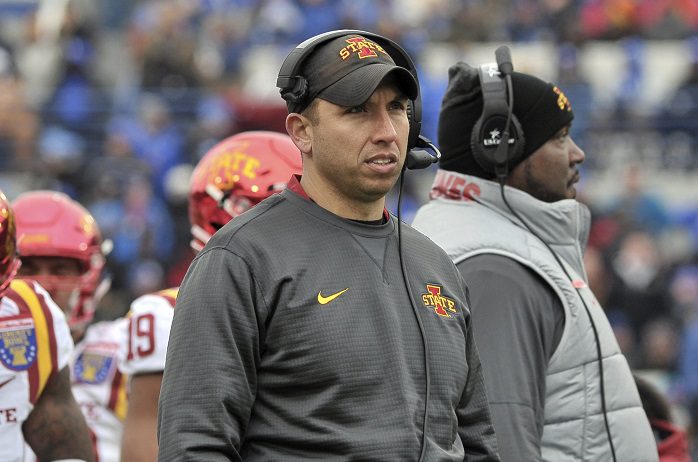 According to an article from The Athletic's Bruce Feldman, Washington intends to target Iowa State's Matt Campbell and Baylor's Dave Aranda to fill its coaching vacancy after firing Jimmy Lake last Sunday.
This should come as no surprise if you have been paying attention to either of the programs for the past few years. Both Baylor and Iowa State were once doormats in the Big 12, but both have become formidable opponents under their current coaching regimes. Feldman goes into depth on both coaches, and why they are great candidates to take over as the Huskies next head coach:
Iowa State's Matt Campbell has done a remarkable job in Ames. He's coming off Iowa State's best season (finishing No. 9 in 2020) and has really elevated that program, making a lot of admirers along the way among both athletic directors and NFL executives with his ability to develop talent and establish culture. ISU, at 6-4, hasn't had a great
season, especially given they were a preseason top-10 pick, but we hear that won't affect Campbell's stock in some key folks' eyes. The Big 12's diminished status might've made Campbell more open to leaving ISU along with the thought that his margin for error to make it to the CFP is too slim at the program, and his timing to make a move this year might be ideal.
Baylor's Dave Aranda is the other guy we hear that has impressed people high up in the Washington process. Aranda, a Southern California native, also has intrigued USC brass with what he's done in Waco in his two seasons there, especially this year. The Bears are 8-2 after Aranda overhauled his offensive staff last winter following a dismal debut season. The results have been strong. Last weekend, Baylor — and Aranda —put on a showcase performance when they completely shut down Lincoln Riley and the Sooners, whipping them 27-14. The Bears limited Oklahoma to just 260 yards of offense, its fewest since 2014, before Riley was even coaching in Norman. Aranda is deemed by everyone in coaching circles as a thoughtful, substantive man who is genuine. Unlike Campbell, Aranda hasn't had enough time to show what his recruiting can yield as a head coach since most of his roster are holdovers from Matt Rhule's tenure, but his
temperament and style probably would be seen as a welcome transition from how things had unfolded this year with Lake.
Feldman also lists Texas inside linebackers coach and co-defensive coordinator Jeff Choate as a possible candidate. Choate coached special teams under Chris Petersen at Boise State and then joined Petersen in Washington as a special teams coordinator and defensive line coach. He is lower on the list for Washington right now but could be a name to watch if the Huskies can't land Aranda or Campbell.
Dave Aranda and the Baylor Bears will take on Kansas State this weekend, while Matt Campbell takes his Cyclones to Norman to battle the Sooners.