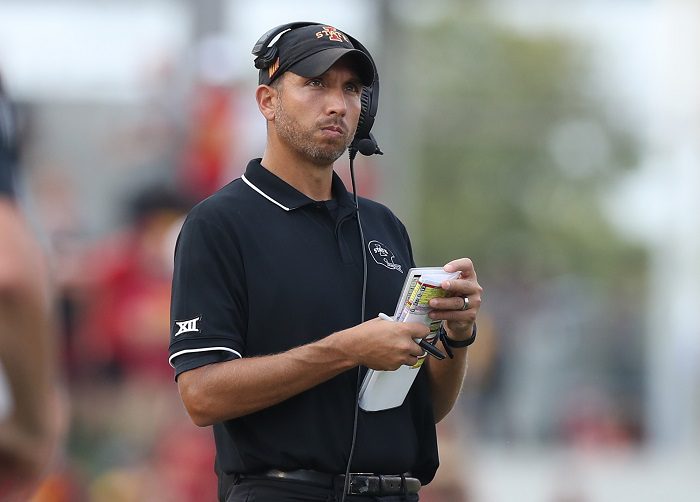 During Matt Campbell's weekly press conference Tuesday, he spoke about his goals for the 2021 team. When Ben Visser of the Cedar Rapids Gazette asked, " How do you, as a coach, view goals; because at the beginning of the season you, your players' goal was Big 12 Championship." Campbell quickly responded:
"Not me. That was never my goal. My goal has always been one thing; to become the best version of ourselves that we can become. So, you've never heard me say that word once. You've only heard me talk about becoming the best version of yourself you can be and, really, my challenge for this year's team was to become the greatest 'together' team in the history of Iowa State football. So far, all of our goals are still intact, from Coach Campbell's standpoint. Now, can our players have other goals and aspirations? Sure. Do I want them to have great goals and aspirations? Sure, but that's not Coach Campbell's goal. That was never said by me."
Brady Quinn had issues with that statement, and went as far as to say, "I can't believe he actually said that out loud." Chris Hassell, the host of CBS Sports HQ, released Brady's comments on Twitter:
It's easy to look at Campbell's quote and misunderstand what he is trying to say. If you don't follow Campbell, or pay attention to how he built that Iowa State program from the ground up, then you won't understand what he is trying to say. I think this is simply a case where Quinn has misconstrued what Campbell's philosophy is and what he stands for.
Matt Campbell is in love with "the process." What he means by that, is that he expects his players to embrace the hard work, dedication, and struggles it takes to become the best versions of themselves. You can see how passionate he is about this when he speaks to his players after an upset of the fourth-ranked TCU Horned Frogs in 2017:
What Campbell has built in Ames is impressive, given what the program was before he got there. He has led Cyclones to four, and likely five, straight bowl appearances. That's never been done at Iowa State. The Cyclones haven't had five-straight winning seasons since they went 4-3 from 1923-27. They also won their first-ever New Years Six bowl last year when the Cyclones defeated Oregon 34-17 in the Fiesta Bowl. Iowa State finished 9th in the AP Poll, its highest finish to date. Obviously, what Campbell is doing is working and that's why he's one of the hottest coaching candidates in the country.
Coach Campbell leads Iowa State into Norman this weekend to take on Oklahoma at 11:00 am CT on FOX.