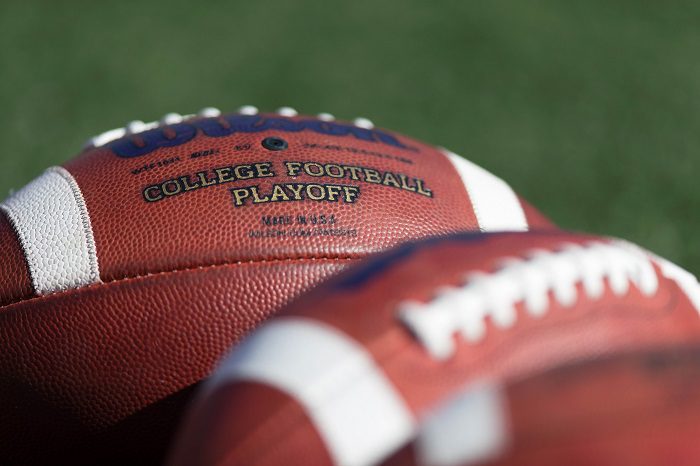 Gill Alexander placed it perfectly.
The host of VSIN's A Numbers Game was speaking with Adam Kramer of Bleacher Report Wednesday in regards to the College Football Playoffs.
"College football is not a meritocracy. It's all about the economy."
This holds true as the Oregon Ducks have Nike in their backyard. A team that lost to a 3-7 Stanford team is No.3 in the nation ahead of undefeated Cincinnati, a Baylor team whose only loss comes on the road against Oklahoma State, and an Oklahoma State squad whose only loss comes on the road against a bowl eligible Iowa State team. 
Additionally, Oklahoma State has defeated Kansas State. The Wildcats mopped the floor on a neutral site against Stanford. The only touchdown the Cardinal produced came in garbage time. Yet, the Oregon Ducks, who lost to Stanford is No.3. Nevermind that BYU is 5-0 against the Pac-12, and will likely be 6-0 after a trip to USC, where the Trojans are being lead by an interim head coach. Baylor will play Kansas State this week Vegas considers the game a pick-em by most standards. Those who don't consider it a pick-em have it as high as Baylor -1.5, and most of those moved from a pick-em. Some have even moved back to a pick-em. On the other hand, Oregon is +3 at Utah, a team who BYU defeated by nine points. Yet, the Cougars are ranked No.14? You're telling me that the No.3 team in the nation is an underdog to a team the No.14 ranked school beat by two scores? Again, BYU is 5-0. Why is Oregon ranked higher than BYU, much less an undefeated Cincinnati team, much less a team in Baylor who beat BYU by double digits? Why? Because Nike backs Oregon, and as Alexander said "College football is not a meritocracy. It's all about the economy."
CFB Playoff Committee Confusion
The committee likes to say, "Aside from Notre Dame, who has Cincinnati defeated?" Excuse me? Who exactly has Ohio State defeated? Penn State? It was the third straight defeat for the Nittany Lions, and it came one week after they dropped a home thriller to an Illinois team who lost at home to UTSA. 
 
Then there is the SEC, which is ESPN's cash cow. Who has Georgia defeated? They whomped Vanderbilt 62-0. There is no question they are better than Vanderbilt. They beat a three-loss Clemson team who also suffered defeats at the hands of Pitt and Syracuse. Alabama? Well, they just had a minor slip-up on the road at Texas A&M you know. I mean, those eight-game SEC schedules are just so bruising. The Super Bowl Champion should only get to raise the Vince Lombardi Trophy if they can run the SEC West gauntlet, right? 
As Alexander said: "College football is not a meritocracy. It's all about the economy."
Ohio State pulls a bigger television audience than Cincinnati, UTSA, Baylor and Oklahoma State. Oregon is backed by Nike. It's a repeat of the 2014 College Football Playoffs. TCU and Baylor were better than Ohio State, yet it was the Buckeyes who were selected to participate in the first ever College Football Playoff. The committee did get around it since Ohio State went on to win the National Title, but that doesn't change the unfairness of their decision.
As I show in the Conference Power Rankings each week, the Pac-12 has a losing non-conference record. They've suffered two defeats at the hands of FCS schools. Two of Oregon's victories are against Washington and Arizona, the two schools who lost to FCS schools. Oregon also beat Stony Brook, an FCS school located on Long Island. But, guess what. College football is all about the economy. How dare us peasants place merit into the discussion. 
Alexander is correct, which is why Texas and Oklahoma are leaving the Big 12 Conference. It's why ESPN refused to extend the Big 12 Conference a new contract this summer.
It's why Baylor, barring an undefeated record, will likely never be selected to the College Football Playoff. Money talks. Merits go overlooked. It's a sad state of affairs for college football.