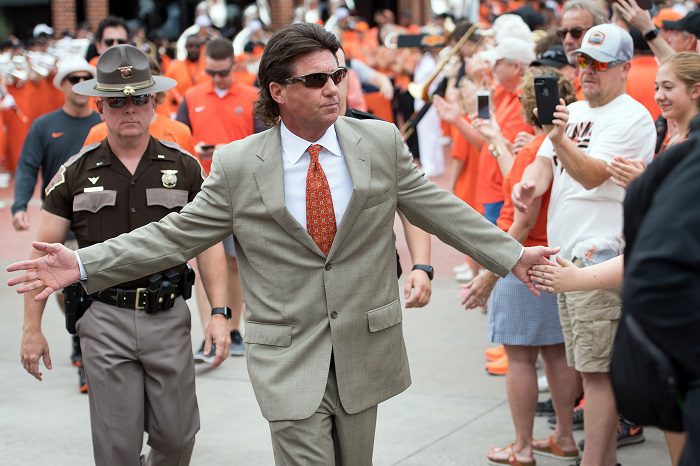 Riley. Campbell. Patterson.
If you read any preseason lists ranking the Big 12 coaches you probably saw those three names above Mike Gundy on most of them. Those rankings made a lot of sense. Lincoln Riley is a top-five head coach and maybe the best offensive mind in football right now. Matt Campbell is a rising star doing a great building job up in Ames. Gary Patterson is a respected college football staple who changed how defense was played and brought TCU up to the big leagues. Mike Gundy has done a great job at Oklahoma State but hasn't been able to recapture the magic of his 2011 season.
To start the season the Sooners were penciled into the National Championship by almost everyone and expected to win another Heisman Trophy. The only possible roadblock for OU was supposed to be the Cyclones who returned nearly their entire team, which had beaten the mighty Sooners in the regular season last year, but came up short against them in the conference title game. After a few letdowns, TCU was supposed to have a bounce-back year with returning starting QB Max Duggan and new five-star RB Zac Evans adding some firepower to complement the Horned Frogs' defensive prowess. Oklahoma State wasn't expected to do much after losing last season's offensive stars Tylan Wallace and Chuba Hubbard to the NFL.
But eventually, preseason projections go away and the games actually start being played.
OU is toothless compared to what they have been under Riley. His vaunted offense only finds its footing occasionally, jumping from explosive to impotent multiple times a game. Spencer Rattler has gone from Heisman favorite to holding a clipboard. The Sooner defense is loaded with talent but they can't seem to actually play defense. Matt Campbell tried this week to spit-shine a disappointing 6-4 record by saying his goal for his team every year isn't based on wins or championships, but on players and the team becoming the best version of themselves possible. That sounds great and is probably based on truth because Matt Campbell comes across as a great man. However, players like Brock Purdy, Charlie Kolar, and Mike Rose didn't pass up NFL paychecks to become the best version of themselves. They came back for rings and trophies. Gary Patterson only made it half the season before being asked to step down.
Gundy's Season
So how is Mike Gundy getting along this season? Well after a shaky start that could've easily ended up being a 0-3 record instead of 3-0 due to the offense being shredded by injuries things started to come together. The Cowboy defense bared its teeth from day one but has managed to get better every game to the point where they are absolutely smothering teams. After a heartbreaking loss in Ames after a couple of missed field goals and an interesting spot on a 4th down the offense came to life. Ten games into the season and OSU sits 9-1, looks like the best team in the conference by a lot, plays some of the best defense in the country with a punishing running game to compliment it, and is one win in Lubbock on Saturday from locking up a berth in its first-ever Big 12 Championship Game. If they win out there's a pretty good shot of them making the College Football Playoff.
Not bad for the fourth-best coached team in the conference, huh?
It's time for people to put some more respect on Mike Gundy. Nationally he's held in pretty high regard already. He's no longer mentioned for big-time job openings because everyone has finally figured out he's never leaving Stillwater, but locally he still gets the short end of the stick. The Oklahoma media knows where its bread is buttered and that's with Sooners fans so OSU, in general, gets poked fun at. That's business. I understand it. What I don't understand is how such a large contingent of Cowboy fans want the man run out of town.
Get Over Your Gundy Grudge
So what is it OSU fans? You don't like his hair? His politics? His personality? Too bad. It's time to get over it. Look at what he's done for the program over his 17 years. He's averaged 9+ wins a year and gone to 16 straight bowl games if you count the one he's already qualified for this season. Are you one of the folks that think he doesn't win enough? The bar is only as high as it is in Stillwater because he raised it. Would you like someone who can beat the Sooners more often? Well, get in line with everyone else in the conference! No one beats OU with any regularity. Occasionally you get a team that wins back-to-back games against them. Iowa State and Kansas State have done it recently (or like OSU did in 2001-02) but that third game is when the Sooners remind you that they are a blueblood program and better than you 95% of the time.
Do you think the Cowboys should recruit better? Maybe they could, but if you think OSU is ever pulling in Top-10 classes, you're kidding yourself. Stillwater is a wonderful place if you like that kind of town, personally I love it, but it turns off a lot of recruits being so isolated.
What is going on in Stillwater this season is amazing. It's completely against the way the head coach wants to play football. Gundy is an ex-quarterback who wants an offense that slings it around the yard 50 times a game but he conceded to leaning on defense, running the ball, and punting to win games. He's winning games with a bunch of kids nobody else wanted. He and his staff find kids that fit, the two-sport guys that they know are smart and motivated, the players that could be the next James Washington, Justin Blackmon, or Chuba Hubbard. That ferocious defense isn't stacked with a bunch of touted recruits that wear more armbands than they have letters in their name. Instead, it's a bunch of guys who play hard, fast, smart football. Players who are more concerned with making a tackle than lighting you up to make a highlight reel.
Gundy can be arrogant, even obnoxious at times, so I can understand people not liking him personally. However, wanting him run out of town because you think OSU is going to find someone better is honestly asinine. There isn't a better coach out there, not for OSU. Not for Stillwater. Like it or not, you're stuck with him for a few more years. Better yet, when he's gone he'll have a statue outside next to Boone and Barry and it will probably have that mullet that you hate in all its pure bronzed glory!
It's time to stop the slander, Gundy haters. The man has proven himself worthy of your praise this season. Let's all get behind the team in full force, because there are at least three more games, hopefully, four or five, of business to take care of.
That support needs to extend to the coach as well. The man that so many of you hate is probably going to deliver the program's second-ever conference championship in a few weeks. Oh yeah, remind me again who coached the team to its first one?