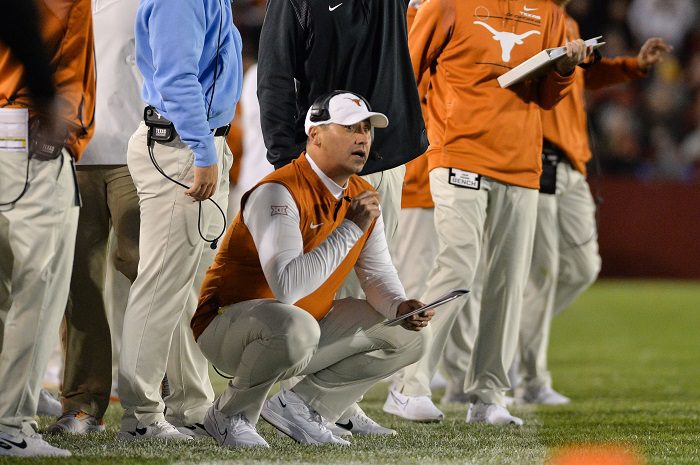 According to USA Today, the Texas football program brought in $223M in revenue during the 2018-19 fiscal year. That is nearly $60M more than Alabama ($164M) in the same year. Texas has state-of-the-art facilities, a brand on par with any in the country, and is nestled in among the most fertile recruiting grounds in the entire country. So why on earth are the Longhorns just 4-2 against the Kansas Jayhawks since 2016? Kansas has a record of 11-56 in the six-year span that they have beaten Texas twice.
Hell, Texas is only 52-45 since Mack Brown left after the 2013 season! That just doesn't add up, especially when the schools around Texas in regards to revenue, are successful year-in and year-out. So what is happening in Austin?
Coaching Carousel
The changes in leadership haven't made much of a difference on the field, and when Tom Herman brought something resembling stability to the program by leading them to four straight bowl wins, he was let go because he didn't "meet expectations." Therein lies another problem; Texas fans, turn away for a minute.
This one is going to sting a little. Vince Young could not save this program in its current state.
Why? Because the boosters and alumni that funnel money into Austin are essentially running the show. That is where the cultural issues start. Texas needs its athletic director, Chris Del Conte, to separate church and state. He needs to tell the talking heads behind the curtain that, though he appreciates their contributions, they need to take a step back and let him do his job. That's what DeLoss Dodds did when he was in Del Conte's chair. That's what Joe Castiglione does in Norman and that's what it takes to have stability in a football program.
Unfortunately for Steve Sarkisian, it hasn't mattered who is in the driver's seat at Texas for quite some time; if there aren't immediate results and lofty ones at that, a Texas head coach's shelf-time is about that of a gallon of milk. Charlie Strong brought in structure, discipline, and new ideas. He was gone after three seven-loss seasons. Tom Herman brought in a family structure, strong relationship skills, and new ideas. He had four winning seasons and a Sugar Bowl win over Georgia in 2018 but now he is gone; let go after a 7-3 season during the COVID-19 year. Now, Steve Sarkisian is in his first year brings in a pedigree of running Nick Saban's offense like a well-oiled machine, and experience at a place with similar expectations in USC. Now he is in the middle of a 4-6 season and his seat is getting hotter by the minute.
Texas Has a "Culture Problem"
It's easy to just say there is a "culture problem" at Texas; just slap that stigma on the program, call it good, and see if they improve after another coaching change. But what exactly is a "culture problem?" The easiest way to explain this is to use an analogy, and for that purpose, we will describe Texas Football as a large company.
Imagine that Steve Sarkisian is the Manager of Production and his assistants are his foreman, leaving the players to be workers in this example. Chris Del Conte, the Texas athletic director, is the President or CEO of this company and he answers to the "Board of Directors": University President, high-ranking officials within university administration, Boosters and Alumni, etc.
Like most companies, the CEO cares about the bottom line (winning) above all else and wants to have good reports for when he meets with the Board. So the CEO brings in a big-shot manager (Sark), who he lured away from the most successful company in the industry (Alabama), and throws him into the fold with the expectation that he will make his quarterly quota (10-wins minimum) because he has capable workers below him. So, Sarkisian brings in a new crop of foremen (Assistant Coaches) and they hand out the new business strategy (playbook, scheme, etc.) to the workers and expect them to pick it up and run with it. Sarkisian doesn't even know the workers, because he didn't recruit them, but he is depending on them to keep his job. Well, when the lofty expectations aren't met, and the Board is unhappy with production, who is to blame? The new guy. How does this affect the workers? Well, in their day-to-day lives not that much, all they know is their manager and foremen change every quarter and the expectations remain the same.
Why didn't it work out? Everyone in the company is talented enough and certainly capable of making things work. Is it just a string of bad managers? Are the workers just not good enough The answer is communication, or in this case the lack thereof. That can stem from a number of things, but high turnover rates, one-way communication, and constant tension or conflict are key contributors and Texas suffers from all of those. The bottom line is until Texas starts to deal with the root of the problem, they will never see the on-field results they are looking for.
How Do They Fix It?
So, at the end of all of this, how does Texas repair its once proud and thriving football program? First, force Texas boosters to take a few steps back and remove them from the decision-making process. Look at the Dallas Cowboys, right up the road in Arlington. They have been dealing with an identical situation for the past 20 years; they are the most profitable brand in the NFL, but Jerry Jones has his fingers in every decision made on that football field. That's why they haven't won a Super Bowl since 1996. It might be hard to do so at first, but it is a necessary step.
Then, you give the right guy a chance to build something and give him the tools (and freedom) to do so. Is Sark the right guy for the job? Early returns say no, but he hasn't even secured a recruiting class yet and there is talk about his job being in jeopardy already. Give him time to build and see what comes of it. I think Herman could've been the right guy, given the time to build. However, I wouldn't let him be on the demolition crew.
Finally, realize what the current situation is. Texas is not the same program that it was in the 2000s and that is something that bigwigs in Austin are going to have to accept so they can take the proper steps to get back there. Start by creating realistic goals, like this year for example. If Texas can win its final two games and get to a bowl, that is an accomplishment. You can't expect to jump from five wins to 10 wins in one season and maintain that kind of success.
Building a strong program is a process, and there are bumps and bruises along the way. That's why I think Texas made a mistake letting go of Herman. Sure, he had trouble beating Oklahoma, but those are two programs in completely different worlds right now. Disagree? Go ask a Texas fan if they would take 9-1 and a chance at a 7th straight Big 12 Championship over their current state.
Texas Football is too big and too powerful not to succeed, but it's not going to happen overnight. It's more a matter of when it will happen, not if it will happen. Eventually, Texas will be back among the powers of this great sport but the journey will be half the battle.