Big 12 News
UT System Regents Chairman Tells Steve Sarkisian he has Support: Report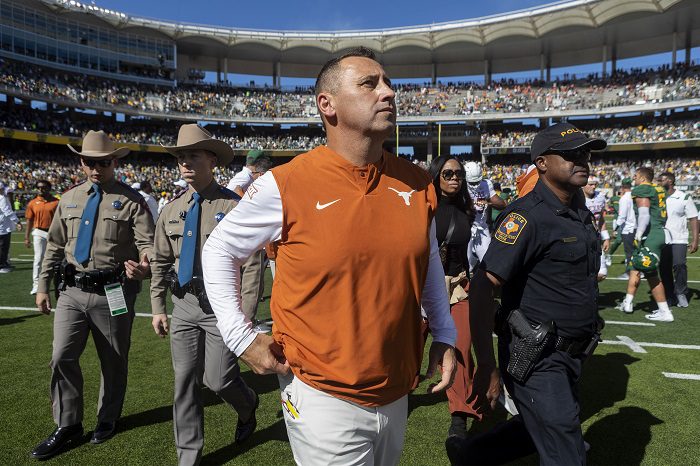 Things have completely spiraled of control for the Longhorns over the past month or so. The team that had fans in Austin excited for the Sark era has been missing since the first half of the Oklahoma game. Texas hit rock-bottom last week when it dropped a game to Kansas in Austin. Texas' best player, Bijan Robinson, dislocated his elbow and is now out for the season. Texas is 4-6 and must win back-to-back games just to get to .500. It just seemed like a matter of time before an announcement was made that Sarkisian was out but, as Lee Corso would say, "not so fast my friend!"
According to a report from Brian Davis of the Austin American-Statesman, Steve Sarkisian has the University of Texas' "full support" amid a five-game losing streak:
Kevin Eltife, former Mayor of Tyler, Texas, took time out of his Wednesday to let Sarkisian know that he is backed by the Board of Regents at Texas. This is the first piece of good news Sark has probably received in weeks and it has to be somewhat of a relief for the first-year head coach. He hasn't even signed a recruiting class yet, and there are already people calling for his job. Sark reiterated his appreciation for the vote of confidence from AD Chris Del Conte and Eltife in an interview with Jeff Howe from Horns247:
"These guys have been unbelievably supportive of me, our staff and the program from day 1."
In a public letter released Tuesday, Del Conte expressed his support for Sarkisian and his staff through this tough transition into a new direction for the program:
"Coach Sark is building a culture, he has a tremendous group of coaches with him, and we are providing every ounce of support we can muster to help them redirect our program," said Del Conte. "We have a group of coaches who are proven and have a wealth of experience. They have all succeeded at the highest level. They will help us do that here, too."
Del Conte goes on to praise the players at UT for their resolve through adversity:
"The guys are fighting their butts off on the field, and we have a really good group of student-athletes giving it all they have. We've been dealt a tough hand with more injuries to players this week. Two young men who are among the best in the Big 12 at their positions, Bijan Robinson and Josh Thompson are out. We know we're up against even more challenges and going through a difficult stretch. That being said, our Texas Fight and resolve never wavers."
College football is a brutal business, but it pays to have the right people in your corner. It sounds like Sark has just that, for now.
Texas will head to West Virginia this weekend to take on the Mountaineers in a must-win game for both teams. Kickoff is at 11:00 am CT on ESPN2.