Trending Now
BYU vs. Georgia Southern: Preview and Prediction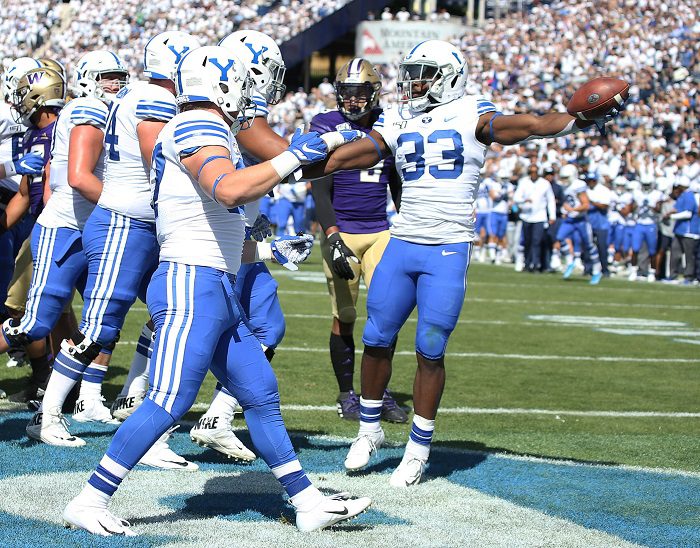 Here is everything you need to know about the matchup featuring future Big 12 member BYU and Georgia Southern.
GAME INFO
4 p.m. EST/2 p.m. MST, Saturday, Nov. 20, 2021, Paulson Stadium, Statesboro, Ga.
Stream: ESPN+
Away Radio: BYU Sports Network, Sirius XM 143, BYU Radio, BYUCougars App, KSL 1160 AM in Provo (Greg Wrubell, Riley Nelson, Mitchell Juergens)
Home Radio: Georgia Southern Sports Network (Danny Reed, Terry Harvin, Russ Brown)
BYU Head Coach: Kalani Sitake (Other than 2020, 35-27 in 5 seasons, same overall)
Georgia Southern Interim Head Coach: Kevin Whitley (2-4 in 1 season, same overall)
Series History: First meeting
Opening Line: BYU -20
Over/Under: 60.5
Moneyline: BYU -1400/Georgia Southern +895
Fun Facts: BYU will play an interim coach in each of its final two games. Georgia Southern has already announced the hiring of former USC coach Clay Helton for 2022. BYU will play USC, Helton's former team, in its regular season finale.
KEY PLAYERS
BYU (8-2, W 59-14 VS. IDAHO STATE)
QB Jaren Hall
Georgia Southern has surrendered just one passing touchdown in its past three games. This comes after giving up 23 in its first seven games. Clearly, the interim coach made some changes to the secondary.
Hall has scored at least three touchdowns in each of the past two games. After a bye week, it would be great for Hall to keep the momentum going as BYU seeks a 10-win season. After this road trip to Georgia Southern, the Cougars go to Los Angeles for a date with USC and the potential to finish 6-0 against the Pac-12.
LB Payton Wilgar
Wilgar is at 7 tackles for loss on the season so far. He has two games to rack up three. Look for him to be a plug at the line of scrimmage this week.
GEORGIA SOUTHERN (3-7, W 38-30 AT TEXAS STATE)
RB Logan Wright
It is Senior Day for Georgia Southern and this senior will want to make the most of it. He has six touchdowns and 716 rushing yards this season. It is definitely a goal for him to reach 1,000 yards rushing and double digit touchdowns. However, with BYU and a road trip to Appalachian State remaining, this will be a tall order.
DL C.J. Wright
Wright leads Georgia Southern with five sacks. He has produced eight tackles for a loss, which have subtracted 40 yards from opposing offenses. He's a Senior and this will be Senior Day. He'd love to go out having a field day against a ranked team.
KEY STORYLINES
BYU
Focus. BYU can easily be distracted this week. First off, they're coming off a bye. Not just a bye, but their most recent opponent was an FCS team. As a top 15 team in the nation, the Cougars could easily have a big head. BYU is 5-0 against Pac-12 teams and have defeated six Power Five teams this season. With a road trip at USC next week, it is easy to overlook a 3-7 Georgia Southern team with an interim head coach. It's on Sitake to keep this team focused on winning at Georgia Southern this week and nothing else. It's important that BYU win 10 games in the regular season instead of waiting for the bowl game. Let's not forget that if Cincinnati slips up, and Cincinnati will have two of its toughest opponents in their next three games, BYU could score the Group of Five slot for a New Year's Six Bowl. A loss to Georgia Southern likely tumbles BYU out of all polls.
GEORGIA SOUTHERN
It's Senior Day. They'd love to pull off the upset for their seniors. Outside of this, the younger players just want to impress Clay Helton as he scouts his future team.
Prediction: BYU 35 Georgia Southern 17
BYU is traveling east a few time zones, so I factored jet lag into this score. I do think Georgia Southern comes out with some extra pep in their step. It's their final home game and the younger players are trying to impress the new coach. Additionally, they have some momentum. They just picked up a road victory even if it's against a horrible team like Texas State. This will likely stay close for some time, but BYU eventually pulls away as the more talented, better coached team.