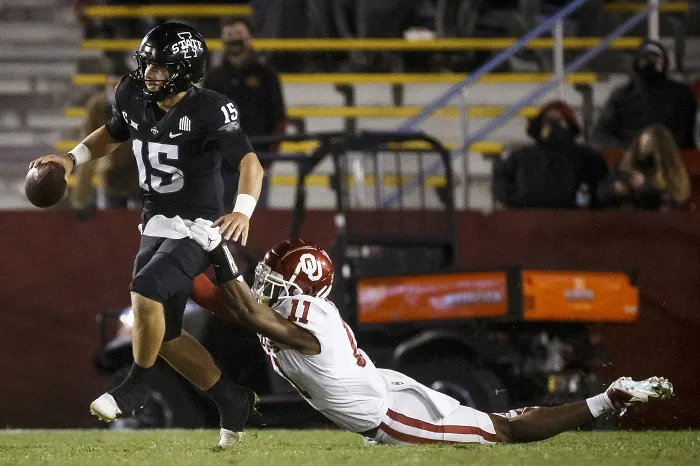 Where has the time gone? We have already arrived at the penultimate week of the Big 12 regular season, and half the league's seniors (or Super Seniors, at least) are set to play their final home games this Saturday.
Every game Big 12 game this weekend is meaningful in either the race for a spot in the Big 12 Championship or the bowl picture. And every game is fascinating for one reason or another.
Below are five questions about this weekend's games:
1. WHY IS K-STATE NOT A BIG DOG TO 11th-RANKED BAYLOR?
Apart from various fanbases' interests in the fates of their own teams, Kansas State vs. Baylor is probably the most fascinating game of the weekend.
Both teams have exceeded media and Vegas expectations. The preseason Big 12 media poll pegged K-State to finish 7th and Baylor to finish 8th, but it is now mathematically impossible that either team will finish so low. Vegas put K-State's win total at 5.5 and Baylor's at 3.5, and at 7-3 and 8-2 respectively, the Cats and the Bears have both outperformed those expectations as well.
Now, Vegas expects K-State and Baylor to play a close game, and who is favored to win has swung from K-State -2 to Baylor -1 to K-State -1. It's essentially a pick 'em.
Vegas' line for the game is a bit of mystery. The Bears are 11th in the playoff rankings and have been one of the Big 12's top teams all season long. They're also coming off a big win against #13 Oklahoma (9-1). K-State has had a good amount of success and won four straight, but its best conference win is by a single point at Texas Tech (6-4).
The answer to why K-State isn't a big underdog to Baylor is twofold, in my opinion.
First, Baylor has not been the same team on the road. The Bears have lost their last two road games, at Oklahoma State and at TCU, and they even let Kansas hang around for the first half in Lawrence before blowing the game open in the third quarter. Manhattan is a tough place to play, and with the game coming on Senior Day, it stands to reason that star players, like quarterback Skylar Thompson and nickelback Reggie Stubblefield, will have extra motivation.
Second, Kansas State is somewhat undervalued in public perception. That is, while Vegas' line seems off to fans, the Cats are a deadly efficient team that is sound in all phases of the game. K-State doesn't rack up big offensive numbers, and while its defense is in the upper half of the league, it's far from a juggernaut. However, K-State has a knack for doing enough things right and making enough plays in critical situations to win.
I'm not buying into the cliché that K-State doesn't beat itself – something that seems to be repeated by broadcasters every time KSU plays – because K-State did a lot of beating itself during its three-game losing streak in the way of turnovers and penalties. However, the Cats have steadily improved in that aspect of the game during their four-game winning streak, and last week against WVU, K-State won the turnover battle 3-0 and only had one penalty. That's what was expected from Bill Snyder's teams, but it hasn't been the book on Chris Klieman's team until recently.
It feels like Kansas State is a big underdog to Baylor in public perception, but maybe Vegas is on to something. It's a fascinating game because while it wouldn't surprise me if Baylor won by a couple of scores, it also wouldn't surprise me if K-State found a way to squeak out a win in Skylar Thompson's final home game.
My gut tells me that K-State somehow finds a way.
2. WHO GETS ELIMINATED FROM BOWL CONTENTION, TEXAS OR WEST VIRGINIA?
To me, this is the second most fascinating game of the week. Texas seems to have fallen off a cliff, and West Virginia can't seem to stop shooting itself in the foot, but someone has to win.
The teams have identical disappointing records of 4-6, 2-4, and whichever team loses in Morgantown on Saturday will be eliminated from the bowl picture. It's the Big 12's Desperation Bowl, and it has the potential to be a really good game.
With Texas' star player, RB Bijan Robinson, out for the remainder of the season and home-field advantage, it feels like this is a game West Virginia should win. The Mountaineers have a good defense and enough weapons on offense to score a lot of points on Texas' struggling defense.
However, the final score may depend on where Texas is psychologically. If the Longhorns come out on a mission to redeem themselves for the embarrassment of losing to Kansas, they have the pieces to win the game.
It's a huge test for the resolve of both teams, and I expect both to play hard and leave everything on the field. But one team has to lose, and that team won't collect a swag bag this offseason.
My gut says West Virginia gets it done at home in another heartbreaker for Texas.
3. WHO WANTS IT MORE, OKLAHOMA OR IOWA STATE?
In a strange turn of events, this is one game where both sides will be rooting for Kansas State to beat Baylor earlier in the day.
A Baylor loss would mean Iowa State (6-4, 4-3) still has a slim shot at reaching the Big 12 Championship. A Baylor loss would also mean that Oklahoma can clinch a spot in the Big 12 Championship with a win over Iowa State. Pretty high stakes.
If Texas at West Virginia is the Desperation Bowl, Iowa State at Oklahoma is the Redemption Bowl. Both teams took gut punches in losses last week, and both teams are on the ropes. But in a season of unmet expectations for both sides, a win on this critical Saturday would cast away some shadows.
Matt Campbell may say that his goal for this season wasn't a return to the Big 12 Championship but to be the most "together team" in Iowa State history – something that, admittedly, sounds more like a Precious Moments figurine than a goal – but that's just coach speak for our highest goals are intrinsic, not extrinsic. Campbell and the team want to win with this historic Cyclone roster, and they're going to give everything they have to beat Oklahoma.
Lincoln Riley has had a strangely contentious season, and the Sooners have not come close to living up to the preseason hype that had Spencer Rattler penciled in as the Heisman winner and the Sooners going 14-0 and playing for a national championship. Moreover, while Riley's teams have been prone to an early-season hiccup (or even two), they're not used to losing games in November and should come out on a mission this Saturday to reassert their dominance over a league they've owned for years.
Despite Iowa State's flakiness this season and Oklahoma's lack of pop, these are two very good teams loaded with talent. Considering that both teams have every reason to give the battle everything in the tank, the winner is likely to be the team that can dig just a bit deeper to find that secret reserve of willpower.
My gut tells me that Iowa State's seniors stand tall in Norman and find a way to get a narrow win.
4. CAN OKLAHOMA STATE DO IT AGAINST A HOT HAND TWO WEEKS IN A ROW?
Last week the Cowboys dispatched with TCU and their hot hand QB Chandler Morris with ease. Morris was coming off a huge day against Baylor: 461 passing yards, 70 yards rushing, 3 touchdowns, and an eye-popping pass efficiency rating of 181.3. Oklahoma State quickly brought Morris back to earth with just 103 passing yards, -25 yards rushing, no touchdowns, and a pedestrian efficiency rating of 98.3.
Now, Oklahoma State travels to Lubbock to face Texas Tech, a team that is soaring after a huge win over Iowa State to become bowl eligible.
In the win against Iowa State, Tech's new QB1, freshman Donovan Smith, passed for 322 yards and 3 TDs, added another 50 yards on the ground, and had an eye-popping pass efficiency rating of 187.3. Sound familiar?
While Tech is riding high and wanting just to keep the fun going, Oklahoma State has the serious business at hand of trying to win a conference championship and must avoid the temptation to look ahead to Bedlam next week.
Iowa State may have been caught looking ahead to Oklahoma last week when it came out flat in the first half against Tech. Can Oklahoma State avoid the same fate and drop another quarterback coming off a career game?
My gut tells me that the Cowboys take this game in stride and put the clamps on Tech's offense. It may not be pretty, but I expect Oklahoma State to get out of Lubbock with a win.
5. CAN KANSAS HANDLE SUCCESS?
And how does Chandler Morris handle a resounding defeat?
On one level, the game between Kansas and TCU is a showdown between opposing psychologies.
The Kansas Jayhawks celebrated their overtime win at Texas last week like they had just won the Super Bowl, and who could blame them? The Jayhawks' season has been strewn with embarrassing losses, and even their best effort before Week 11 ended in a 12-point loss to the Sooners.
Will the Jayhawks have a letdown against TCU after finally breaking through with a Big 12 win in Austin?
For TCU's part, the Frogs and their young QB, Morris, are coming off a humbling defeat at the hands of Oklahoma State. It was the kind of loss that is not only deflating but can undermine confidence and be on constant repeat in a player's head.
TCU still has the possibility of reaching a bowl game this season, however, and while a win in Week 13 at Iowa State is a tall order, the first task is for the Frogs to beat the Jayhawks. I think having bowl eligibility still on the table is enough to motivate TCU, and I am certain that TCU is still a better team than KU.
My gut says TCU wins big in Lawrence.