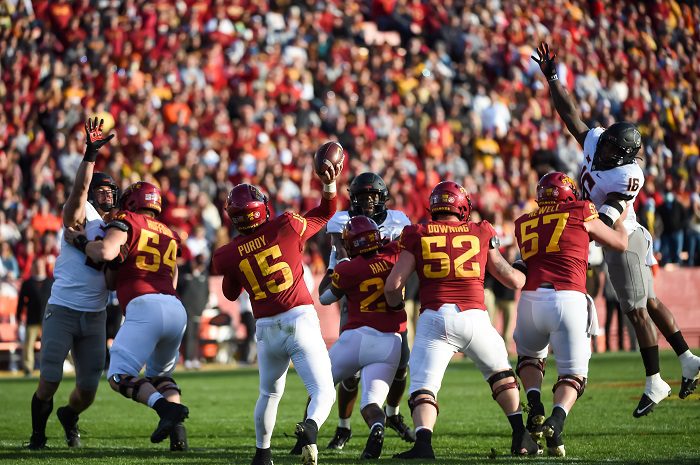 As an Iowa State fan, it wasn't all that long ago you would look at the football schedule and know that your team, at best, was going to win three games that year. As fans, we were lucky if we got a Western Illinois, Toledo, or UCONN on the schedule. We knew we would probably win that game (although Iowa State did lose to a Matt Campbell-led Toledo team on the road in 2015). On top of that, you knew the Cyclones would beat Kansas and well that's about all you knew. There was almost always one unexpected win. Whether it be against Iowa or sneak out an upset at home. It used to be an incredible season when the Cyclones went 6-6 and would then lose the Pinstripe Bowl or the Liberty Bowl. 
The reason why I'm saying this is because ever since Iowa State lost on an absolutely unbelievable 62-yard walk-off kick from Jonathan Garibay, it feels like the Cyclone fanbase has started to meltdown just a bit. As ridiculous as it is, I've even heard some fellow Cyclone fans say things such as "fire Heacock" or that Matt Campbell "can't recruit and can't evaluate talent". Now I know this isn't the majority of the fanbase, hell it's a very small minority of the fanbase. Nonetheless, I hold higher standards for this fan base.
This program had never played in a Big 12 Championship game until last year. three out of the previous four seasons Iowa State won eight games. Not a huge accomplishment for most programs, but ISU isn't most programs. Unfortunately, our history is not a good one. Has this season been disappointing given the expectations going into it? Yes, no one will argue that. However, as fans, we still need to enjoy this team and this coaching staff.
This is still the golden era of Iowa State football. There are things to be excited about. I don't care how bad Texas is, the Clones rolled them 30-7. They are getting set to play in their fifth straight bowl game. Breece Hall is still one of the most electrifying backs in the country. The Cyclones won the Fiesta Bowl last year. 
Saturday was frustrating, the Cy-Hawk game- frustrating, the loss in Morgantown- frustrating. However, you aren't going to have all of the bounces go your way. That's just the way it is. With that said you better believe this Cyclone fan is still fully confident that this same Cyclone team that got down 28-7 to Texas Tech is going to roll into Norman Saturday morning and knock the snot out of Caleb Williams or Spencer Rattler (does Lincoln Riley even know?). Why am I so confident in this? Because while this defense has struggled at times on the road this year there are too many playmakers, too much experience, and too much want for them not to play well against the Sooners. The offense? Also, there are too many playmakers. The Cyclones are a couple of bounces away from being 8-2 right now. That's how college football goes though.
This program is on the up and up but they are not at the point yet where they can overwhelm other teams (like WVU and TTU) with their talent. As Coach Campbell likes to say, they still have to win in the margins. Whether the Cyclone faithful like it or not this team is going to be playing close games for a few years yet against most teams. The good part about that though? They will win most of those games! 
While it doesn't feel this way the Cyclones are due for a close one to go their way. Playing Oklahoma this weekend feels like the perfect time to get one. You beat OU, and then get TCU at home to end the year? Believe it or not, you still have yourself an 8-4 season. The last thing I want to say is just enjoy this group while we have them. We aren't going to get to see these Cyclones on the field for much longer under this coaching staff. Don't ruin it by saying things you just know aren't true on the ol' Twitter machine. This group and this coaching staff have given us the best era in Cyclone football history. Let's enjoy watching them play while we still can.