Big 12 News
Texas AD Denies Accusations Steve Sarkisian is Being Pressured to Play Players Based On Race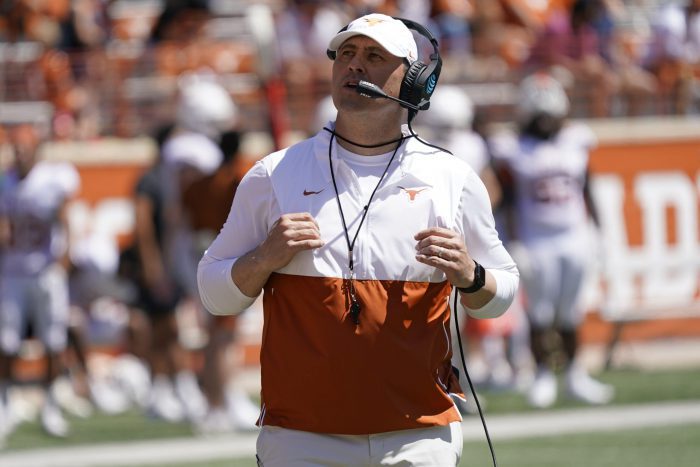 Brian Davis of the Austin American-Statesman dropped a bombshell story on Friday afternoon: Ex-Texas linebacker Brian Jones, now a college football analyst for CBS Sports, claimed Friday that he knows five or six "heavy-handed donors" that are pressuring Steve Sarkisian to play certain players based on their race.
Davis goes into more detail in his interview with Jones here:
On 104.9 The Horn, UT's flagship radio station, Jones said Alabama coach Nick Saban warned Sarkisian about taking the UT job and "it's just a shame, man."
"I thought we were all in this to win," Jones said on The Horn. "And there's no way you're going to win when you're asking or trying to dictate to your head coach who plays and in some instances, it's crossing color lines, which is definitely unfortunate.
"But I'm not terribly surprised there, either," Jones continued. "All you have to do is revisit those emails last year, a year and a half ago when we were discussing The Eyes of Texas. So, it's just a huge shame and it needs to stop right now."
Texas athletic director Chris Del Conte responded to the report, saying, "That's completely untrue. None of that's true. That's the most absurd thing I've ever heard. Absolutely absurd."
Texas has been wrapped in a shroud of negativity for the better part of a month now, and this just makes matters worse. It's hard to get on-field results when there is a new off-field issue every week. There seems to be no end in sight for Sark and the Longhorns, especially if there is any weight to these new allegations.
Texas heads to West Virginia to take on the Mountaineers this Saturday.