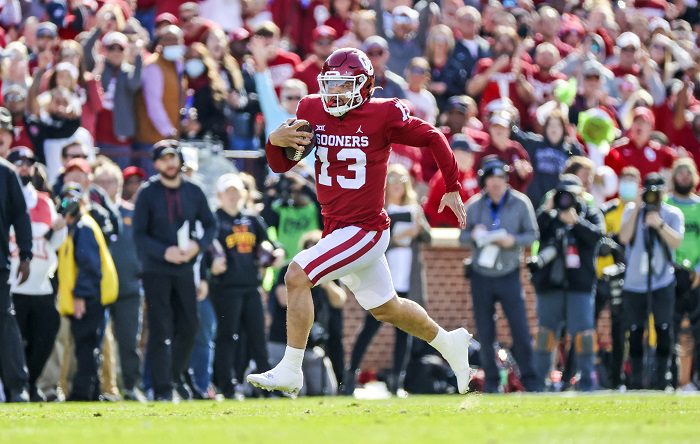 It was a re-match of the 2020 Big 12 Championship Game on Saturday in Norman, Oklahoma, as the Oklahoma Sooners were hosting the Iowa State Cyclones. Oklahoma was coming off its first loss of the season against Baylor, while the Cyclones had dropped a road match up to the Texas Tech Red Raiders. Most would agree that both of these teams came into this game with the season not having lived up to the expectations thus far.
And on Saturday, it was Oklahoma beating Iowa State 28-21. Here are three thoughts from the game.
1. Oklahoma's Front Seven Showed Up
This game was won by the Oklahoma front seven, which pressured Brock Purdy all afternoon, caused mistakes, and absolutely smothered the Iowa State rushing attack. Oklahoma came into the game ranked sixth in the Big 12 in rushing yards allowed per game, but the Cyclones came into the game averaging over five yards per carry, yet on Saturday they were held to just 1.5 yards per carry, with Breece Hall held to just 57 yards on 19 carries. The Sooners had four forced fumbles on the day, with a pair of takeaways as well. The Sooners held the Cyclones to just 4 of 18 on third downs. Overall, the Sooners defense looked like the unit we thought we would see all season long from Alex Grinch.
2. Brock Purdy Tried To Do Too Much
The Iowa State quarterback has always had some Brett Favre in him, but he had even more of it on Saturday. Granted, it wasn't all his fault. The Iowa State offensive line didn't help his cause much, as they struggled all day long in protecting Purdy and helping the rushing game get going. But the play at the end of the first half was a game-changer in this one, as Purdy tried to do too much and it resulted in Oklahoma scoring a touchdown right before the half.
In a game decided by a touchdown, it's mistakes like this that change the outcome of the game.
3. Oklahoma is Still in the CFB Playoff Race
Everyone wanted to count out Oklahoma last week after their loss to Baylor, but the Sooners should still very much be considered a contender for the College Football Playoff. If they end up beating Oklahoma State in back-to-back weeks, which would likely be two Top 15 wins, then the Sooners should be a strong contender as a one-loss Big 12 Champion. And if they keep playing the defense that they've been playing, then Oklahoma can absolutely finish as a 12-1 Big 12 Champ. Granted, they could use the help, with an undefeated Cincinnati with a very worthy resume. And if Ohio State keeps rolling, with one loss to Oregon, then the Buckeyes are in. Georgia can help a theoretical one-loss OU team if it beats Alabama for a second time, then the Crimson Tide should be out, unless ESPN lobbies hard for Nick Saban's team. Regardless, the demise of OU as a CFB Playoff candidate last week was overblown and unfair.