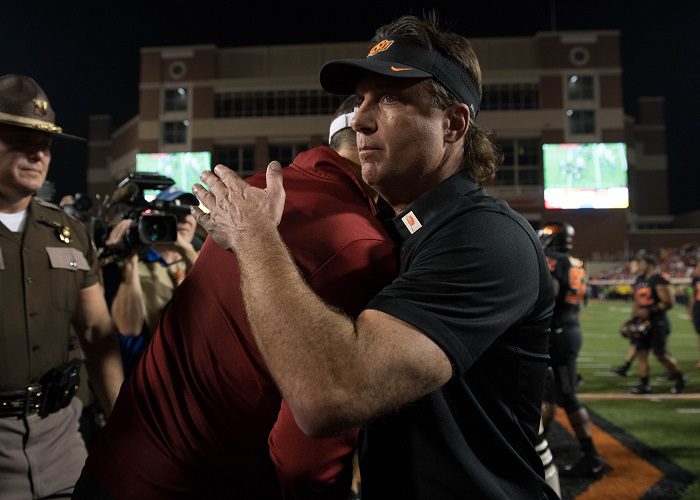 Week 12 of the Big 12 football season is in the books, and there is movement in our Big 12 Power Rankings. We saw the top three teams in the Big 12 separate themselves in Oklahoma State, Oklahoma and Baylor clearly turning out to be the cream of the crop in the conference. Oklahoma State rolled Texas tech, Oklahoma handled Iowa State while Baylor took care of business against K-State. Otherwise, it was Kansas putting up a good fight against TCU, and West Virginia handed Texas a sixth-straight loss. Anyway, here is your weekly reminder that these rankings can fluctuate greatly on a week-by-week basis, based on how teams have performed in their most recent games and who they've beaten, not what we predict the final Big 12 standings to be and not what the preseason rankings were.
So with all that being said, here's a look at our Big 12 Football Power Rankings heading into Week 13 of the season.
1. Oklahoma State Cowboys (Last Week: 1)
The Oklahoma State Cowboys continue to prove they are the class of the Big 12 this season after pitching a shutout against Texas Tech over the weekend. OSU has a Top 3 defense in America, with a strong running game, and a quarterback in Spencer Sanders who continues to know his role, which is not doing too much, and he's doing it very well right now.
2. Baylor Bears (Last Week: 2)
Baylor went on the road in a classic letdown spot, lost their starting quarterback in the middle of the game, and still managed to leave Manhattan, Kansas with a double-digit win. What Dave Aranda is doing still is not being appreciated enough outside of Waco, which is probably just fine with Baylor fans who are nervous they may lose their head coach to an SEC job. Baylor needs Oklahoma State to win Bedlam and they're playing for a Big 12 title.
3. Oklahoma Sooners (Last Week: 3)
The Sooners bounced back with a solid win over Iowa State in a game where the defensive line finally looked like the defensive line we thought we'd be seeing all season long from Oklahoma. Unfortunately, that hasn't been the case as OU has struggled for consistency on both sides of the ball. But Oklahoma's defense may be peaking at just the right time ahead of Bedlam this weekend.
4. Kansas State Wildcats (Last Week: 4)
The Wildcats are solidly worthy of being the top of the "second tier" in the league, but they have lost to those teams ahead of them in the rankings. But for many of us, this is who we thought Kansas State would be before the season began. K-State can end the season with a win against Texas, which I'm sure they would love to do to send the Longhorns into the off-season on a seven-game losing streak.
5. West Virginia Mountaineers (Last Week: 9)
The Mountaineers move up after a solid victory over Texas. WVU is the only team during Texas' six-game losing streak to hold the lead from start to finish. Texas had held a lead at some point during the game in their previous five losses. That was not the case on Saturday. Jarret Doege looked sharp throwing for nearly 300 yards and the defense kept both quarterbacks in check. WVU should end the season with a win over Kansas.
6. Texas Tech Red Raiders (Last Week: 5)
After a win last week against Iowa State, the Red Raiders ran into the buzz saw that is the Oklahoma State Cowboys. Tech also appeared to be a bit hungover after their emotional victory last Saturday on a 62-yard field goal. But most importantly for Texas Tech right now is the fact that new head coach Joey McGuire is injecting some enthusiasm into this program and doing very well on the recruiting trial.
7. Iowa State Cyclones (Last Week: 6)
Iowa State is now sitting at 6-5, a far cry from what the preseason expectations were for this team. It's been a disappointing season in Ames, but it should also be understood that the fact that we can call this season a disappointing one for Iowa State, when they will go a bowl game, is a testament to what Matt Campbell and this coaching staff have built in Ames. For that, Iowa State fans can still be, and should be, grateful this Thanksgiving week.
8. TCU Horned Frogs (Last Week: 8)
The Horned Frogs closed out their home schedule with a win over Kansas. They almost found a way to blow it, but a win is in a win in a disappointing season that has seen Gary Patterson step away from the program. Despite all the issues this season, if TCU can end the season with an upset of Iowa State, they'll be heading to a bowl game this season.
9. Kansas Jayhawks (Last Week: 7)
Kansas continues to play solid football for the third time in the last five games (Oklahoma, Texas, TCU). Kansas trailed this game by 14 and then scored 14-unanswered points to tie the game in the fourth quarter, before the Horned Frogs took the ball down the field for a game-winning field goal. But regardless, the days of Kansas being a 35-point underdog every week may be done.
10. Texas Longhorns (Last Week: 10)
Six-straight losses for Texas after falling to West Virginia this weekend. Along with off-field drama. It's ugly in Austin right now and if Texas losses this weekend to Kansas State, they won't even make a bowl game. Maybe that's best for everyone involved to just hit the reset button.