Baylor Bears
Matt Campbell, Bob Stoops, Dave Aranda Listed as Florida Targets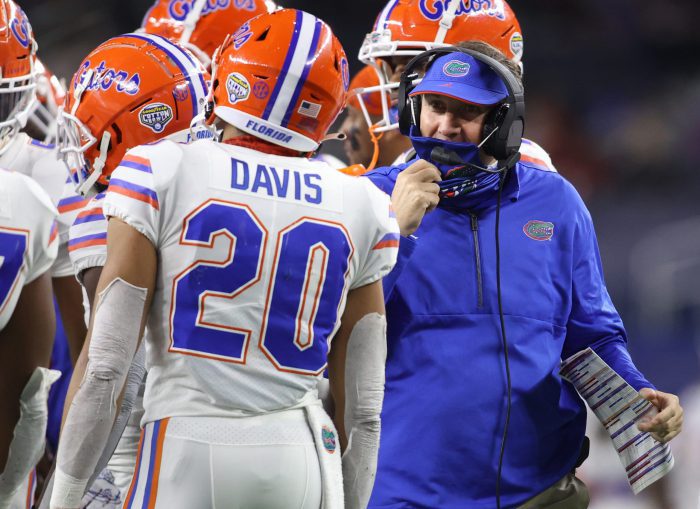 Florida fired Dan Mullen early Sunday morning and the search for his replacement is already in full swing. It seems as if the Gators are looking for a "splash" hire and the list of names to succeed Mullen is an impressive one. CBS Sports' Dennis Dodd compiled a list of candidates for the Florida job and among the names are three tied into the Big 12; two currently coaching in the conference and one whose legend was born by running it. Here is what Dodd had to say about the current Big 12 coaches in regards to the job in Gainesville:
"Dave Aranda, Baylor coach: Aranda's star is only going to keep rising, especially if the Bears make the Big 12 Championship Game. He has performed a mini-Mel Tucker, turning Baylor around in a year. Aranda knows and has recruited the SEC while at LSU."
"Matt Campbell, Iowa State coach: As good as Campbell may be, the Cyclones have lost at least five games in five of his six seasons. Dan McCarney and Campbell proved you can get Iowa State to a national level. The problem is keeping the Cyclones there. Is Campbell worn out from that chase? He loses a lot after this season. There have been rumblings in the past he would only leave for Notre Dame or Ohio State. With three top-tier Power Five jobs available, Campbell might have his pick."
Dave Aranda and Matt Campbell are among the hottest coaching candidates for the surplus of Power Five jobs available this fall and Florida is no exception.
Another interesting name to watch in this search is former Sooners head coach Bob Stoops. Stoops cut his teeth at Florida under Steve Spurrier as a defensive coordinator from 1996-98. The Gators won a national title in Stoops' first year as DC and won an Orange Bowl in his final year before leaving to take the Oklahoma job in 1999. Here is what Dodd had to say about the Oklahoma legend as a candidate:
"Bob Stoops, Fox analyst, former Oklahoma coach: You have to make the call. Florida athletic director Scott Stricklin has to make Stoops say no on the odd chance he says yes. Stoopsie is just sitting there breaking down Iowa games for Fox. Why not see if he has any interest in coming back? Given the history of vacancies at Florida, Stoops is doubtful. He was mentioned many times for the opening while coaching Oklahoma. Steve Spurrier's former defensive coordinator, though, makes total sense at age 61 if he wants to return to the game. Spurrier is still with the Gators in an honorary role, and the two remain close friends."
Can Spurrier work his magic to get an old friend back in Gainesville? It seems unlikely at this point, but anything is possible when the Head Ball Coach is involved.
Running backs and special teams coordinator Greg Knox will serve as the interim head coach this week as Florida faces its rival Florida State in the Sunshine Showdown.