Big 12 News
Three Takeaways from Week 2 of the Big 12 Men's Basketball Season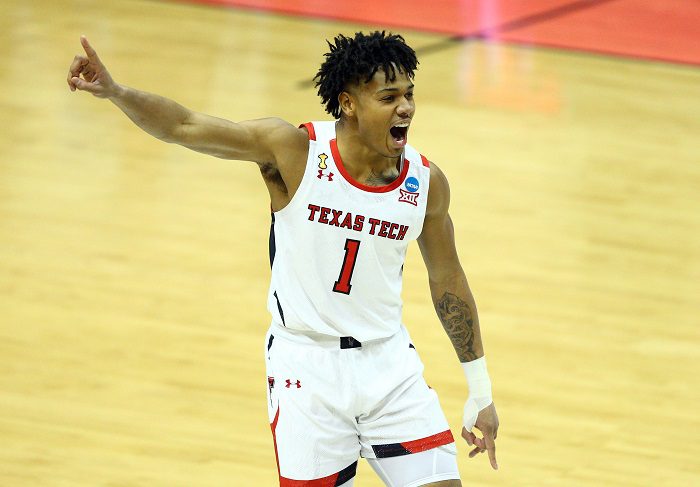 The Big 12 Conference is done with Week 2 of the 2021-22 men's basketball season. Just some of the things that happened last week:
West Virginia head coach Bob Huggins moved up to No. 4 on the all-time coaching wins list, passing Bobby Knight and Roy Williams.
Former Kansas guard Paul Pierce and former Texas head coach Tom Penders took their place in the College Basketball Hall of Fame.
Texas Tech guard/forward Terrence Shannon Jr. returned to the Red Raiders lineup.
That, and so much more, happened in Week 2. Here are our three takeaways.
Tanner Groves is a perfect fit at Oklahoma
Tanner Groves transferred from Eastern Washington to Oklahoma with something to prove — that he wasn't just a great player in a small conference.
The Sooners are 4-1 after losing to Utah State in the final of the Myrtle Beach Classic. To beat the Sooners, Utah State needed a massive double-double from Justin Bean — 24 points and 19 rebounds.
But Groves was as steady as any player has been in the Big 12 so far. He ended up with 18 points, seven rebounds and three assists. That was his season average entering the game.
Groves has already cleared 20 points twice, including a season-high 24 points against Indiana State. He's also had at least five rebounds in every game to this point.
He isn't the only reason the Sooners are winning, of course. But he's perhaps the biggest key. He came to Norman with a reputation as a scorer, and that was what they needed inside after the departure of Brady Manek for North Carolina.
The only other player averaging double figures for the Sooners is guard Umoja Gibson. Guards Jordan Goldwire and Jalen Hill are close, averaging at least nine points per game. New head coach Porter Moser has played nearly everyone in at least three games, as he's searching for the right chemistry, especially off the bench.
But, it's clear the fit is perfect for Groves, who has NBA aspirations and is proving with each game that he's worth a look next summer.
Terrence Shannon is Back
The Red Raiders were without Terrence Shannon Jr. for three games due to questions about his eligibility after his declaration for the NBA Draft in the summer. It doesn't sound like he did anything wrong. And Shannon impressed in his return with 16 points against Incarnate Word. In his absence, we got a good look at what the Red Raiders could be. To get Shannon in the starting lineup, head coach Mark Adams slid Mylik Wilson out of the starting lineup. Based on that, Adams may have his eye on a long-term starting lineup that includes Shannon, Davion Warren and Kevin McCullar at guard, with Kevin Obanor and Bryson Williams at forward. It's hard to argue with that starting lineup. All five players are averaging double figures, and Williams is leading the way with 16.5 points per game. That makes Marcus Santos-Silva a solid forward off the bench, with Wilson, Clarence Nadolny, Adonis Arms and Daniel Batcho fighting for playing time.
That's a pretty solid turnaround for a program that looked like it might take a steep dive off a cliff after Chris Beard left for Texas. To have five players capable of 10 or more points per game in your starting lineup is a luxury, but it could be a necessity in this top-shelf talented Big 12 this season.
Tyrese Hunter's Early Impact
I finally got a chance to get a good look at Iowa State freshman Tyrese Hunter when the Cyclones faced Alabama State. It didn't take a genius to figure out before the season that Hunter would play this season. I think the only real question was whether he would start right away or come off the bench to start the season. Head coach T.J. Otzelberger saw no reason to wait, especially when three Cyclones left the program in the ramp-up to the season.
Against the Hornets, Hunter scored 19 points with six assists. What I was more impressed with was how he ran the offense. It's not easy to plug in a true freshman in college basketball. It's even harder when it's the point guard. Four years ago, Oklahoma State did it with Isaac Likekele. His situation was a bit different. The Cowboys had veteran talent around Likekele and Oklahoma State didn't need him to score the way the Cyclones need Hunter to score. Likekele could focus on running the offense and setting others up.
It's clear Hunter can score and facilitate at the same time. That's a rarity for a point guard at any level. He's pushing Izaiah Brockington and Gabe Kalscheur to play better, which is also rare for a freshman.
Against Florida A&M, Hunter had 12 points and six assists. He helped forward Aljaz Kunc reach a career high 21 points (with perfect 7-for-7 shooting and five 3-pointers).
He'll take steps back this season, to be sure. I'm sure Otzelberger would like Hunter to get his field-goal shooting to a baseline of 40 percent (it's below that at the moment. But the freshman is going to shoot a lot this season. But Iowa State's soft schedule to start the season has provided him time to learn the college game, develop confidence and prepare for a tougher schedule ahead. That starts this week in New York City against Xavier in the NIT Tip-Off Classic.
You can find Matthew Postins on Twitter @PostinsPostcard.
**Want to win a $20 gift card? Go sign up here and join our conversation! The best poster each week wins a gift card to your favorite establishment!**