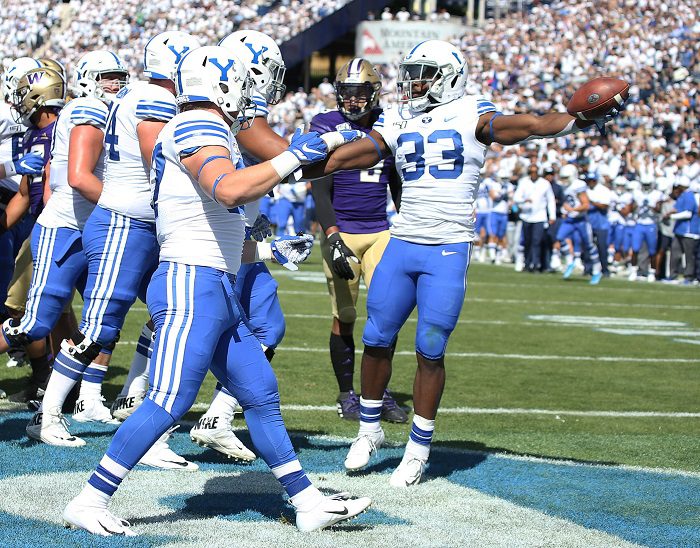 Here is everything you need to know about the Power Five matchup featuring future Big 12 member BYU and USC.
GAME INFO
9:30 p.m. CST/7:30 p.m. MST, Saturday, Nov. 27, 2021, United Airlines Field at Los Angeles Memorial Coliseum, Los Angeles, Calif.
TV: ESPN (Dave Flemming, Rod Gilmore, Stormy Buonantony)
Away Radio: BYU Sports Network, Sirius XM 143, BYU Radio, BYUCougars App, KSL 1160 AM in Provo (Greg Wrubell, Riley Nelson, Mitchell Juergens)
Home Radio: Trojan Radio Network (Pete Arbogast, Shaun Cody, Jordan Moore, John Jackson, Jason Schwartz, Max Browne, Su'a Cravens)
BYU Head Coach: Kalani Sitake (Other than 2020, 36-27 in 5 seasons, same overall)
USC Interim Head Coach: Donte Williams (3-5 in 1 season, same overall)
Series History: USC leads 2-1. All meetings have come in the new millennium. Kalani Sitake is 1-0 vs. USC as BYU head coach, winning the most recent meeting in 2019.
Opening Line: BYU -6
Over/Under: 65.5
Moneyline: BYU -280/USC +235
Fun Facts: This will be the third time BYU plays an interim head coach this season. They defeated the first two on the road at Washington State and at Georgia Southern. Georgia Southern hired Clay Helton, who USC fired Sept. 13.
KEY PLAYERS
BYU (9-2, W 34-17 AT GEORGIA SOUTHERN)
RB Tyler Allgeier
The sophomore is the ignition which starts the engine. Allgeier is averaging 118 yards per game. When he rushes over 100 yards, the Cougars win. In the two losses for BYU, Allgeier could barely go over 100 yards when you combine the two. Against Baylor, he was held below 40 yards. Allgeier helps open up the pass game which also has plenty of weapons to choose from. Victory starts with Allgeier though.
LB Payton Wilgar
He's a menace to offenses. This week will be no different. Wilgar is looking to provide misery to the Trojans. USC loves to throw the ball around. Wilgar has two interceptions this year and 1.5 sacks. Let's not forget about the four pass break-ups and one quarterback hit he's produced as well. If he's not hitting the quarterback, then he's waiting to get his hands on the ball. Big time players come up with plays in big time games. Look for Wilgar to have a day.
USC (4-6, L 62-33 VS. UCLA)
WR Gary Bryant Jr.
The star of the USC offense, Drake London, had his season cut short due to an ankle injury. Just so we're clear how much London meant to this offense, the 6-foot-5, 210 pound NFL prospect had 1084 receiving yards in just eight games before suffering the season ending injury. Who is stepping up in London's absence? Sophomore Gary Bryant Jr. picked up 161 yards and a touchdown against UCLA. He's a much different kind of receiver than London though. Bryant is six inches smaller than London, thus USC is having to adjust their offense. If Bryant has a day, the Trojans might be able to pull off an upset. If he doesn't, it could be a long day for a suffering USC team.
S Davion Alford
Alford is a transfer from Texas. He is a product of Shadow Creek High School close to Alvin, which is South of Houston. He's a redshirt freshman who is starting to become a playmaker. Alford has three interceptions in USC"s previous two games. He recorded six solo tackles against Washington State. As he continues to rack up minutes on the field, he is taking advantage of opportunities. Most teams like to pick on the young guy in the secondary. It is advisable to take a pass on Alford and look elsewhere.
KEY STORYLINES
BYU
There is a lot on the line in this game for BYU. While BYU may be focused on this program, the entire Big 12 hopes the Cougars humiliate USC. In conference realignment, the Pac-12 played politics while deciding to remain at 12 teams. They've repeatedly passed on BYU and decided to nix adding any teams from the Big 12 after talks with multiple schools. The Pac-12 also denied a potential partnership with the Big 12 Conference. Since then, the Pac-12's gotten its ass kicked. BYU is 5-0 against the Pac-12 this season. A victory over USC would make the Cougars 6-0. BYU dominated the Pac-12 South, including a nine-point victory over Pac-12 South Champion Utah. The Utes recently destroyed Oregon. It's clear had BYU been added to the Pac-12, the Cougars would have probably won the conference. Finally, BYU was invited to join the Big 12 Conference in September along with three schools from the American Athletic Conference.
As if dominating the Pac-12 for revenge wasn't motivating enough, BYU could wind up in a New Year's Six Bowl. BYU is the second highest ranked Group of Five school in the College Football Playoff rankings. If Cincinnati slips up against East Carolina or Houston, BYU, having seven victories over Power Five schools, will likely be the team to be selected for the Group of Five slot in a New Year's Six Bowl.
Finally, BYU is looking to win 10 games in the regular season. It is an accolade that helps with recruiting and publicity. It also could propel BYU into the national championship picture as soon as they arrive into the Big 12 Conference. TCU took a similar path, and was 11 minutes away from being selected to the College Football Playoff in 2014. Had TCU not blown a 21-point lead in the final 11 minutes at Baylor, the Horned Frogs would have been undefeated and in the College Football Playoff.
USC
For the Trojans, it's been a disappointing season. It would be even more disappointing if BYU knocks them out of a bowl game. Additionally, USC is playing for Pac-12 pride. BYU has dominated this conference and so has the Big 12 Conference. For the sake of the conference, USC needs to win this game. Otherwise, BYU might just raise a Pac-12 Champions banner at LaVell Edwards Stadium. They've beaten the clear frontrunner for the conference, and they've dominated the teams in the Pac-12 South Division. Unless USC can prove otherwise, it's clear that BYU is better than any team in the Pac-12 Conference.
Prediction: BYU 30 USC 24 (BYU finishes 6-0 against the Pac-12, including defeating the Pac-12 South Champion)
USC is playing for their bowl life plus it's Senior Day. USC is likely going to give BYU their best shot. In the end, USC's season has been filled with disappointment and that doesn't change here. The Trojans fall short, Allgeier racks up 100 yards rushing, and BYU is a 10-win team who has a watch party during the American Athletic Conference Championship Game to see if they might play in a New Year's Six Bowl.