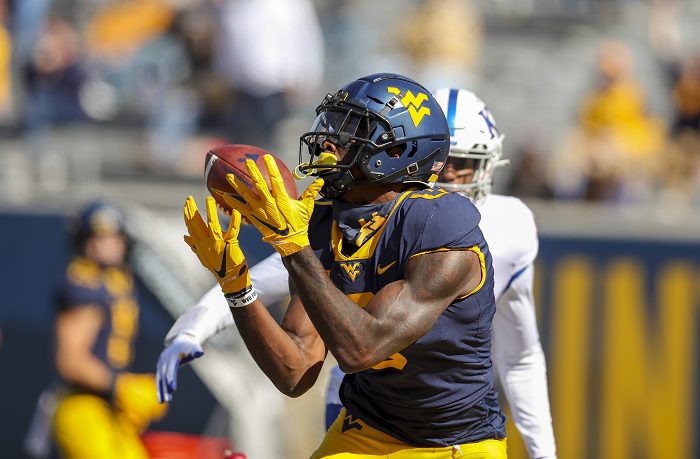 Here's everything you need to know about the upcoming Big 12 match-up in our Kansas vs. West Virginia preview and prediction.
Game Info
Saturday, November 27, 2021; 6:00 pm CT (7:00 ET); David Booth Kansas Memorial Stadium; Lawrence, Kansas
TV: FOX Sports 1 (Guy Haberman, Charles Arbuckle)
Radio: Kansas: Jayhawk Radio Network (Brian Hanni, David Lawrence); West Virginia: Mountaineer Sports Network (Tony Caridi, Dwight Wallace)
Spread: West Virginia -15.5
Records: Kansas 2-9 (1-7 Big 12), West Virginia 5-6 (3-5 Big 12)
Rankings: N/A
Last Week: TCU def. Kansas 31-28; West Virginia def. Texas 31-23
Key Players
Kansas
Jalon Daniels; No. 6, QB
Jalon Daniels has been fantastic in the month of November, going 56 of 79 for 562 yards and six touchdowns to one interception. Kansas has had its two highest point totals with Daniels starting the last two games and it's not a coincidence. Daniels' ability to extend plays with his legs has allowed Kansas to make things happen offensively.
Kenny Logan Jr.; No. 1, S
Logan ranks fifth in the country in solo tackles (68) and is co-leader the Big 12 for total tackles (96). He has been all over the field this season and that shouldn't be any different on Saturday. He is fresh off of a 15 tackle performance against TCU and had 11 against Texas two weeks ago. He should have double-digit tackles again this week because I expect West Virginia to hand the ball off to my next key player a ton this week.
West Virginia
Leddie Brown; No. 4, RB
West Virginia is now 4-0 when Brown gets over 100 yards on the ground, and he should do so again this week. His game last week against Texas, where he had 33 caries for 158 and a score, was his best performance since ripping off 151 yards against Virginia Tech in Week 3. The winning formula for the Mountaineers is give Brown the ball 25 times and let him work. Rinse. Repeat.
Josh Chandler-Semedo; No. 7, LB
Remember when I said that Kenny Logan Jr. was the co-leader for tackles just a second ago? Chandler-Semedo is his counterpart for that title. It will be interesting to see who Kansas turns to with Devin Neal likely out for this game, but whoever it is will be pursued by No. 7.
Key Storylines
Kansas
Will Devin Neal be able to go after an injury sustained last week against TCU? If he can't, freshman Amauri Pesek-Hickson will make the second start of his career. The Jayhawks running back room has been completely demolished by injuries in 2021 and it will be nice to get into the offseason next week and start to get some guys healthy for a hopeful 2022 season.
West Virginia
Can West Virginia take care of business on the road? They are 1-4 on the road this season and that trip from Morgantown to the Midwest is brutal, but it is an evening game so that helps. Plus, this is still Kansas and even though they had a historic upset a couple of weeks ago, this is still a bad football team. It's simple. Take care of business and you get to go bowling.
Prediction: West Virginia 35, Kansas 21
Don't overthink this one. Yes, Kansas is better with Daniels under center but West Virginia should be able to pull away in this one. West Virginia blows the cover by allowing Kansas to score a late touchdown, but the Mountaineers go bowling and Kansas gets to the offseason after a 2021 campaign in which they overachieved and were ahead of schedule competitively.