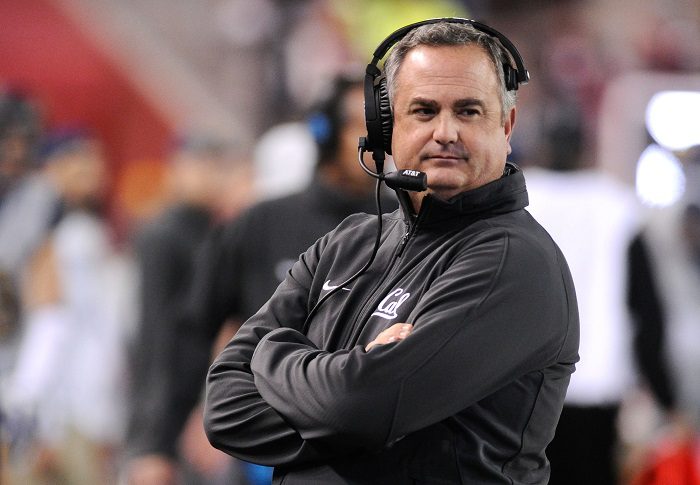 Over the past three weeks, rumors have circulated about who TCU might pick as its next head football coach.
SMU head coach Sonny Dykes is the choice, according to multiple reports.
So why the delay in making the hire official?
Contracts must be negotiated, buyouts considered, and, yes, the season is still going, but all this waiting hurts TCU.
Texas Tech completed its searching hire in two weeks and that felt like an eternity. The Horned Frogs are entering week four with no clear end date.
And that has already caused problems.
Student-athletes and incoming recruits are not patient individuals. The transfer portal could lure away some players, although no significant names have left, yet.
The incoming class, however, is a completely different story.
The early signing period opens on December 15, which makes hiring a new coach soon extremely important. Recruits will leave a program without a head coach since they do not know if it's still the right fit.
TCU has already lost six of its 11 recruits since former head coach Gary Patterson left on October 31. The class dropped from No. 7 in the Big 12 to No. 9. Getting a new hire in place could help keep the remaining commits and possibly snag a few more before signing day.
Of course, the February signing day still exists, but most top recruits pick their home before the holidays. Putting together a strong incoming class gets harder and harder with each passing day.
The new hire should also take advantage of the new Name, Image, and Likeness (NIL) rules while talking with these players. Support from coaches in pursuing endorsement deals matters and affects recruiting decisions. 
This means the new coach must get the community more involved with the football program and excited about working with the student-athletes. TCU and the city of Fort Worth loved Patterson because he made football relevant on a national stage and engaged the community through service and other outreach opportunities.
The new coach must maintain that relationship.
Dykes, again, fits the mold. He turned SMU into "Dallas' team" over four years through marketing campaigns and community relations. Dykes also helped the Mustangs win 10 games during the 2019 campaign for the first time since 1984. (SMU received the "death penalty" from the NCAA prior to the 1987 season.)
A coach like Dykes also brings an offensive mindset, something TCU has not necessarily had under Patterson. Patterson, rightfully, became a legendary defensive coach.
Perhaps focusing on the other side of the ball will provide a spark. SMU's offense ranked in the top 20 nationally in scoring (38.6, No. 15), total offense (494.5, No. 12), and passing (318, No. 13) in 2020 under Dykes.
It's no secret, barring an unforeseen change, who will be TCU's next head football coach. Let's sign the papers and move forward.
Sure, the Horned Frogs' season will probably end this Friday at Iowa State, which is just a few days away. Even if TCU wins and makes a bowl game, the announcement must come soon.
This is college football, after all, where every moment and advantage matters.