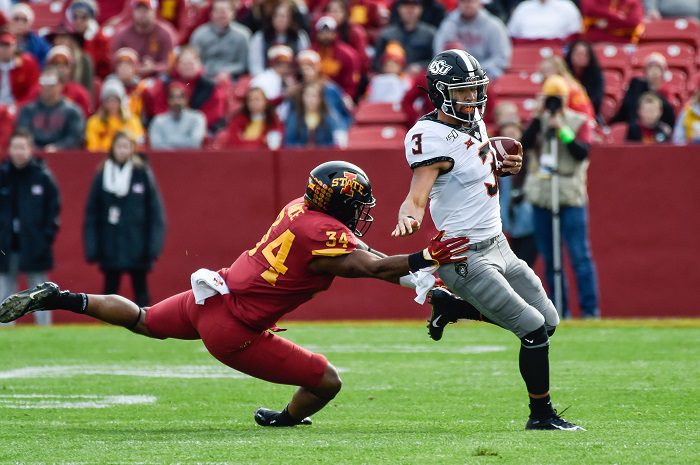 Welcome to Fact or Fiction Friday. Each Friday I give you the opportunity to ask the most intriguing questions in the Big 12 Conference and I will tell you whether they come true or if they are set to fail. Let's crack it open and see what we have in store this week.
Does Dave Aranda stay at Baylor?
Fact: If Dave Aranda were five or so years into the job, I would say otherwise but Aranda is only in his second year in Waco. I know schools like LSU and USC will come calling but I am not so sure that Dave will leave for those jobs. Sure, they are high profile jobs with plenty of cash, but they don't have the patience for winning. Those are win-now-or-be-fired type of jobs and I am not so sure Dave Aranda would want to leave for Baylor for that. I don't believe it's all about money for a coach like Aranda, but if USC is his dream job, then maybe I am wrong. However, I think he sticks it out at Baylor for a bit longer.
Will West Virginia Quarterback Jarret Doege be the most improved player in the Big 12 next season?
Fiction: Jarrett Doege has played five years and has been the starter for West Virginia for over two years now. I know what he is because he has already shown us what he can do. Jarret is a quarterback who completes between 63-65% of his passes and will throw interceptions. He is not the type of quarterback who will lead an offense to score a bunch of points. Doege is more of the game manager type, and I have said this before but until Neal Brown can find someone other than Jarret Doege, West Virginia will continue to remain in this middle of the pack territory in the Big 12.
Will Texas and Oklahoma lose their motivation to win the Big 12 the next few years since they are on their wat out?
Fiction: I have no idea what is going on in Austin right now, but Oklahoma isn't going anywhere. As long as Lincoln Riley is in Norman, the Sooners will always compete for Big 12 titles. After all, they have won six conference titles in a row and Lincoln Riley has been the head coach for four of them. They are still kings of the Big 12 until proven otherwise. As for Texas, they are not a Big 12 title contender. Outside of the 2018 season, the Longhorns have shown me nothing over the last decade to deserve any praise or be in the conversation for a conference crown.
Will Texas and Oklahoma stick around for a few more years?
Fiction: While their contract with the Big 12 doesn't expire for a few more years I do not see either Texas or Oklahoma being in the conference by the time the 2023 season rolls around. Some people think this could be the last year we see these two programs in the Big 12 but I don't think that is the case. I see them both play next year and then have the cash to do a buyout to bolt for the SEC for the 2023 football season. It's a win-win for both parties. The Big 12 will get to squeeze out some more profits and then collect two fat checks as Texas and Oklahoma walk out the door.
Has Oklahoma State quarterback Spencer Sanders turned the corner?
Fact: When we talk about the Oklahoma State Cowboys, we tend to focus solely on their defense. Don't get me wrong, their defense deserves a ton of credit this season. I don't just think Oklahoma State has the best defense in the Big 12 but the entire country. With that said, I do think it is time for Spencer to get some praise as well. Over the years he has made his fair share of mistakes but this season he has turned the corner. He isn't turning the football over like he has in previous years because he is making smart decisions. Spencer understands that if he can manage the offense, the defense can take care of the rest. He doesn't need to be superman out there for his team to win.