Oklahoma Sooners
Social Media Buzzing After LSU Players, Recruits Follow Lincoln Riley on Twitter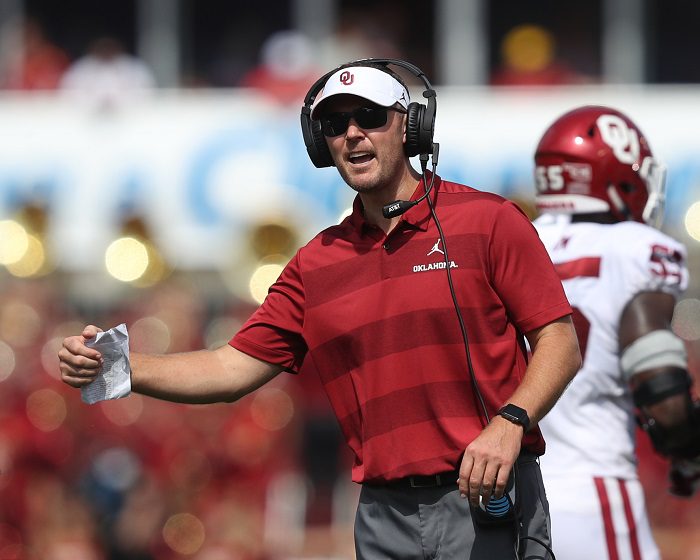 The college football coaching carousel has been more defined by coaches who are not going anywhere, rather than those who are jumping ship.
Whether it's James Franklin at Penn State, Mel Tucker at Michigan State, or what looks like Dave Aranda at Baylor, the theme is that coaches are not showing the interest in places like USC, Florida, Washington and others, like those programs had hoped when they fired their head coaches.
One of the other big-time job openings is at LSU, and the rumor mill won't give up on Lincoln Riley somehow, someway, ending up in Baton Rouge.
That continued again on Saturday when it was reported that Riley recent got lots of new followers from LSU basketball coach Will Wade, to current LSU football players, along with recruits.
The whole thing seems completely absurd, but if this is what keeps the LSU faithful hopeful during Thanksgiving weekend, we can let them continue to hope and pray.
Riley addressed the LSU rumors two weeks ago, when he said, "It's nothing to handle. It's pretty easy. I coach at the University of Oklahoma. You know how I feel about this place and this program. We've all been down this road many times before. You guys know where I stand and that hasn't changed."
The Oklahoma Sooners are sitting in the Top 10 of the College Football Playoff rankings and are set to take on the Oklahoma State Cowboys on Saturday night. If the Sooners beat the Cowboys, the two teams will square off in a Bedlam re-match. But if the Sooners lose, and Baylor beats Texas Tech, then OU is out of the Big 12 title game and their streak of six-straight Big 12 Championships will have come to an end.