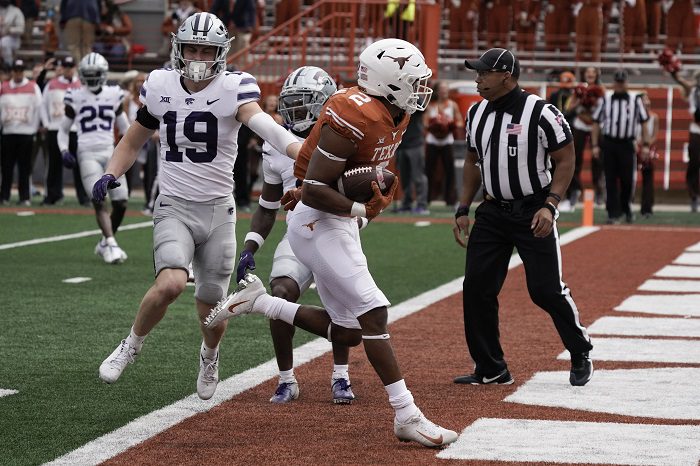 The Texas Longhorns hosted the K-State Wildcats on Saturday in the season finale for both teams. Prior to last season's huge Texas win, the prior four match ups had been decided by six points or less, and Saturday was another close game between these two teams. But instead of the Texas Longhorns blowing leads, which they had done in five of their last six games during their losing streak, they actually came back in this one to beat Kansas State 22-17.
With that, K-State falls to 7-5 on the season, while Texas improved to 5-7. Here are three thoughts on the game.
Texas Showed Spirit
Understandably, everyone has been hard on Texas and head coach Steve Sarkisian, but despite this team having a historically bad season, they showed up on a sleepy Black Friday morning where the Texas faithful didn't even bother making much of an appearance.
Then, the Longhorns found themselves trailing, once again, and could have easily rolled over against a motivated K-State team and went into the offseason on a seven-game losing streak. They didn't do that. Instead, they actually fought their way back, in somewhat ugly fashion, using a pair of field goals in the second half, which proved to be enough thanks to the defense pitching a shutout, to win the game 22-17.
The Texas defensed forced three three-and-outs, and didn't allow a drive longer than six plays in the second half of the game. That's a testament to that unit, which has certainly taken the brunt of plenty of criticism this season.
K-State's Offensive Future Without Skylar Thompson is Uncertain
We got another glimpse into a Skylar Thompson-less K-State offense, and just like we've seen on and off in recent seasons, it's not pretty.
Skylar has been the heart and soul of this program, plus the leader on and off the field. And without Skylar on Saturday, the offense didn't do much outside of one big 71-yard touchdown run by Will Howard, plus Deuce Vaughn doing his thing rushing for 143 yards on 24 carries.
But the reality is the offense didn't look good much of the day, while there was also plenty of criticism for offensive coordinator Courtney Messingham.
K-State had less than 300 total yards of offense, with just 65 passing yards. They also went just 1 for 9 on third downs. I'm far from convinced Will Howard can be the quarterback to lead this team to the level K-State fans expect in 2022 and beyond. Of course there are high hopes for Jake Rubley, but reality is he has yet to see playing time to know what exactly he is going to turn into.
The Texas Season is Over… Or Is It?
With the win, Texas improved to 5-7 on the season, and while they aren't guaranteed a bowl game, it's also not out of the question they get selected for one, especially given their brand.
The question is: Does Steve Sarkisian really want extra practices with this team when it seems like he will need to clean house in some capacity?
If I was Sark, I'd still want to get the extra practice, but use them, and the game, as a competition and play the guys you know will be around in 2022 and beyond. There's no downside in that, and Texas should not be ashamed by any bowl game, there's plenty of other things to be more embarrassed by this season. Now, it's time to just look forward.