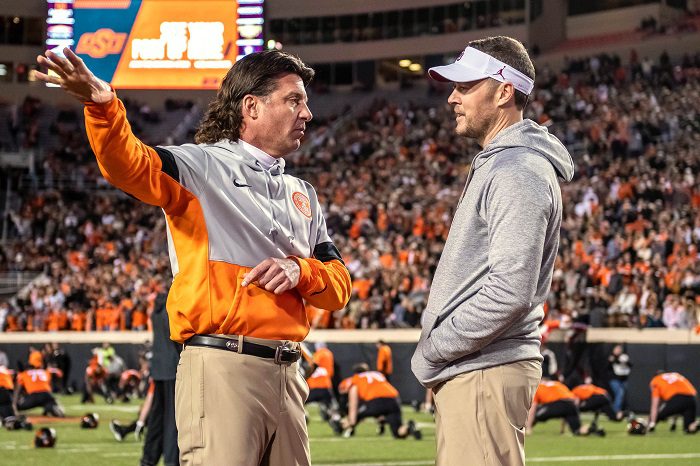 The Oklahoma State Cowboys are hosting the Oklahoma Sooners in what could be the last Bedlam match up in Stillwater for quite some time. With OU leaving for the SEC, and the timeline believed to be potentially expedited, it's not clear if there will be a Bedlam match up played in Stillwater in 2023, heck even Mike Gundy has said as much about the future of the rivalry.
And if Saturday is it in Stillwater, the folks at Boone Pickens Stadium are going out with some clever pettiness.
After an Oklahoma timeout in the first half, the song "Callin' Baton Rouge" by Garth Brooks, was played over the loud speaker.
Of course, Garth is an Oklahoman, but there's certainly more than just that reason this song was chosen. In recent days, rumors have been circulating in recent days that Lincoln Riley could end up as the next head coach at LSU, but nothing legitimate has surfaced outside of the usual social media chatter.
Regardless, it's been impossible to be in the state of Oklahoma in recent days and not see or hear the Lincoln Riley-LSU chatter.
Riley addressed the LSU rumors two weeks ago, when he said, "It's nothing to handle. It's pretty easy. I coach at the University of Oklahoma. You know how I feel about this place and this program. We've all been down this road many times before. You guys know where I stand and that hasn't changed."
For now, Riley is trying to beat Oklahoma State, but the Pokes are doing one of those little things that make Rivalry Week, and this rivalry in particular, so great.