Baylor Bears
Three Thoughts on Baylor's 27-24 Win Over Texas Tech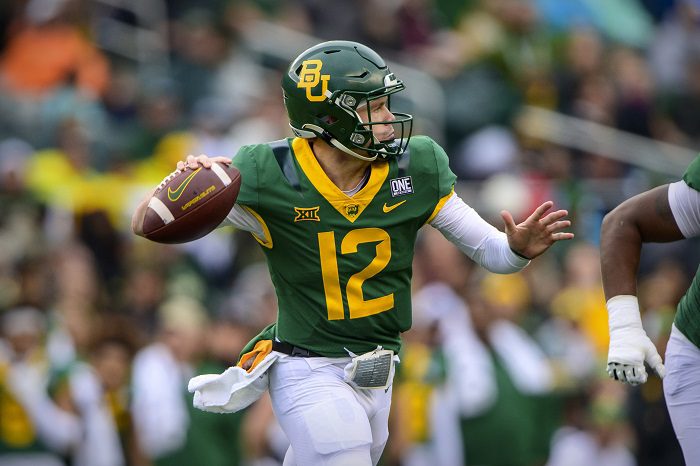 It was a meeting of old Southwest Conference rivals vying to be the premier Texas school of the new Big 12. Baylor was trying to notch its 10th win of the season and keep its Big 12 Championship hopes alive. Texas Tech was playing for bowl position, its 7th win of the season, and something to sell in-state recruits at the dawn of Joey McGuire's tenure. McGuire, who will completely take the reins as Tech's new head coach once this season is complete, provided a subplot to the game as he left Baylor, where he was associate head coach, earlier in the season to take the job at Tech.
Baylor came in as 14-point favorites, but the game was tight into the fourth quarter as Tech could never claim a lead but gave Baylor all it wanted in a defensive battle that exploded into a fourth-quarter shootout. It was a game worth celebrating for both sides and the entire Big 12 as arguably the two best teams in Texas settled the score for the 2021 season. In the end, Baylor hung on, and now all eyes in Waco are on Stillwater where the game between Oklahoma State and Oklahoma will determine whether or not the Bears will get another shot at Oklahoma State in the Big 12 Championship.
Here are three thoughts on Baylor's win over Texas Tech today, 27-24.
1. BAYLOR IS THE SURPRISE TEAM OF THE 2021 CFB SEASON
If only Baylor had not dropped that head-scratcher to TCU, the Bears might have slipped into the Big 12 Championship game via a tiebreaker even with an Oklahoma win in Bedlam today. However, as the 20th Century philosophers, Boston, teach us, don't look back, a new day is breaking, and Baylor is in the Big 12 Championship game in Arlington if Oklahoma State beats Oklahoma in Bedlam tonight. If Oklahoma wins, Baylor finishes third at 10-2, 7-2. Either way, the Bears already have so much to celebrate this season. With double-digit wins, a win over a Top 10 Oklahoma team, and a dominating win over the de facto Pac-12 champ, BYU, Baylor is the surprise team of not only the Big 12 but all the Power 5. No one outside of Waco saw this coming.
2. BLAKE SHAPEN MAY BE THE FUTURE OF BAYLOR FOOTBALL
Shapen played extremely well in the first start of his career, especially considering how much the Bears had on the line in this game. The pressure could have proven too much and forced Shapen to press when the game was much too close for comfort in the 4th quarter. Shapen held up under the pressure, however, made good decisions for most of the day, and used his arm and legs to great effect, completing 20 of 34 for 254 yards and two touchdowns while adding 24 yards on seven rushing attempts.
Shapen did throw a few dangerous passes that probably should have resulted in turnovers; however, no team wants a quarterback playing in fear. Shapen showed moxy throughout the game and did what he needed to do to get Baylor to the finish line with a victory.
However, while Shapen was sharp today, I suspect that Bohanon will get the start should the Bears have the opportunity to play in the Big 12 Championship. Oklahoma State's defense has made a habit of swarming and entombing young quarterbacks. I can't imagine that Bohanon doesn't give Baylor the best chance to win, assuming he's able to play.
3. TEXAS TECH HAS IMPROVED SIGNIFICANTLY UNDER SONNY CUMBIE (AND JOEY MCGUIRE)
Yes, Tech got blown out by Oklahoma in Cumbie's first game as interim head coach, and yes, Oklahoma State's defense shut out Tech last week, but Texas Tech has looked like a greatly improved team under Cumbie's guidance since the hiring of Joey McGuire following the Oklahoma game. The win over Iowa State, mostly due to a completely dominant first half against the Cyclones, got Texas Tech bowl eligible and proved Tech could beat a good team with something to play for. Today, after Tech announced that Cumbie will be retained as McGuire's offensive coordinator, the Red Raiders showed the kind of fight that changes programs. Not only did Tech show the ability to go toe-to-toe with a championship contender, but the Red Raiders also had the opportunity to win the game on their final drive and came just a failed 53-yard field goal away from forcing overtime. Losing the game in such a fashion is disappointing, but Texas Tech fans saw plenty in this game to give them tremendous hope for the future.