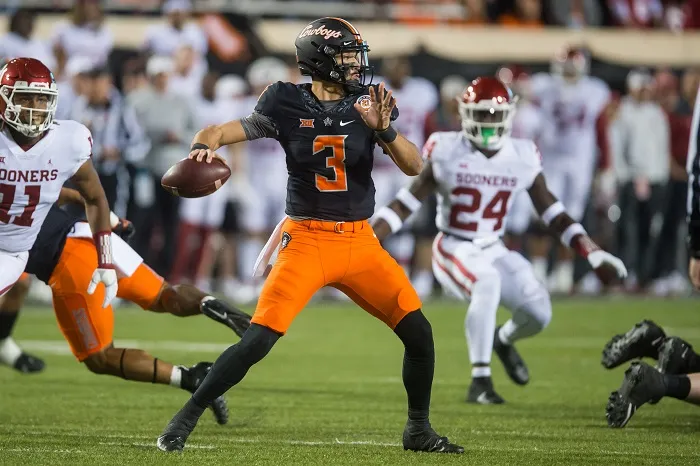 It's been a tumultuous few months on the college football scene in the state of Oklahoma in recent months. Before the season started, Oklahoma spurned the league, and most notably its supposed partners in the state, by leaving for the SEC with Texas. On the field, the Cowboys season got off to a shaky start in non-conference play, with close wins over Missouri State, Tulsa and Boise State, but then rolled to a 7-1 start in Big 12 play, putting the Pokes at 10-1 at the No. 7 ranked team in the country heading into Bedlam. Meantime, the Sooners were considered contenders for the National Championship before the season, and while they entered this game in the Top 10, it's been a rollercoaster of a season in Norman thus far with quarterback changes, offensive line issues and more.
And as for this game on Saturday, needless to say, Bedlam lived up to the hype as the Oklahoma State Cowboys beat the Oklahoma Sooners 37-33. Here are three thoughts on the game.
1. Mike Gundy Exorcises His Bedlam Demons, Keeps Pokes in Playoff Race
Mike Gundy came into this match up 2-14 against the Oklahoma Sooners. And while this game on Saturday didn't make a difference as to whether or not the Cowboys ultimately won the Big 12, they had already punched their ticket to the Big 12 Championship Game last week, it was enormous as Oklahoma State is right in the mix for a College Football Playoff appearance. Had the Cowboys lost the game, their Playoff chances would have been done, and they would have had a re-match with Oklahoma for a Big 12 Title next week. Instead, thanks to the OSU win, the Baylor Bears will be in Arlington to take on the Cowboys next week, with the Pokes looking to pick up another Top 10 win to boost their College Football Playoff resume. This game was also possibly the last Bedlam in Stillwater for quite some time, which added to the meaning behind this victory for Mike Gundy. And boy, you couldn't have scripted a more dramatic ending than this one.
2. Spencer Sanders Played the Game of His Life
The Oklahoma State quarterback has been viewed as the "weak link" on this team, which has gotten to this point with its defense and running game leading the way, while not asking Spencer Sanders to do too much. Well on Saturday night, he had to do more than just being serviceable, and he did just that. Sanders finished 19/30 for 214 yards, one touchdown and two interceptions, while also rushing for a team-high 93 yards on 16 carries with a score. In the biggest game of his life to date, Spencer Sanders showed up and performed in the dual-threat manner that many Cowboys fans had expected and been hoping for since he stepped on campus. It hasn't always been a smooth ride for Sanders during his Oklahoma State career, but under the brightest lights on Saturday night, the coaching staff's confidence in him payed off in a big way.
3. Please, Don't Let Bedlam End
Mike Gundy said this week he would be surprised if Bedlam continues once OU leaves for the SEC. If the annual meeting between Oklahoma and Oklahoma State does cease to exist, it will break a streak dating back to 1910. But can we not forget that what makes college football such a great sport is the rivalries and the pageantry, not the TV networks who are insistent on trying to sterilize a great sport.
Bedlam was a reminder that these rivalries matter. They matter to the fans, the players and the sport itself. Something about games like Bedlam bring out the best in everyone involved and Saturday night was another example of that. Muffed punts. Safeties. Questionable calls on both sides. Crazy, emotional swings.
It was Bedlam. And if that's the last one, at least in Stillwater, for a long time, it will be a shame for the sport.