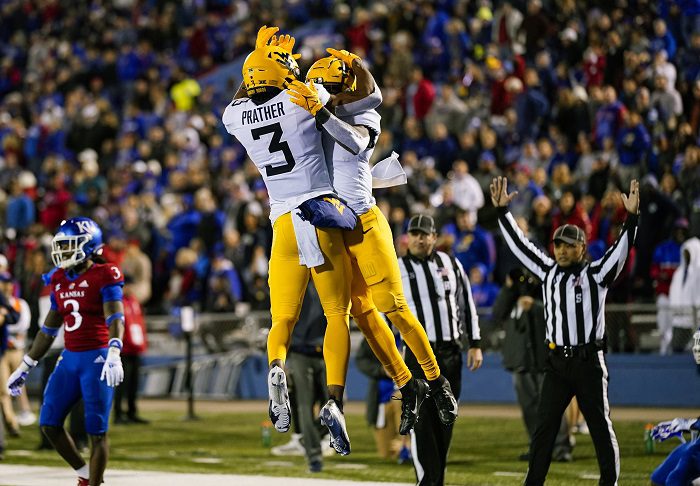 The West Virginia Mountaineers defeated the Kansas Jayhawks, 34-28, to help West Virginia clinch a berth in a bowl game.
With the win, West Virginia (6-6, 4-5 in Big 12) gives the Big 12 Conference seven bowl-eligible teams. Mountaineers quarterback Jarret Doege threw for 170 yards and three touchdowns, while running back Leddie Brown rushed for 156 yards and a score. Winston Wright Jr. caught two touchdown passes.
Kansas (2-10, 1-8 in Big 12) saw Jalon Daniels throw for 249 yards, one touchdown and two interceptions, while Amauri Pesek-Hickson rushed for 60 yards. Jared Casey had a big game, catching four passes for 67 yards and a touchdown.
So let's get to the takeaways.
Leddie Brown's big game
Leddie Brown will leave West Virginia as a back-to-back 1,000-yard rusher, as he rushed for 156 yards and a touchdown in Saturday's win. In doing so, he became the eight back in West Virginia history to complete that feat. Brown, in four years, has rushed for 2,888 yards and 27 touchdowns.
Brown has already accepted an invite to the Shrine Bowl, one of the postseason all-star games. He had never redshirted, so technically he could have returned to West Virginia in 2022, thanks to the blanket year of COVID eligibility the NCAA afforded all student-athletes last year. By accepting the invite, that makes it clear Brown is ready to move to the NFL.
Now the only question is whether Brown decides to play in the Mountaineers' bowl game or decides to opt out. Either way, he'll leave Morgantown as the program's sixth-leading rusher, behind Avon Cobourne (5,039 yards), Pat White (4,480 yards), Noel Devine (4,315 yards), Amos Zereoue (4,086 yards) and Steve Slaton (3,923 yards). Not bad for a guy that had to split reps for the first two seasons of his career.
By remaining in school in 2021 (Brown could have left for the NFL last season), he has certainly improved his stock for the 2022 NFL Draft.
Kansas was already 'a winner'
This, obviously, falls under the category of 'moral victory,' but Kansas was already a winner entering this game. It's clear head coach Lance Leipold and his vision for the program is starting to take hold in Lawrence. Just look at the last few weeks. The Jayhawks went on the road and beat Texas in overtime, 57-56. Then, the Jayhawks didn't follow that with a hangover, falling to TCU on the road, 31-28. Then, tonight's loss, a game that was, at one point, tied in the second half. There's momentum there, if you wish to see it.
The Jayhawks now have a running back to lean on next season in Devin Neal, and a pair of quarterbacks they know can do the job in Jason Bean and Jalon Daniels. Even though the Jayhawks used Bean as a rusher and receiver in the final two games after Bean's injury led to Daniels' rise, I don't think he's done as a quarterback just yet. It's natural to think he and Gardner could compete for the starting job next season.
What Leipold did this season was build a culture, create some success and build some hope for this program. That's been in short supply. Now we see if he can build on that with early signing day looming in a few weeks.
What bowling means for West Virginia
West Virginia's win could be a big one down the line for the Mountaineers. They need the extra work. Those 15 practices are going to help get the second- and third-string players ready for next season. The Mountaineers also bounced back from a 2-4 start to the season to finish 4-2 for the season. And they need to start identifying a potential replacement for Leddie Brown, among others.
It also takes a bit of heat off of head coach Neal Brown. Many expected more from the Mountaineers, and back-to-back three-point losses to Oklahoma and Texas Tech early in Big 12 play set the Mountaineers back. But the Iowa State win at home was huge, and so was the Texas win at home last week. And, with the win on Saturday over Kansas, the Mountaineers may have beaten Texas twice. You see, the Longhorns, at 5-7, COULD go to a bowl game if there aren't enough 6-6 teams for all the bowl games. The Longhorns are relying on the bowl games being short four or five teams. The Mountaineers didn't help.
You can find Matthew Postins on Twitter @PostinsPostcard.