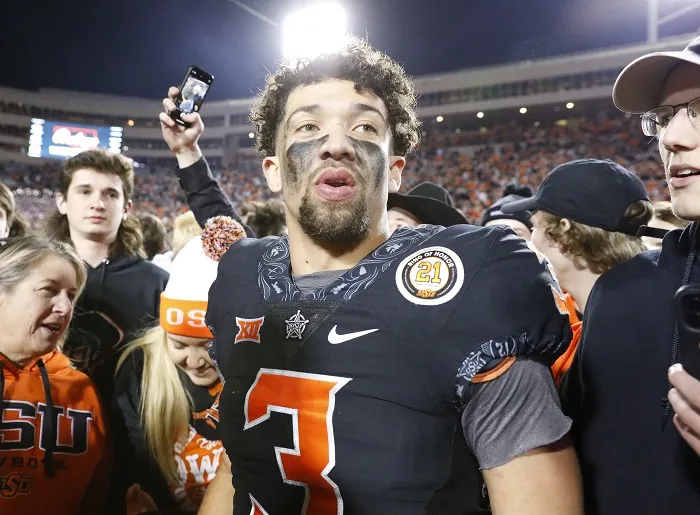 It was another wild weekend in the Big 12 from the off-field news to the on-field play. There was plenty of excitement on Saturday and I will break it all down here for you as I share the good, bad, and ugly from Week 13 in the Big 12. 
The Good
Texas (Beat Kansas State 22-17)
It wasn't pretty by any means, but a win is a win and Texas was in desperate need for one. Forget about the quarterbacks, it was Roschon Johnson that carried the offense on his back as he rushed for 179 yards and a score. I didn't particularly care for the play of some of the other players but what I can say is that Texas could use more guys like Roschon Johnson on their team. Defensively, Texas did their part on that side of the ball but then again, they weren't facing a juggernaut offense. In the end, Texas snapped their six-game losing streak and even at 5-7, they have a chance at making a bowl game due to so many bad teams.
Iowa State (Beat TCU 48-14)
No better way to send off the seniors than with a big win against TCU at home. Brock Purdy was fantastic, but it was Breece Hall who stole the show with 242 yards and three rushing touchdowns. Hall also broke a 51-year-old record by rushing for a touchdown in 24 straight games. He had a performance to remember, and it was great to see him do it in front of the home crowd. I am not sure what the future holds for Iowa State football, but the bowl game will be emotional because it will be the last game a lot of these guys will play in an Iowa State uniform.
Baylor (Beat Texas Tech 27-24)
Much like the Texas game, it wasn't pretty but winning is all that matters. Baylor used their ground game to control the game as they held the ball for over 37 minutes thanks to Abram Smith. Blake Shapen wasn't perfect, but he took care of the football. If there was a complaint, it was the defense. They allowed two fourth quarter scores and made the game much closer than it should have been. With the win and Oklahoma loss, Baylor will be going to Jerry World to play for a Big 12 title.
West Virginia (Beat Kansas 34-28)
I wasn't sure if it was going to happen, but West Virginia managed to win six games this season thanks to their win against Kansas on Saturday. Jarret Doege was efficient, and the run game was phenomenal thanks to Leddie Brown and Tony Mathis. They combined for 274 rushing yards and a score. Behind their solid run game and run defense, the Mountaineers were able to secure the win.
Oklahoma State (Beat Oklahoma 37-33)
What a game and what a roller coaster of events. Spencer Sanders made some mistakes but also made some big plays. The Brennan Presley kick return was huge and how about the defense? They struggled some but kept the Sooners scoreless in the second half as the offense gave up the points. Now it is time to give credit where credit is due which of course is Mike Gundy. He did a phenomenal job this season and what Jim Knowles has done with this defense has been amazing. Both are deserving for some awards this offseason that should be coming there way. The Cowboys beat the Sooners and are heading to Jerry World to play for a Big 12 title with a playoff spot on the line as well. Does it get much better for Oklahoma State fans right now?
The Bad
Texas Tech (Lost 27-24 to Baylor)
Despite losing the game, I was a bit surprised to see Texas Tech hang in there with Baylor even if it took a late comeback. The Red Raiders offense was non-existent for three quarters before scoring twice in the fourth quarter. Donovan Smith was able to make some big plays late and Tech had a chance to tie the game with a field goal, but Jonathan Garibay's kick went wide left as time expired. The good news is that even with the loss, Texas Tech will get some key days of practice during bowl season. I am looking forward to what is in store for this team and program moving forward.
Kansas (Lost 34-28 to West Virginia)
Kansas didn't win and they wont go bowling for the 13th-straight year. However, this team fought hard this season and I actually have some respect for this team. They played West Virginia close and have been competitive this season more than they have at any point over the last ten years. Lance Leipold still has plenty of work ahead of him, but I like where the program is going which is something I couldn't say two years ago.
The Ugly
Kansas State (Lost 22-17 to Texas)
I am not even going to talk about the defense because they did their job, but they were absolutely pathetic on offense in the Texas loss. Quarterback Will Howard completed only nine passes and the offense looked like it was stuck in 1980. There's little to no creativity from offensive coordinator Courtney Messingham and there should be some questions about his future at Kansas State moving forward. Also, any possession that Deuce Vaughn doesn't get to touch the football is flat out wrong. Besides a new offensive coordinator, Kansas State also needs to address the quarterback position for next year. Skylar Thompson will be gone and if this is the kind of play we see from the quarterbacks then Kansas State will be in for a long 2022 season.
TCU (Lost 48-14 to Iowa State)
The season is over for TCU and thank goodness because it has been a roller coaster ride all year long. I had high hopes for this football team this year and maybe that was foolish on my part, but this team shouldn't be 5-7. They are better than that and now with Gary Patterson in the rear view, Sonny Dykes needs to get this program back on track. There is a ton of potential in Fort Worth to turn things around.
Oklahoma (Lost 37-33 to Oklahoma State)
I am glad I wrote this article later than normal because it been quite the 24 hours in Norman. I know the refs didn't help out either team, but Oklahoma can't have their offense get shutout in the second half and expect to win this game. That's not how it works. With this game behind them, now the attention goes from losing Bedlam and not playing for a Big 12 title to finding a new head coach due to the fact that Lincoln Riley is heading to USC. Oklahoma has some big issues to tackle here in the next few days and it will be odd seeing them not play in Jerry World for a conference crown.