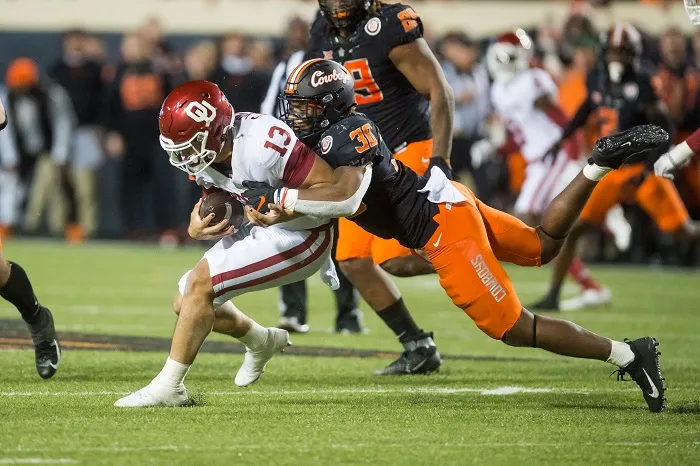 The Big 12 football regular season wrapped up on Saturday with Week 13 finishing up with a wild finish to Bedlam with Oklahoma State beating Oklahoma, meaning the Cowboys will take on Baylor for a Big 12 title. But this is only because Baylor hung on to beat Texas Tech on Saturday in Waco. Around the league, West Virginia held off Kansas, Iowa State crushed TCU and Texas beat Kansas State.
So with all those games over, here are the five biggest takeaways from Week 13.
1. The Future Big 12 is Looking Strong
While there has been so much drama in recent months, the reality is the "future" Big 12 looks like it's going to be just fine. In fact, it will be more than just fine, it will be a highly-successful league. First, with Oklahoma and Texas leaving, there's undoubtedly some sweet irony from the "Other 8" fan bases, who are happy that neither team is playing for a conference championship this season.
And then, there's the new teams coming to the conference. Cincinnati and Houston will be joining the league in a couple of years, but they'll also be playing each other for an AAC Championship next weekend. And let's not forget about BYU, who beat USC on Saturday and finished its season going 6-0 against the Pac-12, yes, the same Pac-12 that didn't want the "Big 12 leftovers".
This conference is getting the last laugh.
2. Does Bedlam Really Have to End?
Mike Gundy said this week he would be surprised if Bedlam continues once OU leaves for the SEC. If the annual meeting between Oklahoma and Oklahoma State does cease to exist, it will break a streak dating back to 1910. But can we not forget that what makes college football such a great sport is the rivalries and the pageantry, not the TV networks who are insistent on trying to sterilize a great sport.
Bedlam was a reminder that these rivalries matter. They matter to the fans, the players and the sport itself. Something about games like Bedlam bring out the best in everyone involved and Saturday night was another example of that. Muffed punts. Safeties. Questionable calls on both sides. Crazy, emotional swings.
It was Bedlam. And if that's the last one, at least in Stillwater, for a long time, it will be a shame for the sport.
3. Dave Aranda's Turnaround at Baylor
The Baylor Bears squeaked past Texas Tech on Saturday and thanks to Oklahoma State's Bedlam win, the Bears are off to their second Big 12 Championship Game in three seasons. They made the game in 2019 under Matt Rhule, who then left for the Carolina Panthers. But for Dave Aranda to take this team from 2-7 in 2020 to a Big 12 Title Game appearance in 2021 is a testament to Aranda, his coaching staff, including his switch to Jeff Grimes as offensive coordinator, and the players for buying in in a huge way after a rocky Year 1. Also, a huge kudos to Mack Rhoades, who has hit in a huge way in back-to-back hires as the Bears try to win a Big 12 Championship and punch a ticket to a New Year's 6 bowl game. It's also important to note that if the Bears had not lost to TCU, it's entirely possible this team would also be in the College Football Playoff hunt. They are the surprise of the college football season.
4. Goodbye to Iowa State's Senior Class
This season hasn't gone as planned for the Cyclones as they finished the 2021 regular season with a 7-5 record after beating TCU on Friday. But regardless, this senior class, led by guys like Brock Purdy and Mike Rose, transformed Iowa State football. They were the class that took this team from a Power 5 afterthought to a Big 12 Championship game last season and a Top 10 preseason ranking this year.
And if you want to see how Campbell feels about this group of guys, just check out this video of him tearing up during the Senior Day ceremonies.
This group laid the foundation for making Iowa State a consistent Top 25 program for as long as Matt Campbell stays in Ames, and hopefully for time after that, whenever that time comes (which we hope is not any time soon). But when writing the history of Iowa State football, the 2021 Senior Class will be a core part of the turnaround.
5. Texas Snaps Its Skid
The Texas Longhorns won't end the season on a seven-game losing streak after beating K-State on Friday 22-17. UT finishes a forgettable first season under Steve Sarkisian at 5-7, but it won't be enough for a bowl game after enough teams finished with a 6-6 record.
Steve Sarkisian isn't in danger of losing his job, but there's no doubt that his leash is far tighter than anyone expected after his first season in Austin. But now it's all about Sarkisian making sure he has players who are bought into his staff and his program. If not, they have to go and hit the reset button on a rebuild that may be bigger than he expected when he took the job. But with a big recruiting class and access to the transfer portal, this should be a faster process than it would have been even just a few seasons ago. Whether or not he can pull it off effectively remains to be seen.