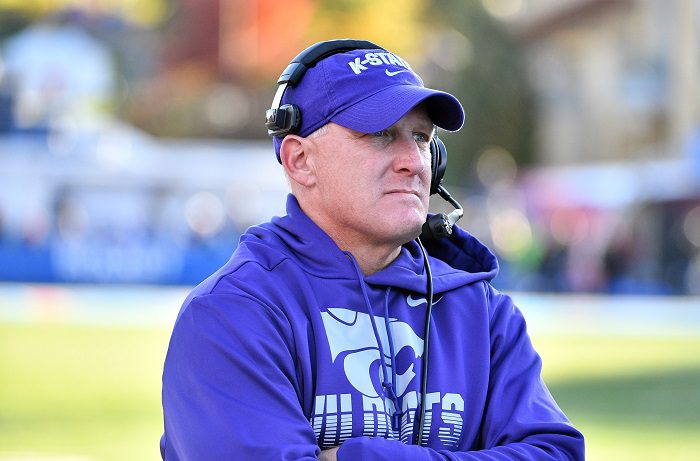 The K-State football team lost to the Texas Longhorns 22-17 Friday in their regular-season finale. The Wildcats finished the season 7-5 overall and 4-5 in the Big 12. It was the most frustrated I've been watching a K-State football game since….probably the Texas game to end last season. Chris Klieman didn't have Covid to blame this year, but K-State fans have targeted offensive coordinator Courtney Messingham as enemy number one.
For the first time that I can remember, Kansas State football fans on Facebook, Twitter, via text messages, emails, and every other social media or messaging platform are in complete agreement. Courtney Messingham has to be fired as K-State's offensive coordinator. We've seen enough.
I normally wait 24 hours or so after games before I write my "From The Couch" game reviews or my articles for Heartland College Sports. Why? I always re-watch the games and sometimes I find that I have a different opinion about what went on than I did when I was wrapped up in the emotion and the up-and-down roller coaster ride that I am on when I watch the games live. Since I go to a lot of the games in person, I normally re-watch the games on Sunday mornings. After yesterday's game against Texas, I re-watched the game about an hour after it was completed. To be sure, my blood pressure was through the roof for about six hours yesterday.
Messingham Woes
I've been skeptical about Courtney Messingham from the very beginning of his tenure at Kansas State, even before he called plays during a game in Manhattan. On January 1, 2019, I was bored watching an insignificant New Year's Day bowl game and I decided to do a little bit of research into the assistant coaches that Chris Klieman had hired to help him run the K-State football program. I typed "Courtney Messingham fired" into the search engine. What I saw was very discouraging to me. Among the articles I found was this quote from an ESPN piece….
"The Cyclones' offense was stuck in neutral for the majority of the season. It finished in the bottom three of the Big 12 in points per game (24.8), yards per game (363), yards per play (4.82), rushing yards (143.83) and passing yards (219.17)."
Wanna guess how many Big 12 points per game K-State averaged during the 2021 season? 24.8. You can't make this stuff up. It's exactly what Iowa State's offense averaged in 2013 when he was fired following the season.
After K-State's loss to Baylor in 2020, I wrote a piece criticizing Messingham's offensive play-calling during that game. Not much has changed since then except Skylar Thompson returned as K-State's quarterback for most of this season and Deuce Vaughn is playing at a very high level. Having both of these pieces in the offense helps mask some of the play-calling deficiencies. Skylar Thompson is good enough to overcome and adjust to bad calls on offense. Will Howard is not.
Will Howard was 9 of 13 passing for 65 yards against Texas on Friday. Not 65 yards in a quarter or in a half. In the game. This is not the 1995 Nebraska Cornhuskers running the option. You have to pass in this league to win games. In the third quarter of the game yesterday, K-State had 19 rushing yards and minus two yards passing. In the fourth quarter, they had 50 rushing yards and 35 passing yards. They did not score in the half. 102 yards in a half and not being able to put any points on the board is not a great recipe to win football games. Here are some key sequences in the second half of the game that I found questionable.
Malik Knowles returned the second-half kickoff to the 46-yard line. How did the K-State offense respond to this great field position?
Play 1 – Offsides, Texas. First and five.
Play 2 – Run by Deuce Vaughn for 16 yards. First down.
Play 3 – Run by Deuce Vaughn for six yards. 2nd and 4.
Play 4 – Handoff to Phillip Brooks. Loss of 10. 3rd and 14.
Play 5 – QB draw by Will Howard. Loss of one. 4th and 15. That's right, they ran a draw with Will Howard on 3rd and 14.
Whether it was a planned draw or not, it doesn't matter. Throw the ball downfield! Instead, they were forced to punt. K-State's defense, which had clearly adjusted to what Texas was doing on offense, held the Longhorns to a three and out and forced them to punt. The Wildcats got the ball back on their own 42-yard line. What did they do next?
Play 1 – Will Howard dropped back to pass and threw deep to Phillip Brooks, who was open enough to catch the pass had it been a well-thrown ball. The ball was under-thrown by about five yards to the right of Brooks. 2nd and 10.
Play 2 – Handoff to Malik Knowles for no gain. 3rd and 10.
Play 3 – Howard dropped back to pass. The pass was not near any receiver, so it was hard to tell who it was intended for. 4th and 10. Punt.
After K-State's three and out, Texas had a 12 play, 61-yard drive and kicked a field goal to go ahead 19-17. After Texas went ahead, it was very important for K-State to get something going offensively. So what did they do?
Play 1 – Deuce Vaughn ran for five yards. 2nd and 5.
Play 2 – Deuce Vaughn ran for three yards. 3rd and 2. Vaughn lost his shoe on the play and had to go to the sideline to put his shoe back on.
Play 3 – Screen pass to Phillip Brooks for a loss of two. 4th and 4. Punt.
Another of Courtney Messingham's signature three-and-outs. This marked the end of the 3rd quarter. The Wildcats ran 10 plays in the quarter and gained 17 yards.
The K-State defense forced Texas to punt and they got the ball back on their own nine-yard line. What happened next
Play 1 – Deuce Vaughn ran for six yards. 2nd and 4.
Play 2 – Deuce Vaughn ran for six yards. First down.
Play 3 – Will Howard fake handoff and ran for four yards. 2nd and 6.
Play 4 – Deuce Vaughn ran for five yards. 3rd and 1.
Play 5 – Deuce Vaughn ran for no gain. 4th and 1.
Play 6 – Deuce Vaughn ran out of the Wildcat for no gain. Turnover on downs.
Six plays and zero pass attempts? Texas' defensive line was dominating the K-State offensive line in the trenches at this point in the game. Will Howard is 6'4" and 235 pounds. Didn't think about running a quarterback sneak to pick up a yard (or less)? This was play-calling malpractice. Texas got the ball back and drove and kicked a field goal to go ahead 22-17.
K-State needed a touchdown with about seven and a half minutes left in the game. What happened next?
Play 1 – Pass to Tyrone Howell for 14 yards. First down.
Play 2 – Deuce Vaughn ran for 20 yards. First down. Hey, we've got something going here!
Play 3 – Quarterback draw for Will Howard for a gain of 3. 2nd and 7.
Play 4 – Deuce Vaughn ran for six yards. 3rd and 1.
Play 5 – Deuce Vaughn ran out of the Wildcat again for no gain. 4th and 1.
Play 6 – Will Howard kept the ball on an option play for no gain. Turnover on downs.
The last two play calls were very suspect. Texas had already proven the ability to stop the Wildcat running game on 3rd and 4th and short, but they went back to a "Wildcat" run up the middle on third down with Deuce Vaughn and then tried to run the option? Crazy. Texas got the ball back with about four minutes left in the game and ran the clock down to 30 seconds before punting. K-State was out of timeouts and the clock ran out on them.
If Courtney Messingham is K-State's offensive coordinator in 2022 and Will Howard is the starting quarterback, this team is in big trouble. Howard simply can't throw the ball downfield accurately. The K-State fan base may be okay with Will Howard, Jaren Lews, and Jake Rubley battling for the starting quarterback job next spring and fall if there is a new offensive coordinator running the show.
If Messingham returns, Klieman has already lost a significant portion of the fan base and he's just going to lose more. In my opinion, a change must be made at the offensive coordinator position. It's time to move on and develop an offense that is much more productive than the current version has been. Unfortunately, I would be surprised if Klieman makes a change. Courtney Messingham is one of his best friends and I think he is unlikely to fire his friend after one bad loss. Nonetheless, this is a decision that he will have to make sooner or later, and the sooner the better.