Baylor Bears
Could Brian Kelly Leaving for LSU Impact Big 12 Coaches?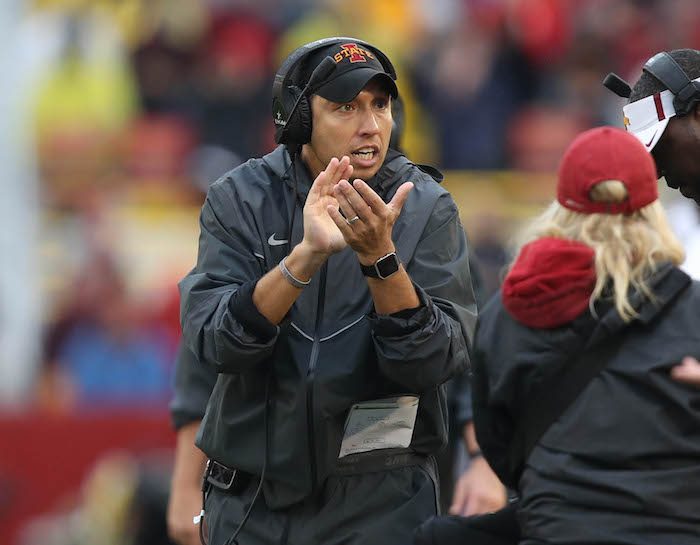 Brian Kelly is reportedly leaving Notre Dame for LSU, meaning another plum job could be opening up — and could engulf current and future Big 12 coaches in rumors.
The Athletic and Yahoo! Sports' Pete Thamel were among the reporters on the Kelly story Monday evening. Kelly could officially be named LSU's head coach as early as Tuesday. And the ripple effects for the Big 12 could be difficult to contain.
Notre Dame is one of the game's tent-pole jobs, and Kelly has done tremendous work with the Irish, winning more games than any Notre Dame coach and leading the Irish to two appearances in the College Football Playoff.
Notre Dame athletic director Jack Swarbrick, like Oklahoma athletic director Joe Castiglione, probably has a 'if my coach leaves' file to refer to, and several Big 12 coaches could be in that file.
There's Iowa State head coach Matt Campbell. The Massillon, Ohio, native comes from a part of the country where Notre Dame is a revered position. Jordan Strack, the sports director at WTOL 11 in Toledo, Ohio — where Campbell was the head coach before he went to Iowa State — tweeted on Monday that he had "100 percent certainty" that Campbell would have interest in the job, if open.
There is Columbus, Ohio, native Luke Fickell, now at Cincinnati, a future Big 12 member. Fickell's entire coaching career has taken place in the state of Ohio. All Bearcats, a site affiliated with Sports Illustrated that covers the Bearcats, tried to answer the question of whether Fickell might be interested. The piece noted that Fickell has told recruits he isn't leaving for any job, but also notes that 'there's no way he could've anticipated the Notre Dame job opening up.'
There is Baylor's Dave Aranda. While Aranda has no tangible ties to the Midwest, but Notre Dame is a job that doesn't open up every day. Aranda has been linked to practically every opening on the market.  Aranda is in his second year at Baylor and the Bears are working on a long-term extension to keep Aranda in Waco. Since Aranda is coaching the Bears in the Big 12 Championship game on Saturday, he can't interview for a job, if he wants, until afterward.
Plus, there's Bob Stoops. Yes, he's the interim coach at Oklahoma in the wake of Lincoln Riley's departure for USC. But, Stoops is a native of Youngstown, Ohio. His enormous success at Oklahoma makes him a logical candidate. Stoops ruled out taking the Sooners job long-term on Monday. But that doesn't mean he couldn't be tempted by another job. In 2019, Paul Finebaum reported that there was only one job that could bring Stoops out of retirement — Notre Dame. If you're not buying Finebaum's reporting, that's fine. You can read the piece written in 2012 by The Oklahoman's Berry Tramel in which he confirmed that Notre Dame came after Stoops on two different occasions, only to be rebuffed.
NONE of this means that any of these coaches would head to South Bend. But, if Cyclones, Bearcats, Bears and Sooners fans were breathing a sign of relief, thinking the coaching carousel was slowing down, well, there's always another nightmare around the corner.
 You can find Matthew Postins on Twitter @PostinsPostcard.