Baylor Bears
Five Takeaways from Week 3 of the Big 12 Men's Basketball Season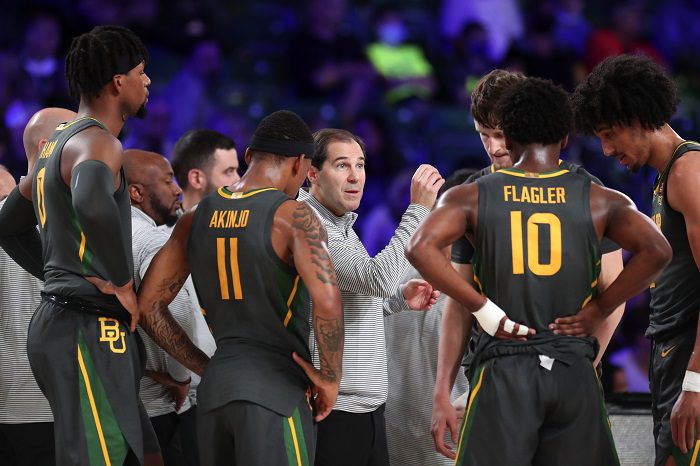 The Big 12 Conference is done with Week 3 of the 2021-22 men's basketball season. Just some of the things that happened last week:
Baylor welcomed ESPN's Dick Vitale back to the mic (beachside);
Oklahoma State head coach Mike Boynton was on The Athletic's 40-under-40 list;
Also check out our Big 12 Basketball Tracker for updated men's and women's news ever day.
That, and so much more, happened in Week 3, and with it being a holiday week, there was plenty to write about. Here are our five takeaways.
Baylor's built to last
The Baylor Bears won their national championship last April, but ss late as March of 2019, the Bears were the program that could, but couldn't QUITE get over the hump. Their second-round exit that season wrapped up a seven-year run in which the Bears did no better than the Sweet 16 twice, even though it reached the NCAA Tournament five times.
Since then, the Bears are 61-6, have a national title and haven't lost a regular-season game March 7, 2020 (h/t Shehan Jeyarajah for that nugget).
Drew has built a successful program and now he's showing he can sustain it. The Bears are coming off their Battle 4 Atlantis championship, where they beat Michigan State by a wider margin than Kansas did in the Champions Classic on opening night.
He's ahead of the curve on transfers. Of the four guards that fueled last year's national title, two were transfers — Davion Mitchell and MaCio Teague. Technically, Jared Butler was a third transfer, though he never even enrolled at Alabama before transferring to Baylor and didn't have to sit out. Mark Vital was the only home-grown guard. A fifth guard, Adam Flagler, was a transfer, sat out a year, came off the bench last season and is back.
James Akinjo has come in and immediately hit the ground running with this offense, averaging 10.1 points per game. The new transfer rules allow Drew to play Akinjo now, as opposed to having Flagler, Mitchell and Teague sit a year.
Baylor's player development is on full display. Forward Matthew Mayer, forward Flo Thamba and forward Jonathan Tchamwa Tchatchoua have all developed their games in different ways over multiple seasons. Guard L.J. Cryer took advantage of a year sitting behind those great guards and is now filling the bucket as the team's leading scorer.
Drew's recruiting acumen is skyrocketing. Cryer was part of a bumper crop class in 2020. Drew's 2021 Class includes Kendall Brown and Jeremy Sochan, who have seen immediate playing time as Langston Love sits out the season with a torn ACL. Drew's 2022 class, already signed, is a Top 25 class with a five-star guard in Keyonte George.
This is how you do it in today's college basketball — multiple channels of talent and blend it together. Drew is proving to be a master of it, and that's why Baylor is built to be elite for the long-term.
An early 'statement' win for the Cyclones
I was certainly curious to see how Iowa State would play against Xavier in the NIT Tip-off on Wednesday. The Cyclones started their season with a calculated schedule against low- and mid-major teams to build some confidence.
It worked.
The Cyclones' 12-point win over the then-No. 25 ranked Musketeers was their first win over a nationally-ranked team since Dec. 8, 2019, when the Cyclones beat No. 16 Seton Hall. Against the Musketeers, the Cyclones engineered a comeback, saw Izaiah Brockington score a career-high 30 points and freshman guard Tyrese Hunter score a career-high 19 points.
No matter what happened against Memphis in the second NIT game, beating Xavier on the road in that fashion was a huge boost for the program. Well, the Cyclones beat the No. 9 Tigers, too. Gabe Kalscheur had 30 points. The Cyclones haven't had back-to-back 30-point games since 1988. Plus, there's this.
Recruits watched that game and caught a glimpse of what head coach T.J. Otzelberger is trying to build. It's a statement the Cyclones are headed in the right direction.
David McCormack's slow start
McCormack logged just three minutes in the second half of the Jayhawks' first-round win over North Texas at the ESPN Events Invitational. McCormack had three points and three rebounds in 13 minutes.
Self made it clear he needed more from McCormack after the game.
"WIth the shots he took, that's a 5-for-6 day and he's a 1-for-6 day," Self said in a post-game interview with the Kansas City Star. "I'll be candid with you. We want to play through him and everything, but he's got to do better. I love him and want him to do great, but we've been better without him in the game. He's got to turn it around."
Entering that game McCormack had 28 points, 18 rebounds and eight blocks. After the North Texas game, he scored five points and grabbed five rebounds in 24 minutes in a loss to Dayton, and then 13 points and five rebounds in just 13 minutes against Iona.
McCormack's game has been inconsistent to this point (Self had Ochai Agbaji take the tip against Iona). Now, McCormack started slow last year and became the Big 12's Most Improved Player. But the Jayhawks clearly have higher expectations. He's not going to leave the starting lineup anytime soon, but he's a player to track in December.
Last week's under-the-radar good wins
The Big 12 had three of them, if you were only paying attention to the Thanksgiving Tournaments.
Oklahoma State went to Oral Roberts, the Sweet 16 team from a year ago, and slipped past, 78-77. It was a quality win on the road in overtime, as transfer Bryce Williams led the way with 21 points and late baskets for the difference.
West Virginia beat Eastern Kentucky, 80-77. Taz Sherman had a career-high 28 points in the contest, which pitted WVU against an EKU team that went 22-7 last season.
Oklahoma went on the road to face a future Big 12 team, UCF, and claimed a 65-62 win over the Knights. Every Sooner that started scored at least nine points in the game.
These were all quality wins, even if the NCAA Tournament committee might not admit it. Big 12 teams need to test themselves against quality mid-majors like this. And big props to both Oklahoma and Oklahoma State for doing it on the road.
TCU is incomplete right now
I'm not sure yet. But their 85-66 loss to Santa Clara on Monday left me thinking that the Horned Frogs have a long way to go. Santa Clara is a traditionally strong mid-major, but it left the Horned Frogs in the dust by halftime.
Right now, the Horned Frogs have Mike Miles and Emanuel Miller going for them, and that's about it at the moment. Both were shut down against Santa Clara (Miles had 10 points, Miller had nine points). Micah Peavy had 10 points, but he hasn't emerged as a consistent third option yet. To me, he's still the most likely candidate.
The Horned Frogs got something to feel good about in the 73-64 win over Pepperdine. But, Miles (16 points) and Miller (15 points, 10 rebounds) led the way. Chuck O'Bannon had 10 points off the bench. Peavy, meanwhile, had just four points.
TCU will need more options to be competitive in the Big 12 once January rolls around. And head coach Jamie Dixon — who just won his 100th game at TCU — has a ways to go to find it.
You can find Matthew Postins on Twitter @PostinsPostcard.
**Want to win a $20 gift card? Go sign up here and join our conversation! The best poster each week wins a gift card to your favorite establishment!**