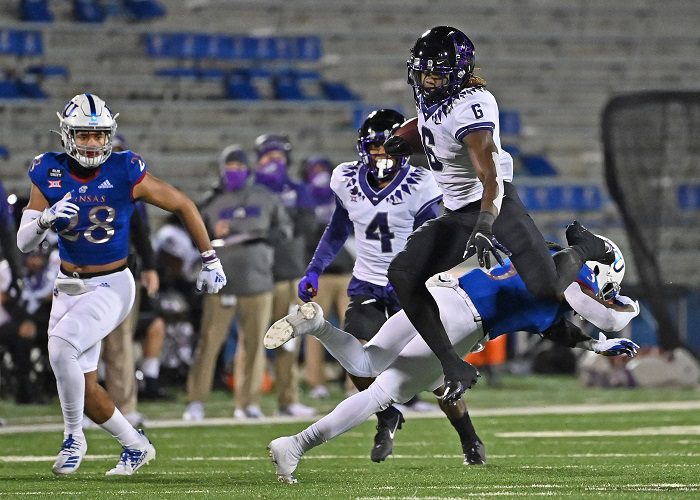 The Monday following the final week of the college football regular season should be known as "National Transfer Portal Day" from now on. This is going to become a yearly event, as top names in the sport that are unhappy with their current situation will leave in search of new opportunities elsewhere. On Monday morning, TCU running back Zach Evans made himself one of those top names, according to Rivals.com's Woody Wommack:
Evans is automatically the biggest running back target in the portal and has elite talent that could land him on nearly any roster in the country. During his two seasons at TCU, Evans rushed for 1,063 yards and nine touchdowns, averaging 7.3 yards per carry.
Name, image, and likeness opportunities are said to be a vital part of Evans' decision moving forward and will be something to keep an eye on around the country for others as well.
Evans recruitment was one of the craziest recruiting stories ever written, and the five-star talent ended up at TCU, their first-ever five-star recruit in school history. There was plenty of reason for the chaos though, as Evans is a special player, with a ceiling about as high as they come. Check out his 247Sports scouting profile from national recruiting analyst Gabe Brooks:
"Dynamically athletic running back with prototype size and frame potential relative to the position. Owns college-ready build with frame space to add more bulk. Flashes elite athleticism verified in combine testing environment. Makes it look easy, sometimes to the point that it's deceptive. Shows great top-end speed and outstanding close-quarters lateral mobility confirmed by a 3.91 shuttle. Flashes devastating start-stop-start ability in close quarters, coupled with impressive hesitation stutter. Effortlessly strings moves together in the open field to elude multiple defenders. Chameleon in ability to alter running styles, going from elusive darter to hole-punching, straight-line galloper. Home run hitter with high-volume capability. Patient and presses the line of scrimmage to set up blocks. Size and strength potential could provide high ceiling in blitz pickup. At times dances in the backfield rather than accelerating through the hole. Sometimes an upright runner who presents a bigger target. Does not always finish runs with expected strength. Will try to bounce runs too often. Could get on the field immediately at high-major level and become a Power 5 star, in addition to first-round NFL Draft ceiling."
Wherever he goes, Evans has the ability to compete for a starting role immediately, if he can stay healthy. This is a big loss for the Horned Frogs, but new head coach Sonny Dykes still has pieces to work with, including talented sophomore Kendre Miller set to return.