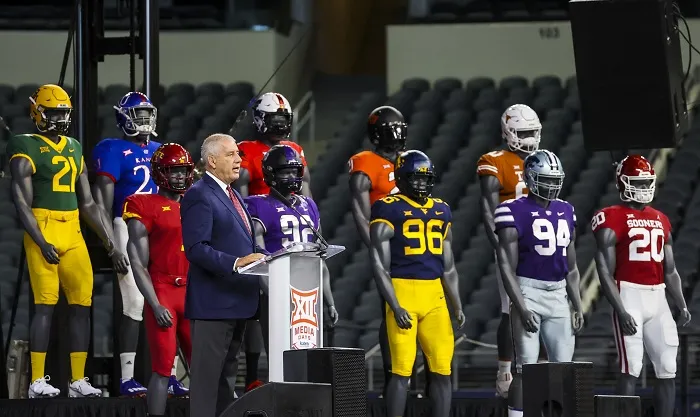 They say as you get older, the years just seem to fly by. While that is certainly true in most cases, whenever you are going through something difficult, it seems to be never ending.
I remember sitting back at Big 12 Media Days in July and listening to Big 12 commissioner Bob Bowlsby talk, and for once it felt like everything was right in the world. We were getting back to normal by having full stadiums and there was zero talk about conference realignment. In fact, Bowlsby even made a joke about it during his press conference.
Of course, just a week later that all came crashing down as news broke that Oklahoma and Texas were off to the SEC. Outside of Greg Sankey (the SEC commissioner) and the two schools (Texas and Oklahoma), and maybe a couple others, nobody had any clue that the two bluebloods of the Big 12 would be leaving. After months of meetings prior to Big 12 media days, Texas and Oklahoma kept quiet and left Bowlsby and the Big 12 in the dark. Without a doubt, it was a backstabbing in the making.
Things got off to a rocky start after the news broke and even got to the point where the Big 12 commissioner sent a cease-and-desist letter to ESPN accusing them of being the main force in tearing the Big 12 Conference apart.
After a few weeks, Bob cleaned himself off and started making moves and in a short amount of time, the Big 12 welcomed four new members to the conference. With the addition of BYU, Houston, Cincinnati, and UCF, the Big 12 showed the rest of the country that it is here to stay.
This was great for the Big 12, but until the new teams move in, there was still football to be played with Texas and Oklahoma. And as awkward as that is, what is even more awkward is the fact that Oklahoma was the king of the Big 12 when it came to football.
For six-straight years, Oklahoma came out on top. Since 2015, the Sooners dominated the Big 12 and still remain as the only Big 12 school to make the College Football Playoff.
Coming into the season, Oklahoma was not only favored to win the Big 12, but many folks had them penciled in to play for a national title. They brought back almost their entire team from a year ago and had talent across the board.
However, that dream of winning seven-straight conference titles ended for Oklahoma on Saturday night in Stillwater. The Cowboys defeated the Sooners for the first time since 2014 and knocked them out of the Big 12 title game.
But little did we know that Saturday night was just the appetizer for what was going to happen on Sunday afternoon.
Sunday Shocker
After the game, Oklahoma head coach Lincoln Riley was asked about the rumors of him going to LSU. Riley would cut off a reporter mid-sentence to clarify that he was not going to be the head coach at LSU.
Looking back, all this time we were asking about the wrong school. It wasn't LSU that Oklahoma had to worry about because it was USC all along. The Trojans made Lincoln Riley an offer he couldn't refuse, and he took it.
One could argue that Lincoln took the easy out. He got a big raise, and didn't have to go to the SEC. Instead, he would find himself out on the west coast coaching a blueblood program in a bad conference.
No matter what your opinion is of Lincoln Riley, one thing is for sure: He stabbed Oklahoma right in the back. Does one really believe that Lincoln had some sudden change of heart in the last few days? I sure don't. In fact, I think Lincoln has known for awhile and sat on the news for as long as he could. Does that sound familiar? Yes, it does because it just happed a few months ago to Bob Bowlsby and the Big 12. Now, it is Oklahoma and Athletic Director Joe Castiglione who are scrambling to find a new plan.
If there was ever a time for Bob Bowlsby to crack a smile, this weekend was the time for it to happen. For once, the building that was crashing down wasn't his and it just so happened to be one of the schools that lied to him to get out of town.
This Saturday, the two schools that will be battling it out for a Big 12 title are two schools who remained loyal to the conference. On top of that, take a look at what is going on with the SEC's newest additions. Texas is at its lowest point since 1956 and just finished the regular season with a 5-7 record. Meanwhile Oklahoma's reign of terror over the Big 12 came to an end and in the process and they have to replace their head coach.
If I were Bob Bowlsby, I would be calling both schools and would laugh on the phone until they hung up on me. Maybe that's why I am not a commissioner of a power five conference, but at the very least, Bob should be breaking out his best bourbon or cracking a cold one while lighting up a hundred-dollar cigar. While there is still plenty to be sorted out in the Big 12 going forward, Bob Bowlsby is the one with the last laugh of 2021.