Baylor Bears
Four Thoughts on Tuesday Night's College Football Playoff Rankings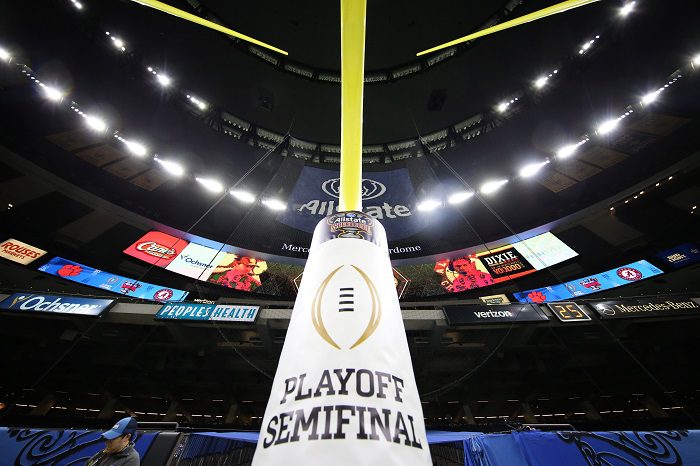 The month of November brings many things in the world of college sports. College Football is in full swing, the start of college basketball begins and then of course we get the College Football Playoff rankings every Tuesday night.
There have been plenty of head scratching moments from the playoff committee on a weekly basis so I thought it would be fun to share my four thoughts on this week's playoff rankings.
1. Win and Oklahoma State Should Be In
The Cowboys jumped up two spots after their big win against Oklahoma as they currently sit at number five. Oklahoma State is behind Georgia, Michigan, Alabama, and Cincinnati. The good news is that two of the top four teams will play each other this weekend in the SEC title game. If Alabama losses then they will drop and even if Cincinnati wins the AAC title game, Oklahoma State has a legitimate chance to jump them if they take care of business in the Big 12 title game against Baylor. A couple of weeks ago I wasn't sure if any Big 12 team had a chance to crack the top four, but Oklahoma State is looking like they will.
2. Baylor is still out no matter what
I said this last week, but with the latest rankings, Baylor is on the outside looking in at number nine. I know they have two losses but even if they manage to pull out a win in the Big 12 title game, there is no way they can jump up that many spots to sneak into the top four. It's hard to play the "What If" game, but that TCU loss likely cost Baylor a real shot at the College Football Playoff. Sorry Balor fans it isn't going to happen, but maybe a Big 12 title victory would help make up for it.
3. Don't worry about Notre Dame
Despite the Fighting Irish coming in at number six, they have zero chance at making the playoff. Their season is over and due to the fact they don't play in a conference title game hurts their chances greatly. Plus, they lost their head coach to LSU as well which I find hilarious in the middle of a playoff push. But hey, get your money Brian Kelly because I wouldn't turn down that absurd contract either.
4. Can Cincy get in?
It pains me to talk down about a future Big 12 school, but Cincinnati, much like Notre Dame, is going to have a big uphill battle to get in the top four. The good news is that there is still hope for the Bearcats. If Alabama loses as well as Oklahoma State, then they could get in if they take care of business against Houston. However, that is a longshot at this point because we all know how the committee feels about Group of Five teams. Soon enough this won't be an issue for this program when they join the Big 12.