Big 12 News
Iowa State AD Jamie Pollard Discusses Matt Campbell's Future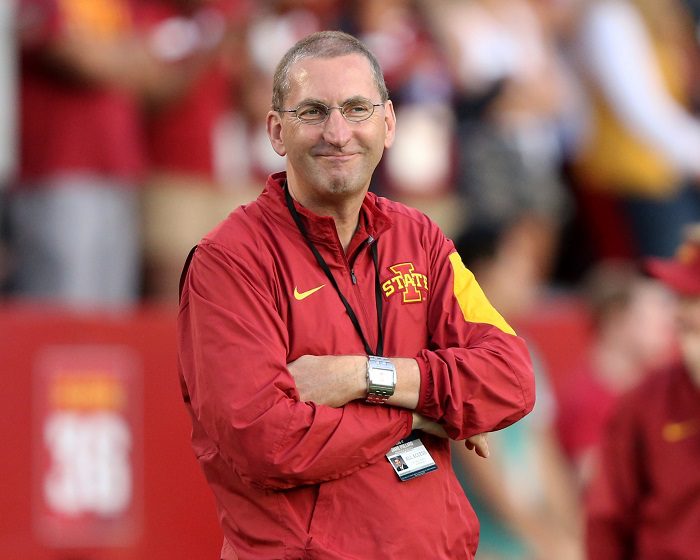 Iowa State athletic director Jamie Pollard made an appearance on the Cyclone Coaches Show radio program on Monday and spoke extensively of Matt Campbell's future at Iowa State among other things going on inside Iowa State athletics. Jared Stansbury of the Cyclonefanatic has the entire conversation transcribed here.
After discussing bowl possibilities for the Cyclones, John Walters (voice of the Cyclones, Host) and Ryan Harklau (Cyclones sideline reporter, special guest host) switched up the conversation a bit and asked about Campbell's future with the program. The dialogue on that conversation is as follows:
Harklau: So, it sounds like you and Coach have been together when you were talking about the bowl games. How have those conversations gone with Coach Campbell so far since the last game here against TCU?
Pollard: Good. Coach and I have a great relationship. Let's face it, if he's not on people's lists then someone's not doing their job, right? I just don't know, I guess it will never change, but your actions speak louder than your words, right? I say we've got some unicorns here with Bill Fennelly to TJ Otzelberger to myself to Coach Campbell that have chosen to, maybe, swim upstream in comparison to the rest of our peers in our industry. People just want to always just assume that you're going to chase money, right?
Harklau: Right.
Pollard: That doesn't mean any one of those people is going to be here for life. Maybe, Coach Fennelly because he's already proven he's here for life. Although, at 17 years, I'm pretty darn close myself. Nothing's forever. That's what I always talk to Matt about. Who am I or anybody else to decide what's right for Matt Campbell and his family? That's his call and his call only.
Walters: 100 percent.
Pollard: But, all of us want to opine about it and we have all these platforms for people to opine then rumor mills start then people go, 'Well, let's shut down the rumors.' Once you shut down one, you've got to shut down all. That just gets you into a game of… do you really want to play that game? It's so easy when you're not a public person. What Coach Campbell has to do, any of us, we operate our lives personally and professionally in the public domain. Unless you've never done that, you have no earthly idea how challenging that is. I think for Coach Campbell, he is a very private person. He is who he is, but the rest of the world is trying to tell him that he shouldn't be who he is. That does not mean he'll never leave here. Something could come open that is the right fit for the right reason. If that's what he wants to do, we should be ecstatic, because he's delivered and then some at Iowa State.
Walters: Leave it better than you found it.
Pollard: Absolutely, but until he's here, let's give the man the benefit of the doubt — 
Walters: Well, he is the second longest-tenured coach in the Big 12 conference so his actions have spoken louder than words.
Pollard: But, you don't feel that, right? Everybody wants to assume. It's interesting. It's like rapid fire. I mean, who saw Lincoln Riley doing what he's doing, right? We can all sit back and have fun with that, because of what OU and Texas did to our league, but I always say, 'Be a little careful throwing stones because all of us live in glass houses.' Yeah, I would be lying if I said during the last 24 hours I haven't had a little bit of joy there of just going, 'How ironic,' right?
Harklau: It's such a crazy time. What's hard for me is a year ago some of these same programs were coming through COVID, no fans, no TV revenue, like, 'Oh my God, we're not going to make it.' A year later, they're offering $20 million to buy somebody else's contract and another $10 million here — 
Pollard: Our industry is so broken, it isn't even funny. I should be a lawyer for student-athletes because we are the stupidest people on Earth how we do what we do then we turn around and try to have moral high ground.
Harklau: You know who has moral high ground? Coach Campbell has moral high ground. He gets to choose. It's his life, his family, his career, he's committed here. This isn't the first year that he's taken calls, but we were able to walk through that moral high ground thing when we went through the transition from the Big 12. Coach Campbell having this place of having great TV revenues when you're losing two programs, you felt like a little bit like you're sitting at a place of more power going to a school that's 3-9 or, now, Oklahoma, sitting without a head coach, going to a new conference, we talked about this last week, good luck —
Pollard: Kids transferring left and right because the transfer portal is wide open.
Harklau: They just buried Oklahoma. They really did. I don't know how they're going to pull out of that downward spiral.
Pollard: Here's an analogy I've talked about in the last 24 hours. Oklahoma is a microcosm of what some coaches have been doing. They chase the money then they find out, really quickly, that chasing the money wasn't — you know — Dan Mullen, three straight New Year's Six bowls then one 7-5 season and you're out. Don't think for a second that Coach Campbell doesn't notice that. What we talk about is, c'mon, let's call it like it is, everybody would like to make more money. I don't know anybody in the world who would say, 'Oh, I don't want to make that money.' But, grounded people can go, 'Well, not if it comes with that.' Let's call it like it is. All the people I just mentioned, we all make more than we probably should. But, if you compare us to our peers, we don't even come close to what our peers are making, right? But, that's okay, because none of us are going to go to the poor house. We're doing just fine. There's something at Iowa State that I talk about all the time, 'You're in control.' I tell Coach Campbell, 'Okay, you went 7-5 this year. You know what's different about being 7-5 at Iowa State versus being 7-5 somewhere else? You don't have any board of regents, you don't have a president, you don't have an AD and you don't have any donors telling you that you have to switch coaches on your staff or you're fired.' We let them wear black. Try wearing black at USC, right? There's some things that go into — Still being paid a lot of money, but you can't say, 'Well, Matt's only making this compared to what he could make there.' Well, yeah, you can take that, but it comes with a whole set of other factors.
Walters: And if it was all about money, we couldn't compete.
Pollard: Absolutely.
Harklau: This place is special.
Walters: It's not just about money.
Harklau: You look at USC's homecoming game. What did they have there? 40,000 fans, 30,000 fans? It's a half-empty stadium.
Pollard: You guys, the tax rate in California is 60 percent. We talked about that this weekend, Matt and I. If you've got to go there and it takes you 100 hours a week to do the job, how do you feel if you're only getting paid for 40 of those 100 hours? Because that's what it is. All your staff, all the way down the line, are only going to get paid for 40 of those 100 hours because the state of California and the federal government and whatever municipality that's taking this excised tax and whatever other liberal thing they're doing in California is taking the other 60 percent. They don't always think about that.
Absolutely great stuff from Pollard there, all the way down to the ridiculous California tax rates! Which, I must say, makes me very happy to be from the midwest. Can I get an amen?!