Oklahoma Sooners
LSU Thought It Had Lincoln Riley Lined Up to be Their Next Head Coach: Report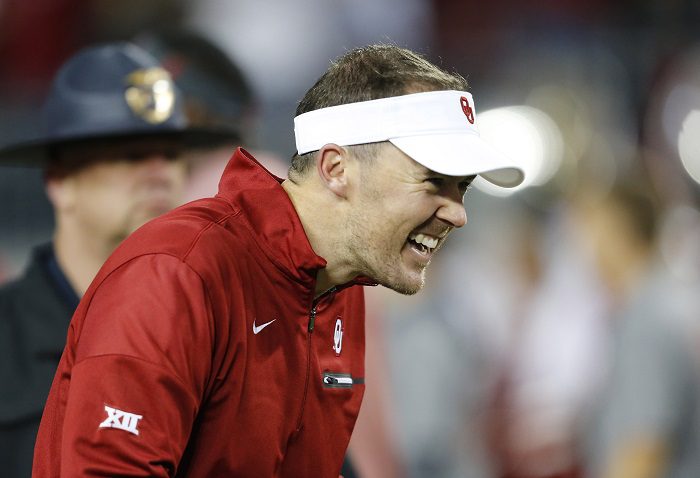 According to a new report, Lincoln Riley didn't just play the entire state of Oklahoma, from the administration to the team, media and fans, but also another major college football program. Riley became the new head coach at USC this week, but apparently that's not what LSU expected to happen.
Mike Lombardi reported that LSU thought it had Lincoln Riley locked up as their next head coach, in fact he reports that they had a catering company all ready for an announcement on Sunday afternoon, but Lincoln "bailed on them and went to USC".
Mike Lombardi made the comments around the 30-minute mark of his Monday podcast, "The GM Shuffle".
The timeline of all this is fascinating as Lincoln Riley said after losing to Oklahoma State that he was not going to be the head coach at LSU. What were the LSU folks thinking in that moment? Did they assume it was Lincoln just saying what needed to be said to appease the media? Or was there concern around what his plans really were?
Adding to all this is reporting from the LA Times that the courtship between USC and Lincoln Riley had been going on for months. Was LSU being used as a bargaining chip? Or was Riley really interested in the Tigers?
Regardless, Riley touched down in Southern California on Monday to take his new job.
But LSU clearly had a back up plan as the Tigers hired Brian Kelly from Notre Dame within 24 hours. As for Oklahoma, former head coach Bob Stoops will be the interim head coach for the bowl game. Former Oklahoma and current Clemson defensive coordinator Brent Venables is considered the favorite to get the job via odds posted at Sportsline.com.