Big 12 News
Matt Campbell Interested in Notre Dame Job: Report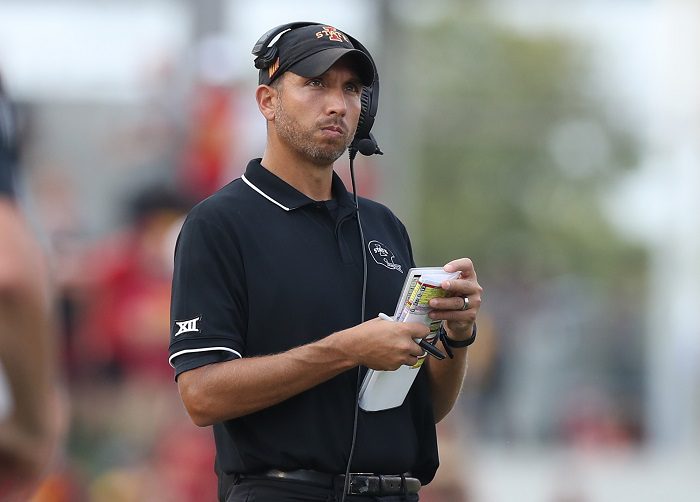 Matt Campbell has made it clear that there are two jobs he would consider leaving Iowa State for: Ohio State and Notre Dame. Well, Cyclone Nation, one of those jobs has come open in one of the craziest coaching carousels in recent memory. Brian Kelly has decided to leave Notre Dame, where he had been the head coach for 12 years, and head to Baton Rouge to be the next head coach at LSU. This leaves a massive void for an 11-1 football team and Matt Campbell is interested in the job, according to a report from WTOL 11 Sports Director Jordan Strack.
After the regular-season finale against TCU Campbell was asked if the rumors about him being linked to other jobs were true, and his answer was pretty straightforward.
"I promise you, nobody's said a word to anybody," Campbell said. "Matt Campbell has not talked to anybody."
He was then asked what he tells recruits when his name is reportedly linked to other jobs.
"We've told them the same thing all the way through," Campbell said. "I think, for me, it's one of those things where it's not even remotely a conversation because, on our end, we're constantly working on the present. Jamie (Pollard, Iowa State AD) and I will sit down, I'm sure, and talk about, 'What's the future hold? How do we continue to move this thing forward?' And then you continue to make the best decision about how you do those things the right way. But I think it's always been about, man, we built this thing to last for the long haul. We've never shortcut, we've lived in the present. And I think our recruits have seen that, they've seen what that's been about and what that looks like."
At the time of the press conference, Campbell was linked to the USC and Florida jobs, both of which have been filled. However, Notre Dame is a different opportunity for Campbell and he has stated before that South Bend is a destination job for him
He may be saying otherwise at the moment, but if the Fighting Irish come calling, Matt Campbell will be talking.