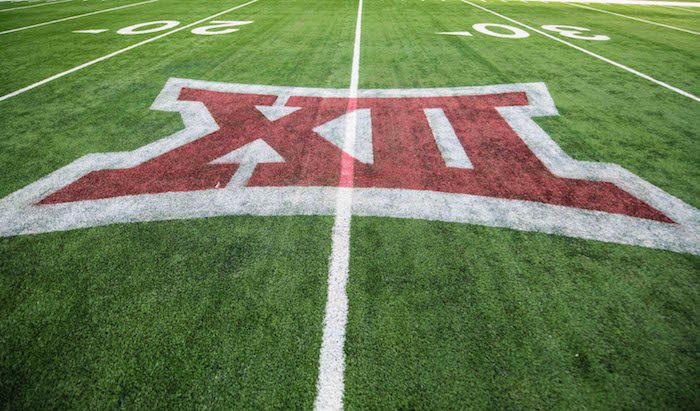 The 2021 season has yet to conclude, with Oklahoma State and Baylor playing for a Big 12 Championship this weekend, but that doesn't mean we can't all be excited about what's to come in the 2022 season as well. And on Wednesday morning, the Big 12 Conference announced the 2022 conference schedule. So go ahead and mark your calendars, and don't be the person who schedules a wedding the same Saturday as one of your team's biggest games.
For a second-straight year, the Kansas Jayhawks will be involved in the league opener, as the Jayhawks travel to West Virginia on September 10. The first full week of league play will take place on October 1. There is also a pair of Thursday night match ups with West Virginia hosting Baylor on October 13 and Oklahoma hitting the road to face Iowa State on October 27.
Here's a look at the full schedule.
2022 Big 12 Football Schedule (conference games only)
Saturday, September 10
Kansas at West Virginia
Saturday, September 24
Baylor at Iowa State
K-State at Oklahoma
Texas at Texas Tech
Saturday, October 1
Oklahoma State at Baylor
Iowa State at Kansas
Texas Tech at K-State
Oklahoma at TCU
West Virginia at Texas
Saturday, October 8
K-State at Iowa State
TCU at Kansas
Texas vs. Oklahoma (Dallas)
Texas Tech at Oklahoma State
Thursday, October 13
Baylor at West Virginia
Saturday, October 15
Iowa State at Texas
Kansas at Oklahoma
Oklahoma State at TCU
Saturday, October 22
Kansas at Baylor
K-State at TCU
Texas at Oklahoma State
West Virginia at Texas Tech
Thursday, October 27
Oklahoma at Iowa State
Saturday, October 29
Baylor at Texas Tech
Oklahoma State at K-State
TCU at West Virginia
Saturday, November 5
Baylor at Oklahoma
West Virginia at Iowa State
Oklahoma State at Kansas
Texas at K-State
Texas Tech at TCU
Saturday, November 12
K-State at Baylor
Iowa State at Oklahoma State
Kansas at Texas Tech
Oklahoma at West Virginia
TCU at Texas
Saturday, November 19
TCU at Baylor
Texas Tech at Iowa State
Texas at Kansas
K-State at West Virginia
Oklahoma State at Oklahoma
Saturday, November 26
Baylor at Texas
Iowa State at TCU
Kansas at K-State
Oklahoma at Texas Tech
West Virginia at Oklahoma State
Saturday, December 3
Big 12 Football Championship Game (AT&T Stadium, Arlington, Texas)