Big 12 News
Lincoln Riley Says Decision to Leave for USC was 'Very Sudden'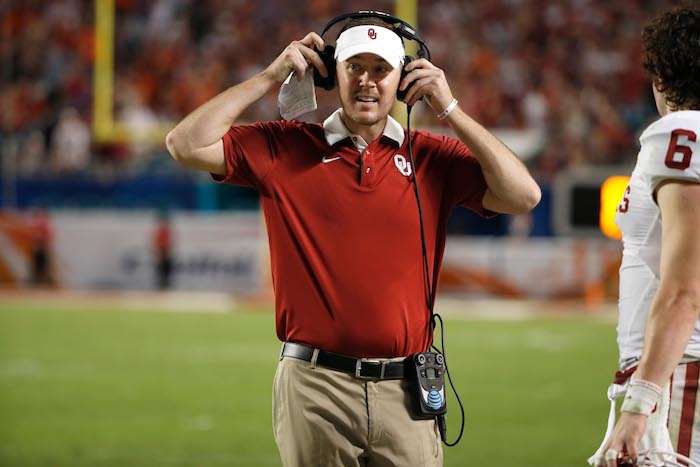 Let me start by saying that a 38-year old man with a wife and two kids doesn't make the decision to move his family halfway across the country after a "couple of hours" of sleep. During a conversation with Colin Cowherd on his show "The Herd", Lincoln Riley suggests that his decision to leave Oklahoma was very sudden and he was genuinely committed to the Sooners before he was approached by USC Saturday night after the loss to Oklahoma State.
Here is the entire conversation with Cowherd via Twitter:
The timeline that Riley gives is just so hard to believe, especially given that the USC job has been open since September. Are the Trojans really going to wait two months to approach Riley if he was their top target? I'm not buying it. It is just extremely unlikely that the negotiations started Saturday night and that means that Riley is lying to his former players, recruits, administration, and friends in Norman and around the country.
In the college football world, it is imperative that information not get leaked before it is intended to, because that could lead to issues with negotiations, recruiting, players on your current roster, etc. Lincoln could just be caught in the middle of trying to keep this looking like it happened quickly, but unfortunately people arent buying it and it's made him look bad.
The pride of Muleshoe, Texas has taken on an entirely different persona in the last 72 hours, and it's part of the cutthroat business that is college football. However, the suddenness and recklessness that Riley has shown in this move have made him out to be the bad guy, and maybe he is. If there is merit to the rumors that he has been in discussions with them for several weeks, then what he did just wasn't right and it goes against everything that Sooner Nation thought that Riley was.
Riley is, after all, the man that Bob Stoops appointed to take over when he retired in 2017 and I trust Stoops' judgment to do so at that time.
However, Lincoln may not be the same person he was nearly five years ago.
Harvey Dent said it best in The Dark Knight, "You either die a hero or you live long enough to see yourself become the villain."