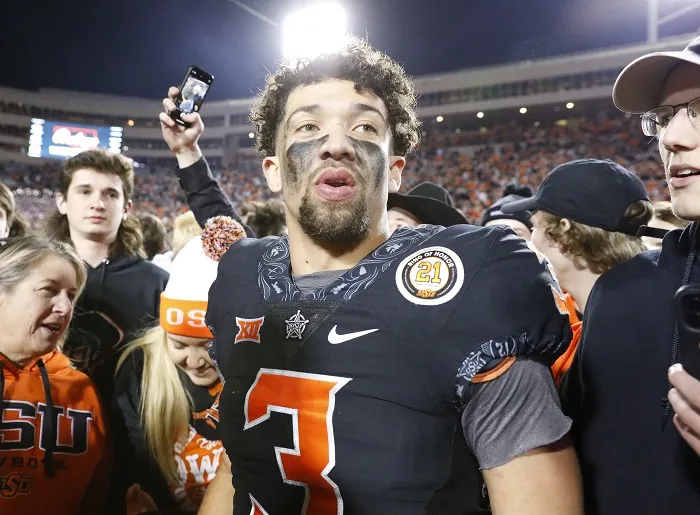 Oklahoma State quarterback Spencer Sanders helped lead the Cowboys to one of their biggest wins in school history last weekend, with a 37-33 victory over the Oklahoma Sooners. That win ensured that they would play Baylor for the Big 12 Championship on Saturday, which Sanders and the Cowboys are preparing for this week.
As good as the games are, stories happening off the field are one of the best parts of college athletics. One such story involves Sanders and his friend Stone Evans. Stone's father Stanley Evans posted this story about their friendship on Wednesday.
"Spencer Sanders is starting QB for the (#5 National Ranked) OSU Cowboys. He was past QB for the Ryan Raiders. While he was at Ryan he befriended my son Stone Evans. Stone was the manager for the Ryan Raider football team. Over the past years, Spencer has kept Stone in his circle of friends. Stone has received [an] OSU hat, OSU backpack, Spencer signed shirt, and other tokens special to Stone. Today, while Spencer must be extremely busy preparing for [the] Big 12 Championship, Spencer invited Stone to be his guest at [the] Big 12 Championship game. Sometimes people who reach
a level of success forget from where they came, [but] Spencer Sanders shares his success with all that know him. Stone is autistic and is atypical with his social skills. Spencer could have easily overlooked him, but instead made my son feel important and special. Thank you for your kindness. Go Pokes."
That is an awesome story and should be a very cool experience for Stone and Spencer in Arlington on Saturday. Spending time with Spencer in Jerry's World will be something that Stone, or his family, will never forget.
Oklahoma State takes on Baylor in the Big 12 Championship at 11:00 am on Saturday. The Cowboys are currently favored in that game by 5.5 points.